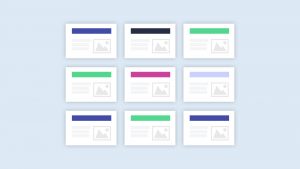 This is the most complete list of the best PowerPoint presentations on the Web. Period.
In fact, you'll find 50 beautiful slide decks on this page.
So whether you're looking to…
✅ Learn how to create amazing presentations, step-by-step
✅ Understand the latest trends – about social media, AI, growth hacking and more – and get actionable strategies to grow your business
✅ Discover the best pitch decks that have helped companies like Youtube or Airbnb raise hundred of millions of dollars… And much more!
You'll really enjoy this list 🤟
50 Best PowerPoint Presentations That Teach You Things
Here are the different categories in which the selected slide decks fall into:
Presentation Skills:
Tips, Resources & Inspiration to Become a Real Pro
In this section, you will find a comprehensive selection of slide decks that will help you plan, structure and design irresistible presentations, step-by-step.
Let's jump right in!
1. Quick & Dirty Tips for Better PowerPoint Presentations Faster

This deck will teach you 7 simple, effective tips to build presentations faster, from start to finish.
Now, if you're not following any process when making your own presentations, make sure to check out tip #7 (it's the one I personally use and if you stick to it, you'll save a huge amount of time).
Quick & Dirty Tips for : Better PowerPoint Presentations Faster from Eugene Cheng
2. 8 Tips for an Awesome PowerPoint Presentation

In this deck, you'll learn 8 simple effective slide design tips to make your presentations visually more appealing.
8 Tips for an Awesome Powerpoint Presentation from Damon Nofar
3. The Ultimate Freebies Guide for Presentations

Want to design more creative presentations? This deck will give you access to some of the best useful resources and tools to create better slide decks (icons, fonts, infographics and more).
The Ultimate Freebies Guide for Presentations from Damon Nofar
4. Create Icons in PowerPoint

Icons are a great way to design presentations that are more appealing.
Wanna know the best part?
Designing your own icons.
This tutorial teaches you how to simply build your own, customized icons, step-by-step.
Create icons in PowerPoint from Presentitude
Public speaking is not only about making a corporate speech in front of your company's board members once every six months.
In fact, we're facing situations where we have persuade, inform, or motivate others all the time.
And guess what, each of those moments requires us to impact with our words, our voice and our posture.
So if you've been looking to learn how to speak with more confidence, the deck below will provide you 10 simple tips to grab – and keep – the attention of an audience (tips #1 and #5 are so simple and powerful that you'll be glad you learnt them today).
10 Powerful Body Language Tips for your next Presentation from SOAP
6. The Art of Saying No: Kenny Nguyen at TEDxLSU
I got you…
This is not a presentation. But it's a killer speak you must watch.
Kenny Nguyen, the CEO of Big Fish Presentations, speaks about the power inherent in saying "no." In this TEDx, he explains how "no" has affected him personally and professionally, but more importantly, how it can prepare one for the perfect time to say "yes".
This speech will show you how to entertain an audience, grab their attention and tell powerful stories that stick.
The Art of Saying No from Big Fish Presentations
Additional Resources
How to Design Gorgeous Presentations When You Have No Time (And No Design Talent)
Copywriting & Sales:
Everything You Need to Turn More Leads Into Buyers

Copywriting = getting information into someone's brain so they want to open their wallet and give you the money.
In other words, it's is about convincing people to buy from you using your words.
And here we are:
What makes copywriting so powerful is the incredible number of things you can do with it. Write a sales page for your site, craft cold emails, presentations for prospects, or investors, or even put together video scripts…
All of these are literally made of… words.
Those who master the power of copywriting know how to use the right words to rouse interest, crush objections, activate the purchasing triggers of their target customers.
This great introduction to the topic lists down the most common mistakes people are making when writing sales copy.
You'll also learn 17 great tips to start writing better sales copy right now. Every piece of advise comes with clear, real-world examples that make this presentation very practical.
How To Write Persuasive Content de Henneke Duistermaat
Did you like this deck about copywriting? Then make sure to check out this one as well (Top 10 copywriting mistakes + how to fix them)
8.
These plug-and-play formulas will teach you how to write attention-grabbing copy for your social media posts (hint: these formulas also work for slide headlines).
The 10 Best Copywriting Formulas for Social Media Headlines from Buffer
This practical, gigantic guide is loaded with simple tips to write better sales copy.
You'll also learn the exact questions you need to answer to be more persuasive in front of any audience.
125 Clickass Copywriting Tips from Barry Feldman
17% of salespeople think they're pushy, compared to 50% of prospects.
Ouchhh….
Even if numbers never tell you the whole story, this deck has done a great job at highlighting the most important aspects of it.
107 Mind-Blowing Sales Statistics That Will Help You Sell Smarter von Sidekick
"You can't bore people into buying your product. You can only interest them in buying it".
This deck condenses some of the best selling secrets from advertising tycoon David Ogilvy. Highly recommended.
Some tips on selling from Ogilvy from OgilvyOne Worldwide
12.
This great deck explains you how to pitch ideas to others. It comes back to the fundamental questions you need to answer first – such as identifying your goal and the exact problems your idea is solving.
Pitching Ideas: How to sell your ideas to others from Jeroen van Geel
Additional Resources
Why most sales pitches don't work and what you can do to fix yours.
Your Sales Pitch Sucks! from Slides That Rock
14. How to Pitch B2B
How do you convince a prospective customer?
This slide deck will teach you 9 essential steps to crafting a winning pitch (if you want them all resumed, check out the slide 62).
How to Pitch B2B from Slides That Rock

This deck is brought to you by growth marketing advisor and speaker Angie Schottmuller. It's loaded with in-deep, social proof strategies you can use on your landing page.
Social Proof Tips to Boost Landing Page Conversions de Angie Schottmuller
Additional Resources
Online Marketing:
The Best Strategies and Tools to Stand Out & Grow Your Business

In this section, you will get access to top presentations that will teach you how to become a sharper business individual.
From the latest SEO trends to marketing strategies, tools and techniques, you'll learn how to…
Better sell your products or services
Stand out in a crowded market
Create and distribute valuable, relevant content designed to attract customers
And much more !
That's a great presentation to get started with!
See, this is a great summary of the new trends (A.I., voice search, video, and more) that are disrupting businesses, both online and offline.
What I really like about this slide deck is that Jim Huffman, the author and founder at Growth Hit, provides specific nuggets of how you can take advantage of these trends in your business.
SEO (search engine optimization) is basically getting free Google traffic to your site. And guess what, if you want to get organic traffic to your website and stay on top of your game, you need to understand the ever-changing landscape about SEO.
This deck made by Moz will provide you a great, precise overview of the state of SEO in 2018.
It will also teach you how people actually search online, how Google is using "predictive intend" along with useful tips to better rank your content in the long run.
The SEO World in 2018 from Rand Fishkin
Additional Resources
18. The 150 Most Powerful Marketing & Sales Tools
These are the best tools available online to grow your business (everything about SEO, email, content marketing, social media, and more).
The 150 Most Powerful Marketing & Sales Tools from Brian Downard
19. Fast Track Your Content Marketing Plan
This deck breaks down the exact steps you needs to take to drive successful content marketing programs that'll help you resonate in your market.
No fluff. No B.S.
Fast Track Your Content Marketing Plan de Barry Feldman
This deck wraps up what you need to do when starting a business – including the fundamental steps you should to take to kickstart your online marketing game.
The Ultimate Guide to Startup Marketing from Onboardly
21.
A great presentation done by Adelyn Zhou, previous CMO at TOPBOTS. TOPBOTS is a publication, community, and educational resource for business leaders applying AI to their companies.
In this deck, you will learn how, why and when both AI and machine learning can help your organization grow.
22.
This Slideshare was realized by Sprout Social, a social media management software. This deck will teach you how to improve your online presence with simple steps that only take a few minutes each to implement.
Use the outlined process to boost brand awareness, grow your audience, increase your influence across the web and, most importantly, track the success of your initiatives.
23. Surf Your Way To Success in E-Commerce
This white paper put together by Ogilvy outlines the key principles and strategies to help you ride the e-commerce wave and come out to the top.
You will learn what are the driving forces of e-commerce, how to create a top-notch experience online, pin-point your customer desires and expectations, how to generate demand, and much more.
.
Buffer, a social media management platform, has put together a full report that will give you useful pieces of data to understand the social media landscape today and upcoming trends, and how to tap into them to succeed for your business.
This presentation is a good complement to the #24, as it provides insights from over 17,000 marketers on how companies are actually using social media is the real-world (check out the full report here).
In this report, you will learn how marketers, from businesses of all sizes and shapes, are approaching social media marketing. You will also learn a few useful takeaways (such as how to tap into the messaging apps to craft your social media strategy).
26. Email Marketing 101: The Welcome Email
This detailed deck explains the importance and psychology of welcome emails.
Email Marketing 101: The Welcome Email from SendGrid
Additional Email Marketing Resources
27. Go Viral on the Social Web: The Definitive How-To Guide!
There's too much noise out there.
And as a brand, failing at standing out is equal to being ignored.
This deck teaches you how to craft viral content that makes you stand out and motivates people to share what you've got to say.
Go Viral on the Social Web: The Definitive How-To guide! from XPLAIN
28. People Don't Care About Your Brand
Don't move another muscle until this become part of your D.N.A:
They care about what you can do for them.
In this deck, you'll learn how to engage with customers and get them to come back for more.
People Don't Care About Your Brand from Slides That Rock
29.
This solid, expert-backed (and fun) guide was put together by Content Marketing Institute.
It's jam-packed with useful tips from the top minds in content marketing and will teach you how to create epic content, amplify your message, and much more.
Whether you're new to content marketing, need a refresher or are curious about where the trends are going to, make sure to check out this slide deck.
Additional Resources
30. Growth Hacking
I am a big fan of growth hacking and if you're not one yet, here's your chance.
Growth hacking is every strategy, every tactic, and every initiative that is attempted in the hopes of growing a business. In this deck you will learn what is grow hacking, what metrics you should focus on and a simple 5-step lean marketing funnel to explode your business growth.
Growth Hacking from Mattan Griffel
31. 100 Growth Hacks 100 Days
In this deck, you will get your hands on detailed, time-framed (and wicked smart) tactics you can implement right away to grow your blog, startup or your website.
100 growth hacks 100 days | 1 to 10 from Robin Yjord

Additional Resources
Business Innovation:
Methodologies to Actually Move the Needle in Your Business
In this section, you will get access to expert-written presentations covering ways to build a stronger business. You will learn models and strategies to tackle challenges, and design a better innovation culture in your company.
For instance:
Design thinking. How to you solve complex business problems more creatively.
The AARRR model. How applying a simple 5-step lean startup methodology can change your approach to doing business.

Business model design. If you don't know what it is yet, make sure to check out the deck !
32. Crash Course Design Thinking
This deck will teach why design thinking is important along with – in between other cool things – how to apply the 5x Why method to uncover – and understand the root causes of most business problems.
Introducing design thinking from Zaana Howard
33. Crash Course on Design Thinking
Crash Course Design Thinking from Board of Innovation
34. Startup Metrics for Pirates: AARRR !!!
Any business serious about growing should be using this model.
Startup Metrics for Pirates de Dave McClure
Put together by Alexander Osterwalder, the author of the fantastic Business Model Generation , this slide deck lists down the 4 different types of innovation, their related benefits and real-world applications.
Business Model Design and Innovation for Competitive Advantage by Alexander Osterwalder
How to reinvent your business model, no matter which industry you are in.
Business Model Innovation Matters by Alexander Osterwalder
37. 10 Disruptive Quotes for Entrepreneurs
This beautiful deck was built by Guy Kawasaki, former Chief Evangelist of Apple. It will help you see things with a different perspective and, hopefully, shift your mindset.
10 Disruptive Quotes for Enterpreneurs from Guy Kawasaki
38. The Sharing Economy
The Sharing Economy from Loic Le Meur
39. 26 Top Crowdfunding Sites
This infographic presents you 26 crowdfunding sites with all the details so you can chose wisely what's best for you to raise money, whether you're a startup, a small business or a charitable cause.
You'll understand he differences and essential details between each site so you can choose wisely.
26 Top Crowdfunding Sites (Infographic) from Wrike
Additional Resources
The Best Pitch Decks
How do you deliver a winning pitch deck that actually convinces investor to give you money?
In this section, you'll discover:
The 10-point, step-by-step outline for crafting a winning pitch deck.
This is the exact flow Silicon Valley's most respected venture capital firm Sequoia Capital recommends startups to use.
Successful pitch decks from Airbnb, Youtube and more…
40. Sequoia Capital Pitch Deck Template
These are the exact points VC firm Sequoia Capital recommends you to use anytime you pitch an investor.
Sequoia Capital Pitch Deck Template from PitchDeckCoach
41. Airbnb First Pitch Deck
Wondering how Airbnb raised money back when it wanted to be an air mattress rental company?
Here is their first pitch deck !
AirBnB Pitch Deck from PitchDeckCoach
42. Blablacar Pitch Deck
BlaBlaCar is a the world's largest long-distance ride-sharing community.
Simply said, they connect drivers and passengers willing to travel together between cities and share the cost of the journey (and get a cut out of it, like Airbnb). In 2015, the startup was valued $1.6 billion.
Europas BlaBlaCar pitch from Vanina Schick
43. Buffer Pitch Deck
Buffer helps you manage your social media accounts in one place with intuitive scheduling & analytics.
They used the deck below to raise half a million bucks.
The slide deck we used to raise half a million dollars from Buffer
44. Youtube Pitch Deck
Here is the original pitch deck of Youtube.
Youtube pitch deck from Alexander Jarvis
45. Front
This is the pitch deck of Front, a shared inbox solution for teams.
Front series A deck from Mathilde Collin
This is the deck Mixpanel – a business analytics software – used to raise $65M.
Mixpanel – Our pitch deck that we used to raise $65M from Suhail Doshi
47. Deliveroo
The pitch deck of Deliveroo an online food delivery company.
Deliveroo – NOAH15 London de NOAH Advisors
Additional Resources
Productivity. Work Smarter.
These presentations will teach you how to work smarter, get more done, and motivate others to do the same !
48. The 10 Timeless Productivity Hacks
This Slideshare decks reviews 10 great, timeless work habits that will make you more productive, fast.
The 10 Timeless Productivity Hacks from Bernard Marr
A practical presentation that will show you how to be more organized and effective at work, even if you have a ton of things to do.
IQ Work Hacks – Productivity from InterQuest Group
Motivating employees seems like it should be easy.
Yet, 30% of executives say it is their toughest job.
From talking with your team members to get feedback,giving them more room to grow or providing them meaningful incentives, this deck will provide you 6 simple steps you can use to improve the morale, performance and productivity of people within your organization.
Leader's Guide to Motivate People at Work from Weekdone.com
Additional Resources
I hope you've liked and learned from this handpicked selection of the best PowerPoint presentations available online!