If you are looking to raise money, gain support and traction for your startup, you'll love that piece of content.
In this article, you are going to get two things:
1) A beautiful, editable pitch deck presentation template for Keynote and PowerPoint (Note: this is not another bundle coming straight from 1998).
2) A 10-point, step-by-step outline for crafting a winning pitch deck.  This is the exact flow Silicon Valley's hottest venture capital firm Sequoia Capital recommends you to use.
I've also l included "Simple Checklists", with the points you shall cover in every section, along with the best pitch deck examples from dozen of A-level players like Airbnb, Buffer or YouTube.
Quick side note:
Yes, you can just grab the slide templates and leave (it's right there). But I strongly advise you to take another path…
See, time and time again, too many startups end up failing… before they even got of the ground. They fail for a lot of different reasons but when it comes to  pitch decks, a lot of founders fail at preparing. They don't pay enough attention to the content, sequencing and flow of their decks until the very last minute.
They fail at understanding that good design won't seal the deal if your demonstration sucks.
For that reason, if you're willing to get some guidance to help you craft a compelling pitch deck, check out the 10-point outline.
With that said, let's get started…
Table of Contents 
Like I said, this article has two parts:
The proven, 10-point guide to making a winning pitch deck 
The Pitch Deck Template (for PowerPoint & Keynote)
This kit comes with two versions:
One with two color sets (blue and green)
One with three color sets (pink, blue and orange)
Check out a few screenshots below: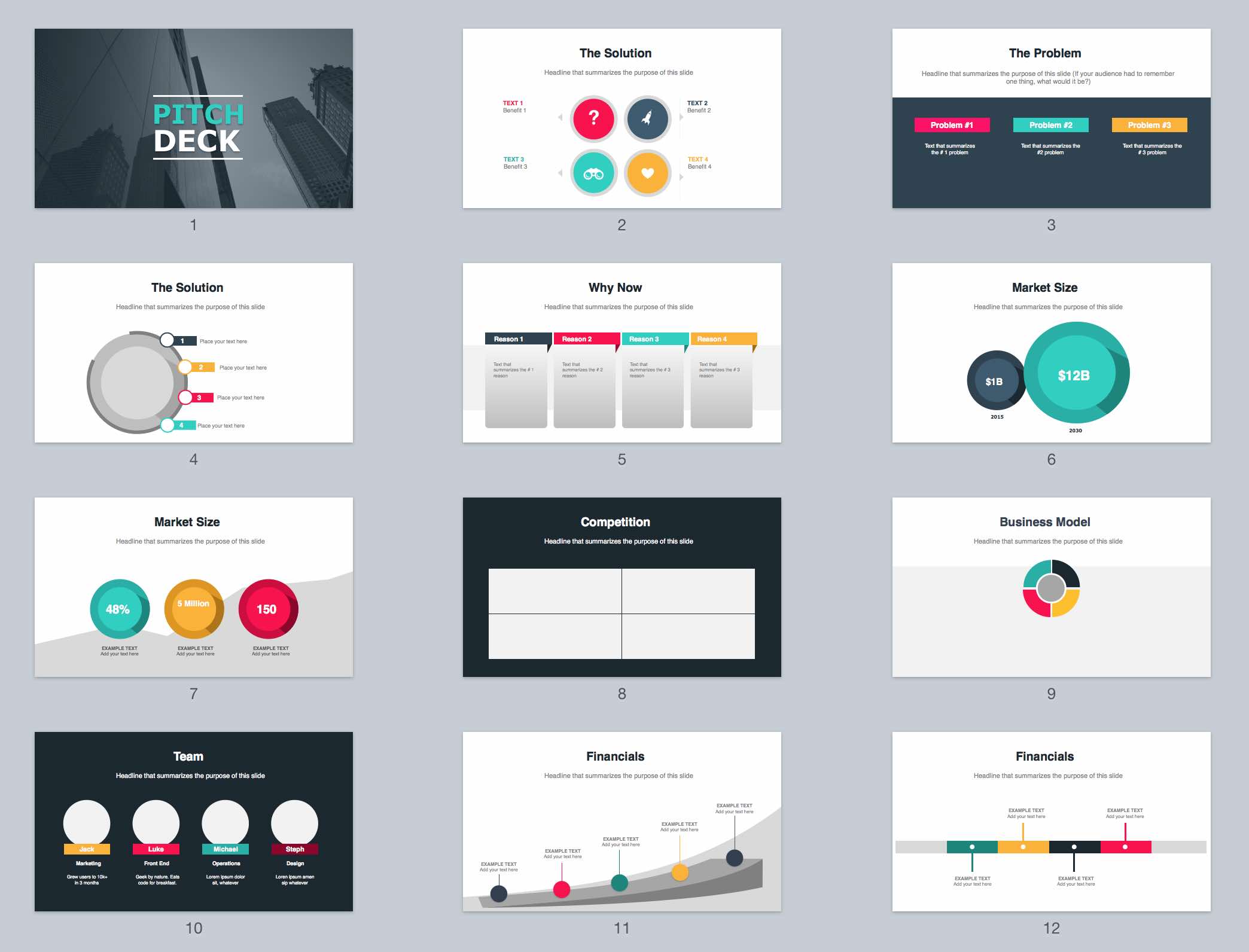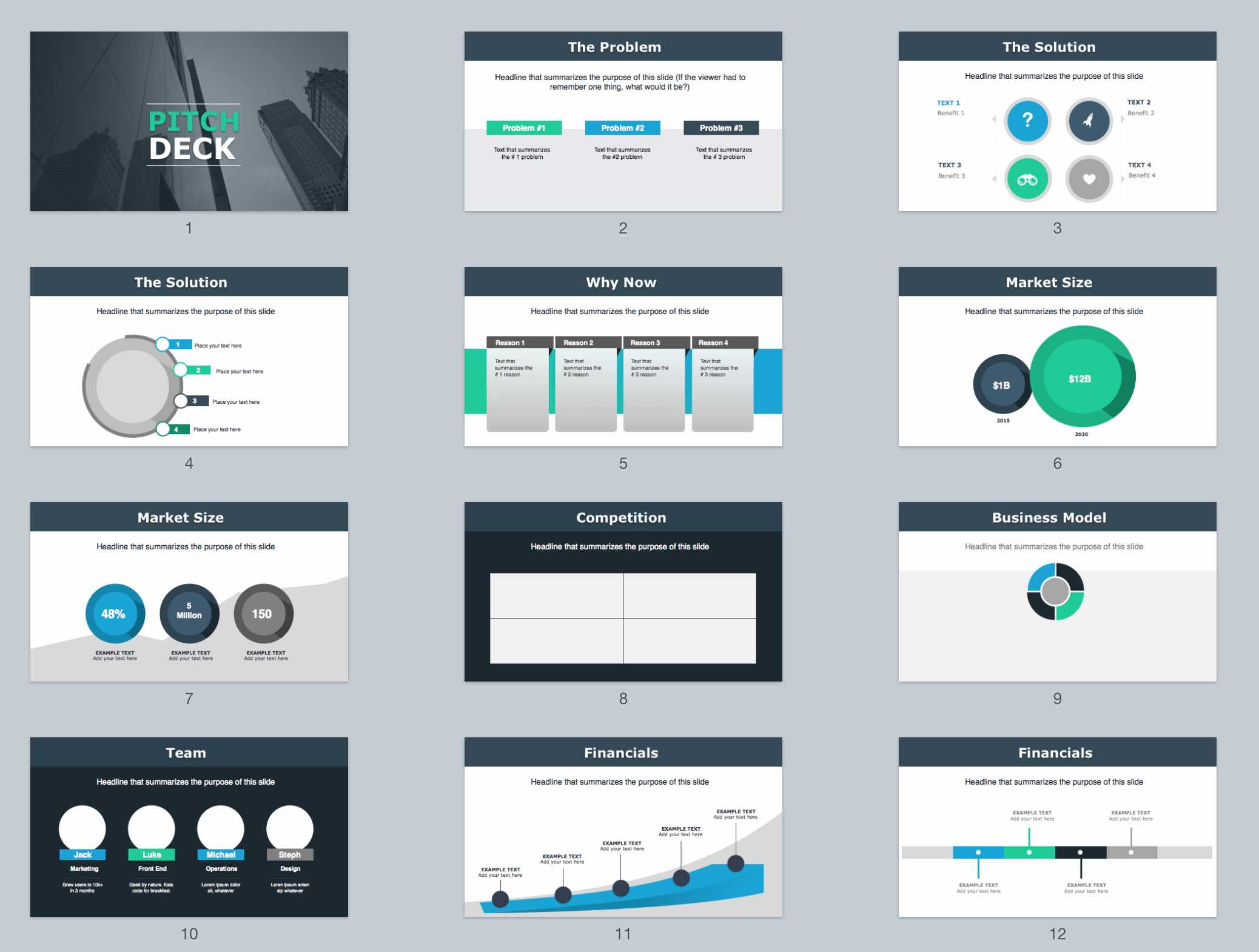 How To Get This Presentation Template Pack
If you'd like to download this pitch deck bundle, I am going to ask you one simple favor. I am going to ask you to share this article with your network.
And I am going to ask you this for two reasons:
1) I know you have influence and that when you share something, people actually pay attention.
2) This investor pitch bundle is slick, modern, and it's free. I am giving it away in exchange of some traffic to my website (Look: you can still delete the post on your social media account if you truly believe this template brings little or no value to you).
Deal?
Just share this article to access the links to download your templates:
You're awesome !
Now…
Unless you know exactly what a pitch deck is and what are the essential components of a winning one, I recommend you to read the section below.
What is a Pitch Deck + The Building Blocks of a Winning One
What is a Pitch Deck?
A pitch deck is a concise, well-structured presentation designed to explain what your company does.
Jason M. Lemkin, Partner at SaaStr Ventures insists that a pitch deck should "in the fewest slides necessary — but as many as it takes, by itself:
Clearly make an incredibly compelling case for the investment.
Without anyone needing to be there, explaining anything".
The Perfect Outline Pitch Deck Outline
Now, you might be wondering…
What elements should be in a investor pitch deck?
A large number of entrepreneurs, startup founders and investors have created their own pitch deck outlines:
Guy Kawasaki
500 Startup
Airbnb…
I won't go through all the existing ones.
Pitch decks can serve very different purposes – investor meetings, outreach emails, demo days and so on. There's no right or wrong outline –  just commonly accepted frames you can use to guide you and adapt depending on your personal objectives.
I'll use the one of Sequoia Capital, one of the most famous VC firm in Silicon Valley:
1. Purpose
2. Problem
3. Solution
4. Why Now
5. Market Size
6. Competition
7. Product
8. Business Model
9. Team
10. Financials
Side note: Feel free to make a few sequencing tweaks. For instance the "Product" section could come right after the "Solution".
Let's dive into the details…
1. Purpose
Define your company in a single declarative sentence.
Here are three simple, yet effective formulas you can use:
[Product] is a [product type] where [target customers] get [outcome] [Product] helps [target customers] to [result] [Company] helps [target customers] with [service] so they can [result]
Take a look at these three examples: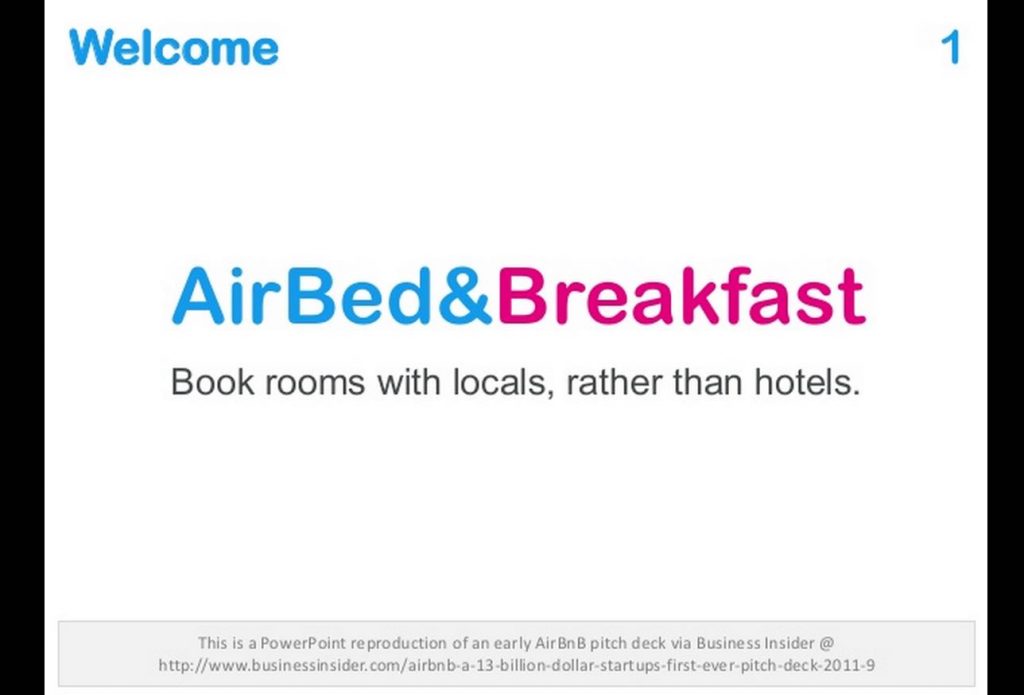 Traceair, a drone data software to verify site work: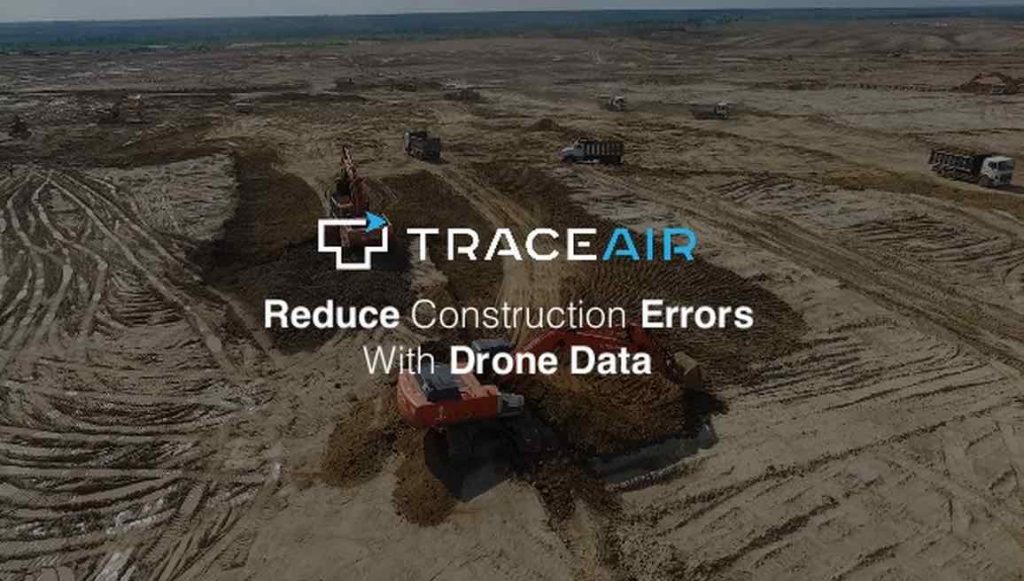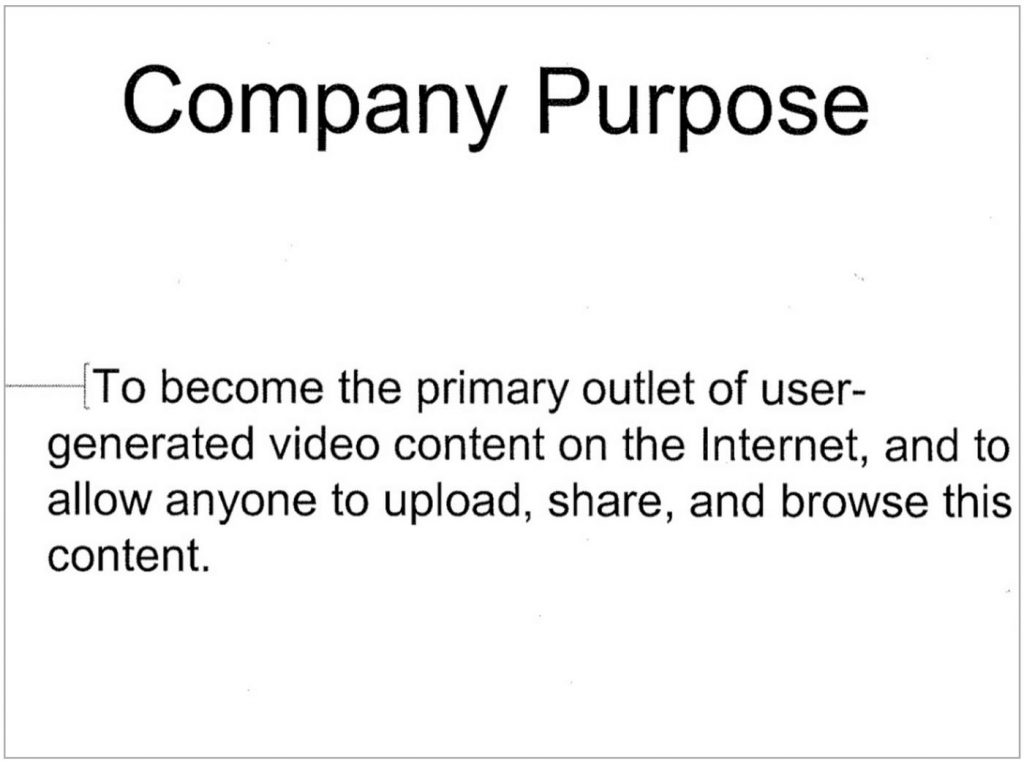 Tip: the best way to add your "Purpose" section in your presentation is to integrate it in your cover slide . Check out this article where I show you how to make a winning cover slide in less than 5 minutes.
2. Problem
Describe the current pain point or problem faced by your customer.
Outline how he's currently addressing the issue and what are the limits of current solutions.
Here's how Uber did it: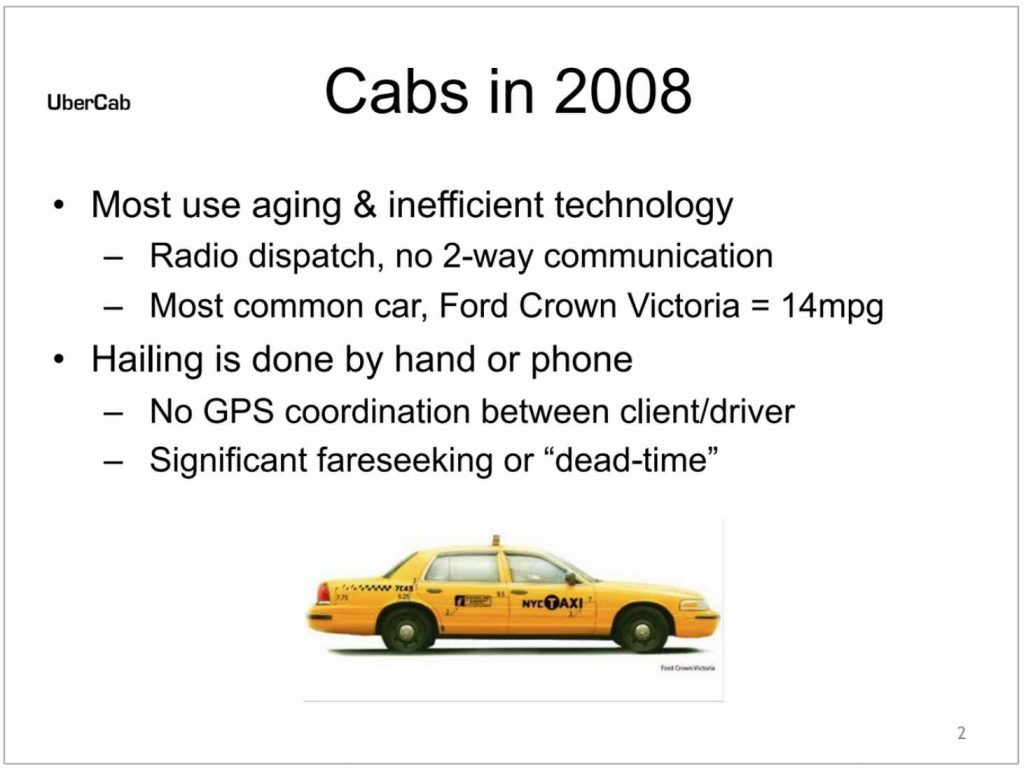 Mixpanel, a product analytics software: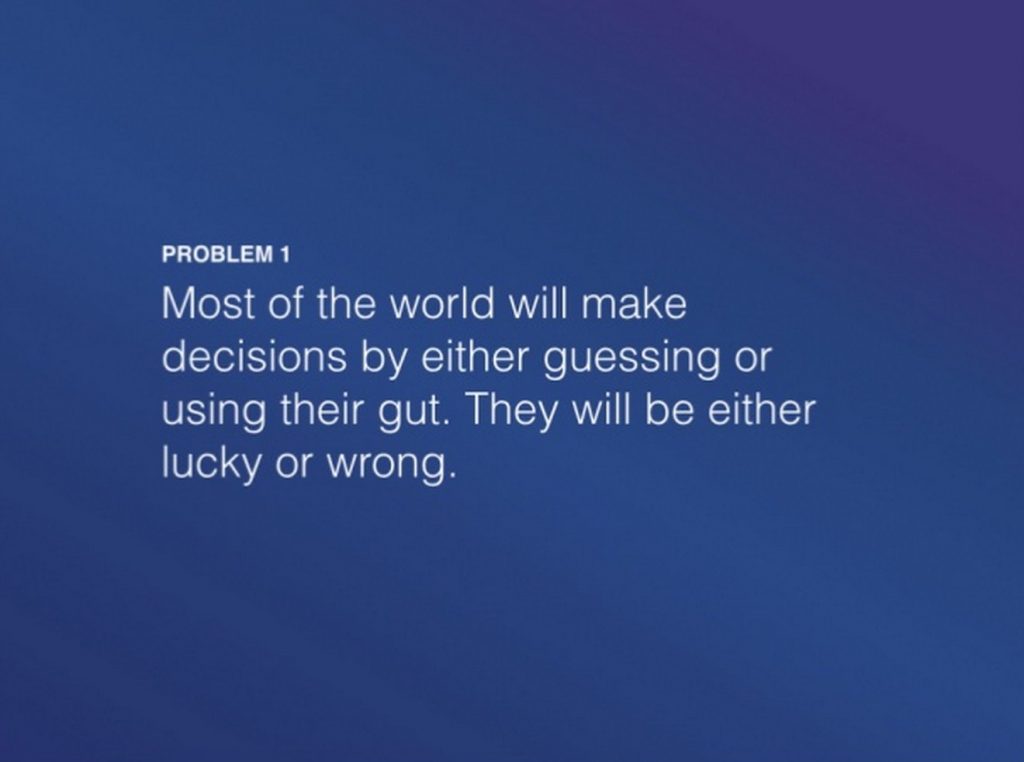 Youtube: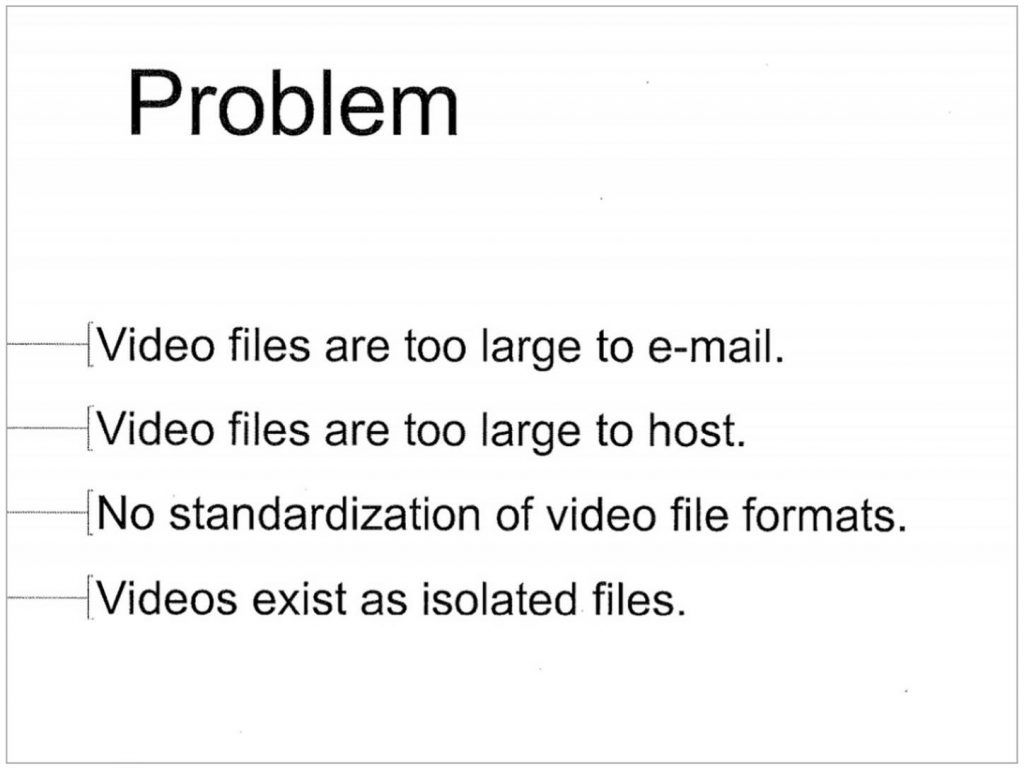 3. Solution
What is your value proposition and how does it make your customer's life better/easier?
How does your product/service solve your target customer's problems?
Which specific benefits and results do you deliver?
Tie your solution to at least one of these eight foundational "desires" common to everyone:
1. Survival, enjoyment of life, life extension.
2. Enjoyment of food and beverages.
3. Freedom from fear, pain, and danger.
4. Sexual companionship.
5. Comfortable living conditions.
6. To be superior, winning, keeping up with the Joneses.
7. Care and protection of loved ones.
8. Social approval.
Now, let's take a look at a few real examples.
Check out the crystal clear value proposition of Blablacar  – a leading long distance carpooling service: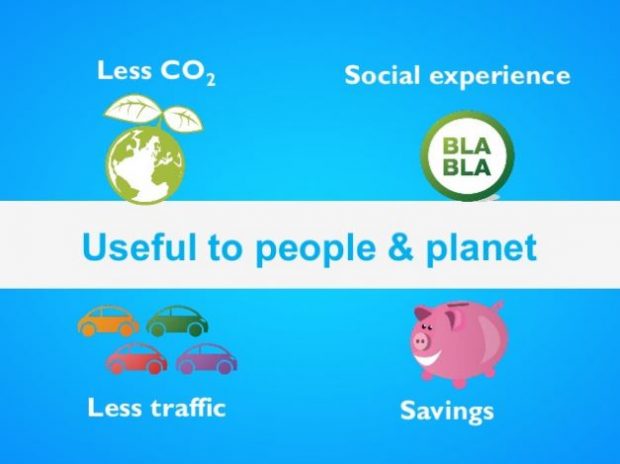 Airbnb: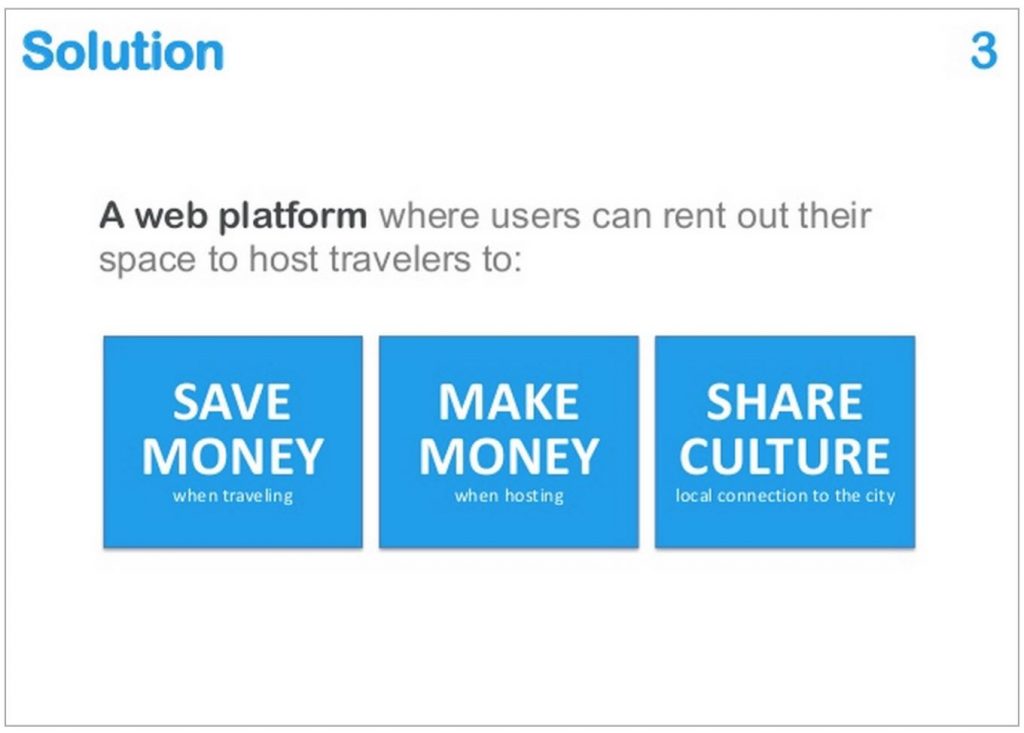 Mixpanel: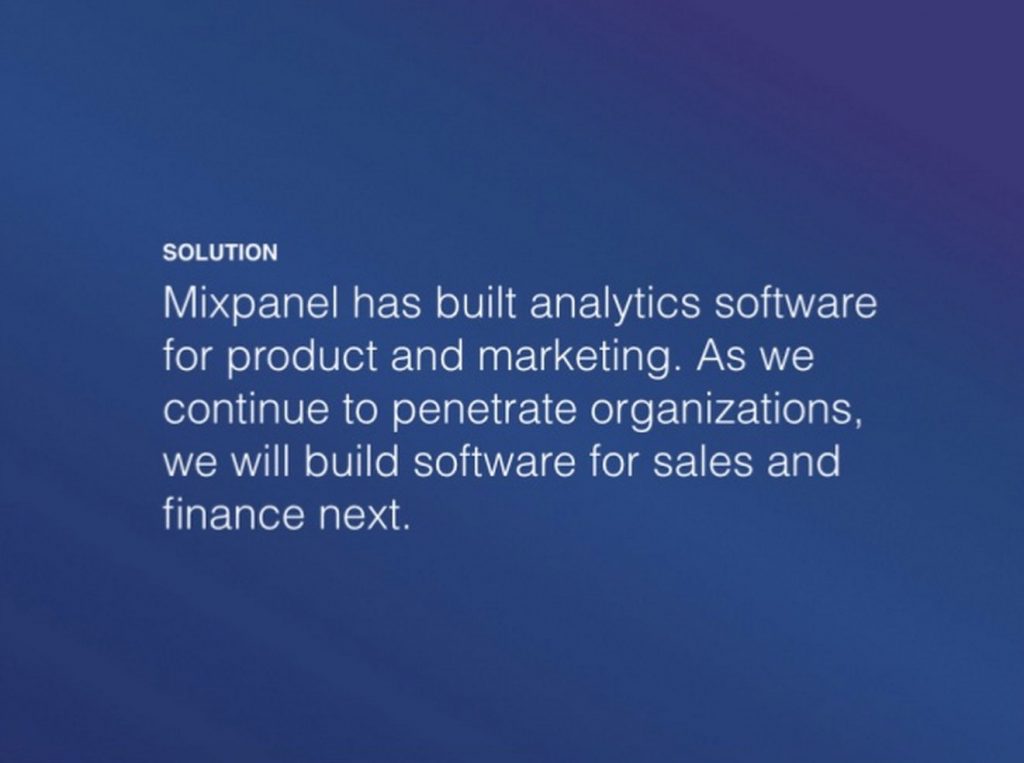 4. Why Now
Why hasn't your solution been built before now?
Your goal here is to demonstrate the attractiveness of your specific market:
What changes/trends/disruptions are underway?
Where is the market going to?
Adpush, an advertising revenue optimization platform: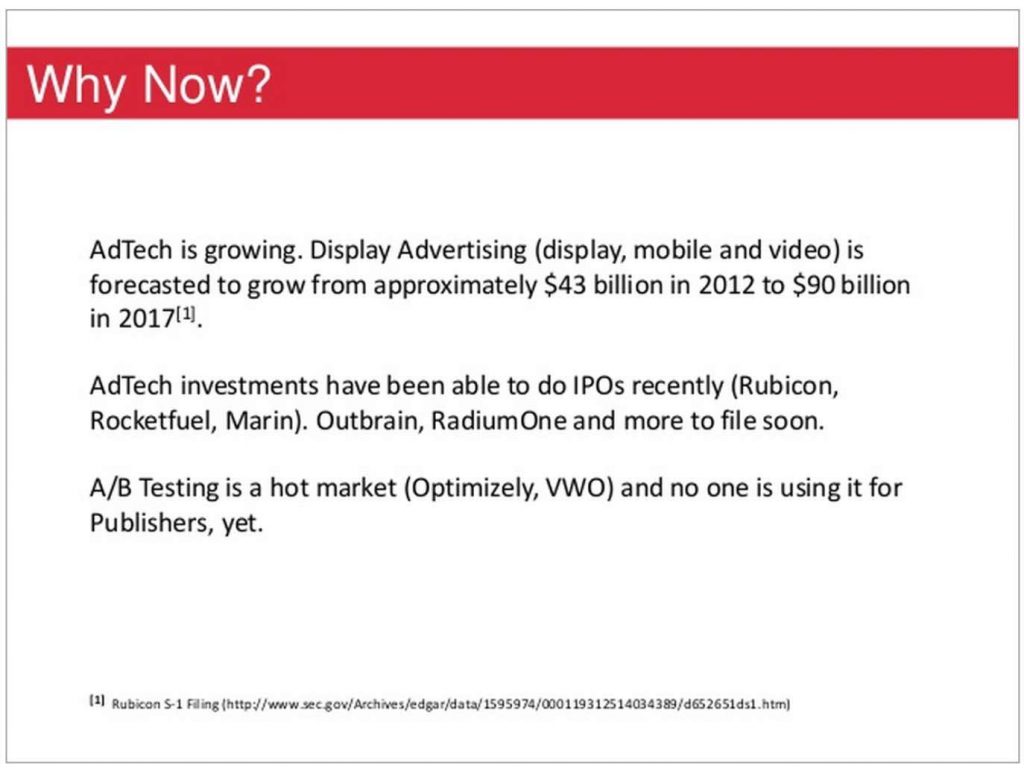 Buffer, a social media management platform: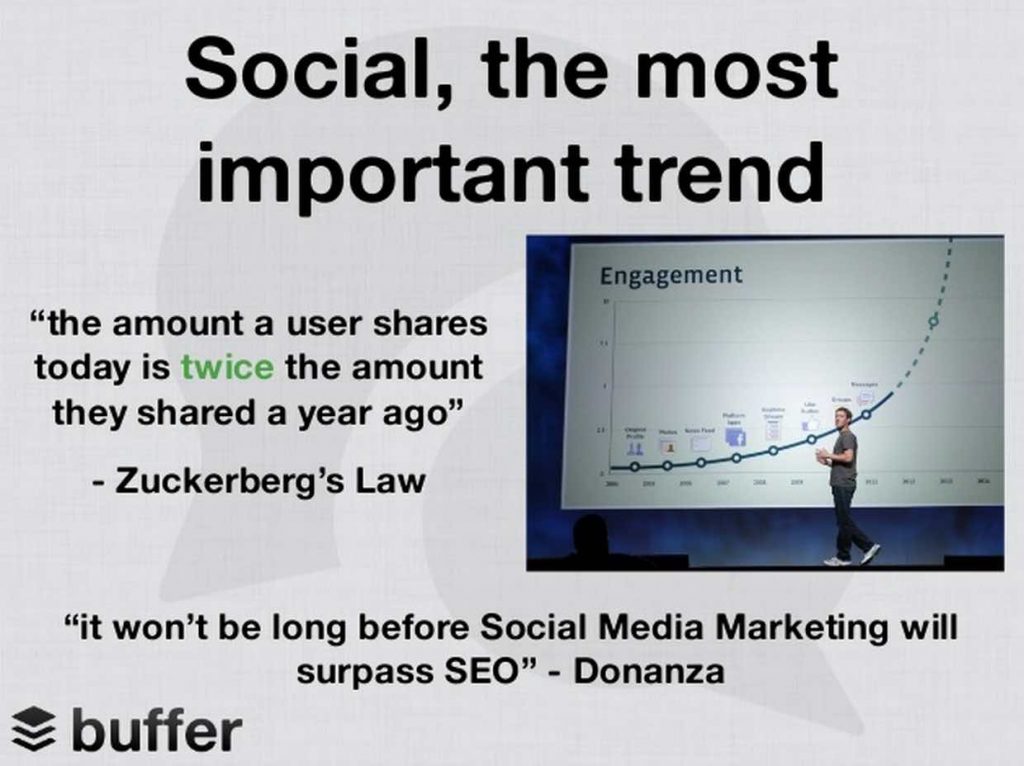 Front, a shared inbox for teams: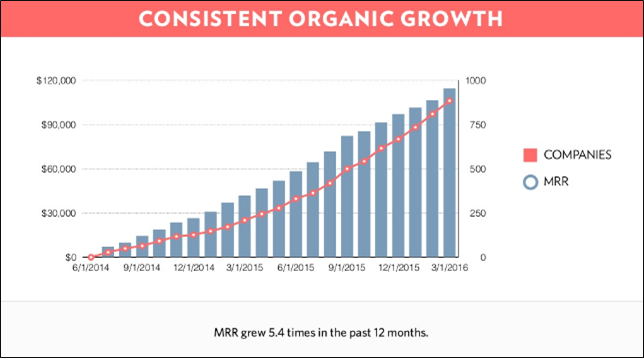 5. Market Size/Potential
Demonstrate the attractiveness and growth potential of your specific market.
How big is your market?
Who are you targeting, specifically?
Here's how Uber did it back in 2008…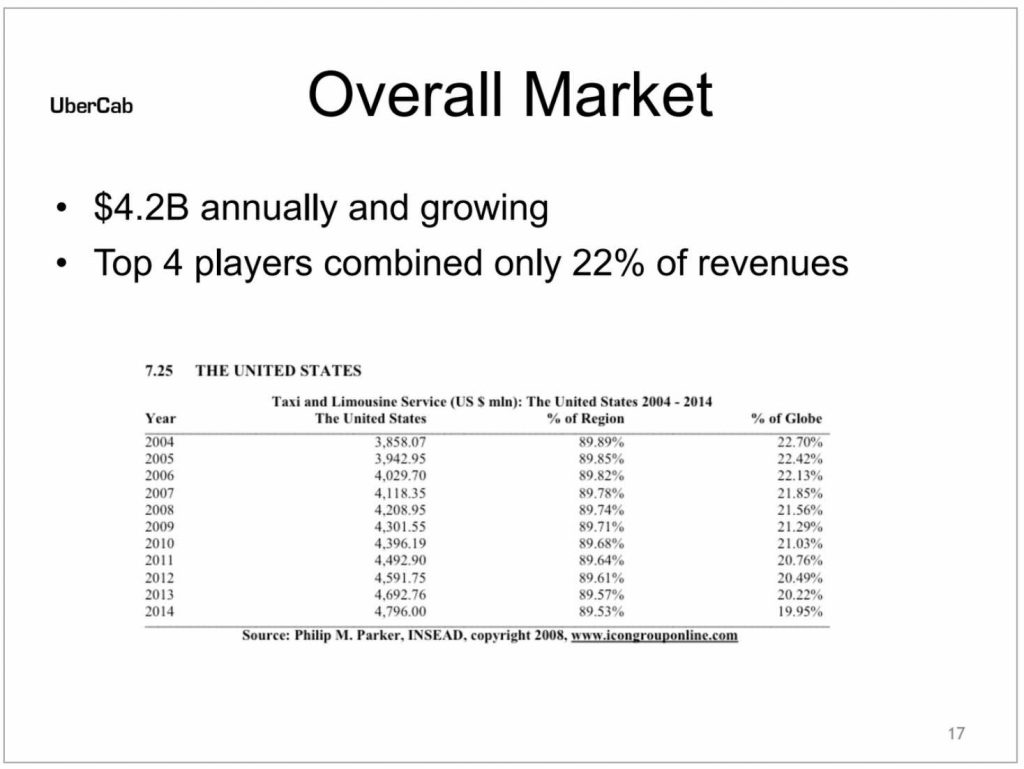 Airbnb: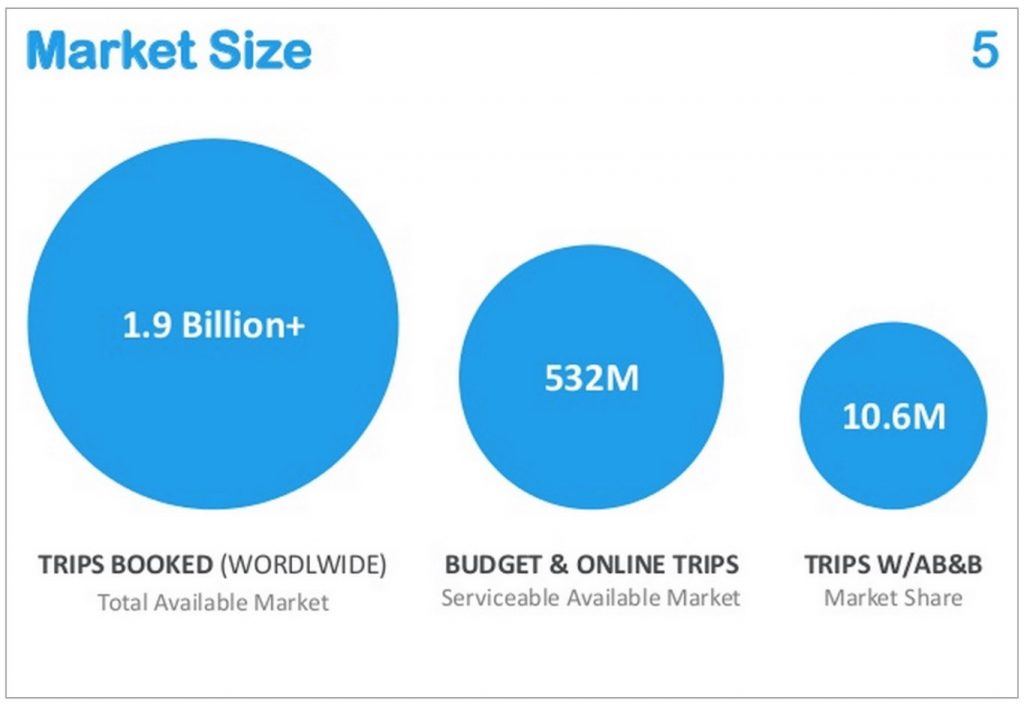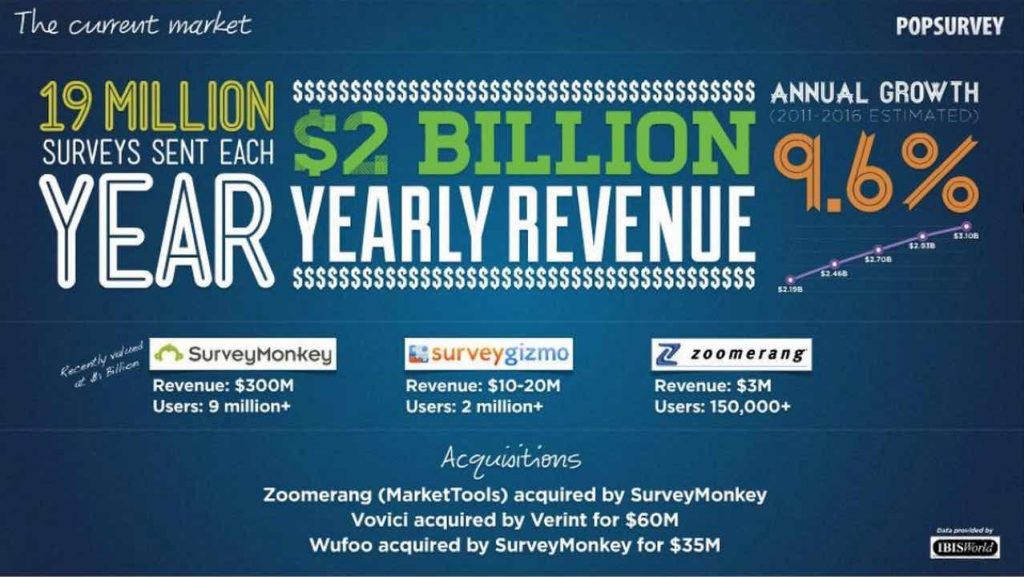 6. Competition
Who are your direct and indirect competitors?
Additional points you could cover  – depending on the level of knowledge of your audience – include:
What do they do better than you?
What do you do better than them?
What have you learnt from their ops/marketing/pricing strategies?
How do you plan to beat them?
Airbnb: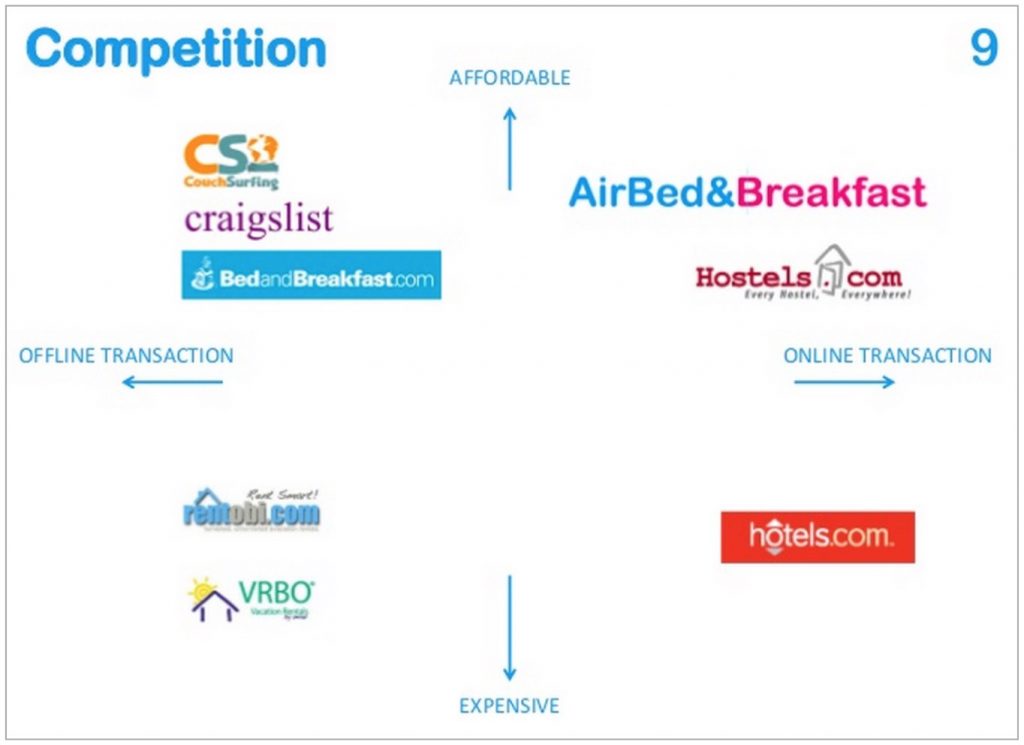 Mixpanel: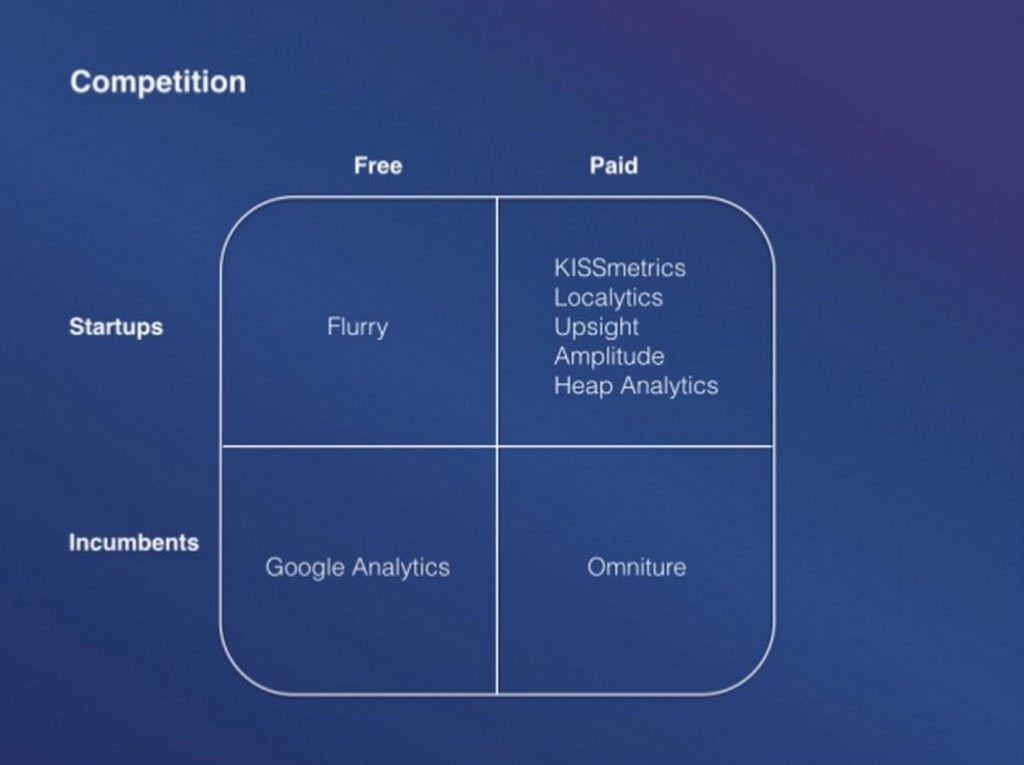 7. Product
You may want to skip this section if you've already provided enough, valuable, specific info in the "Solution"section.
If you want to dig into the details, you'll have to show two things in the "Product" section.
What your product does (features a.k.a things)
What your product help your customers get (benefits a.k.a. results that come from doing things).
Include details such as:
The steps users need to take to access the benefits of your product
User cases (show real-world examples)
Product development roadmap
Airbnb: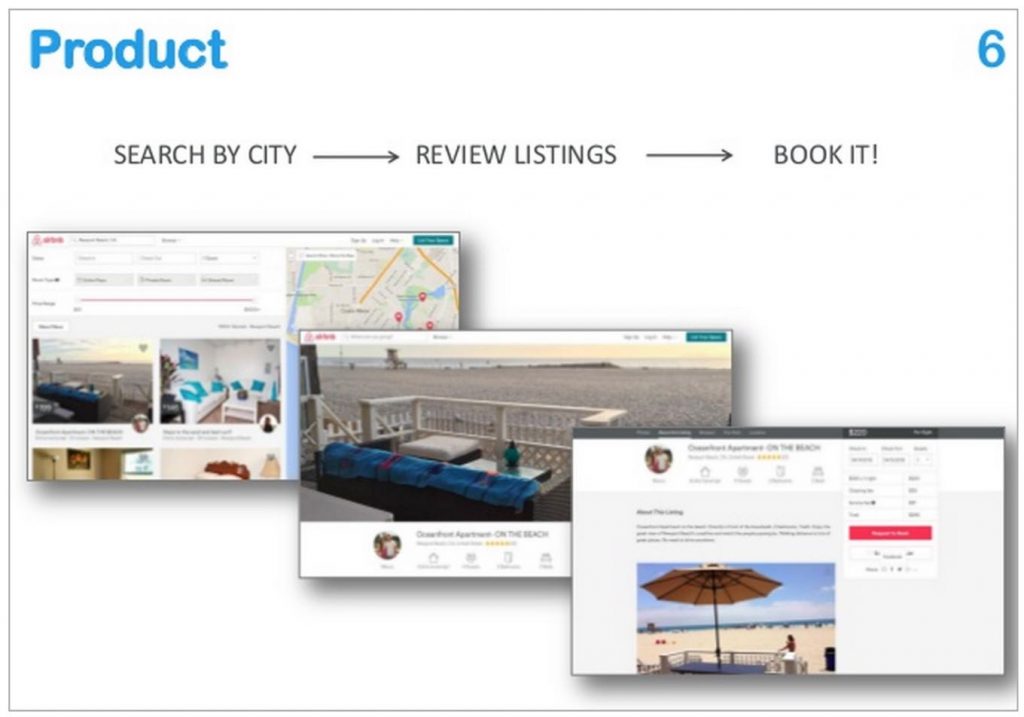 Uber: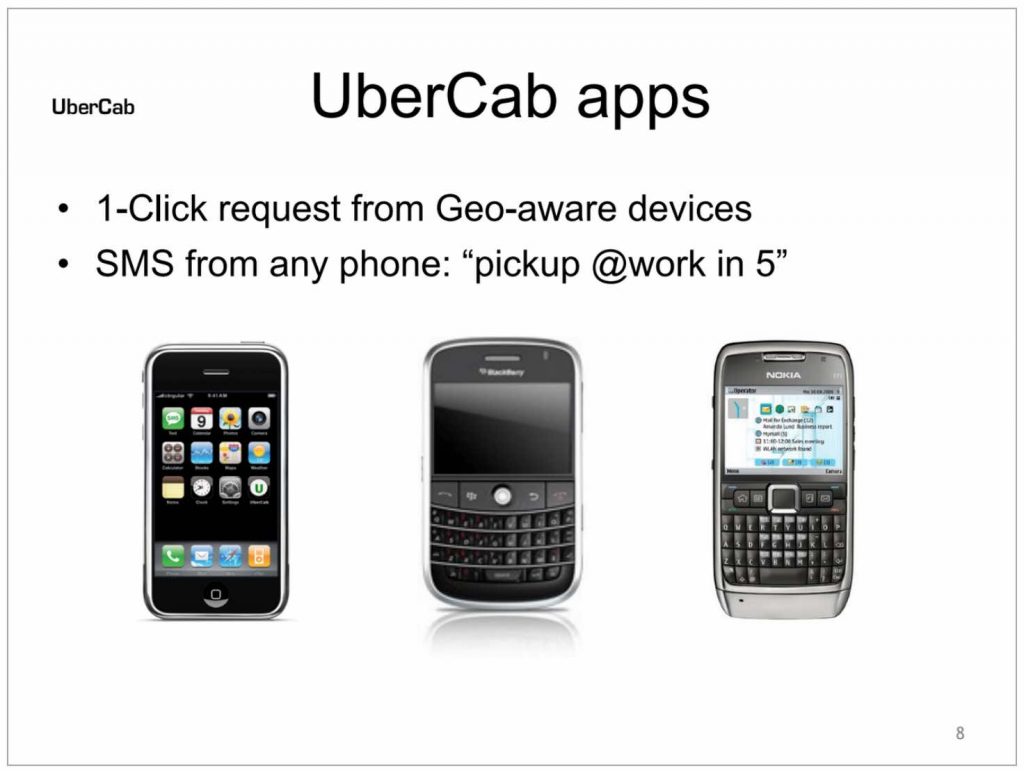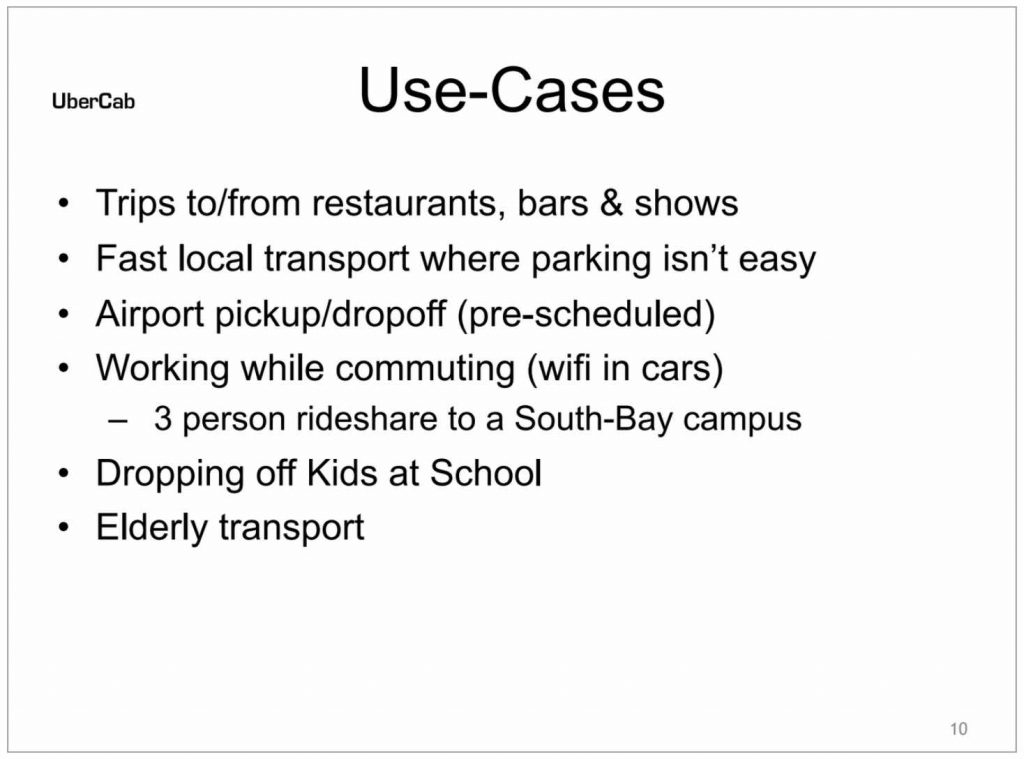 8. Business Model
Explain how you make money.
Revenue generation can usually be tied to one of these 4 models:
a) Asset sales: selling physical products (Amazon)
b) Usage/subscription fee: selling access to a service (Netflix)
c) Renting: giving customer the right to use an asset for a fixed period in return for a fee (e.g. Car Rental)
d) Commission fee: getting a cut for services performed on behalf of two parties (e.g. Airbnb)
You also may want to cover details about:
Your sales & distribution model (how do you find and keep your customers?)
Current customers/Pipeline list
Deliveroo, a takeaway delivery platform: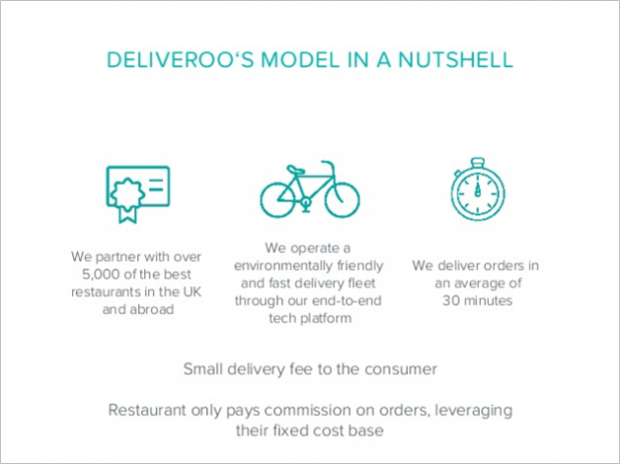 Airbnb: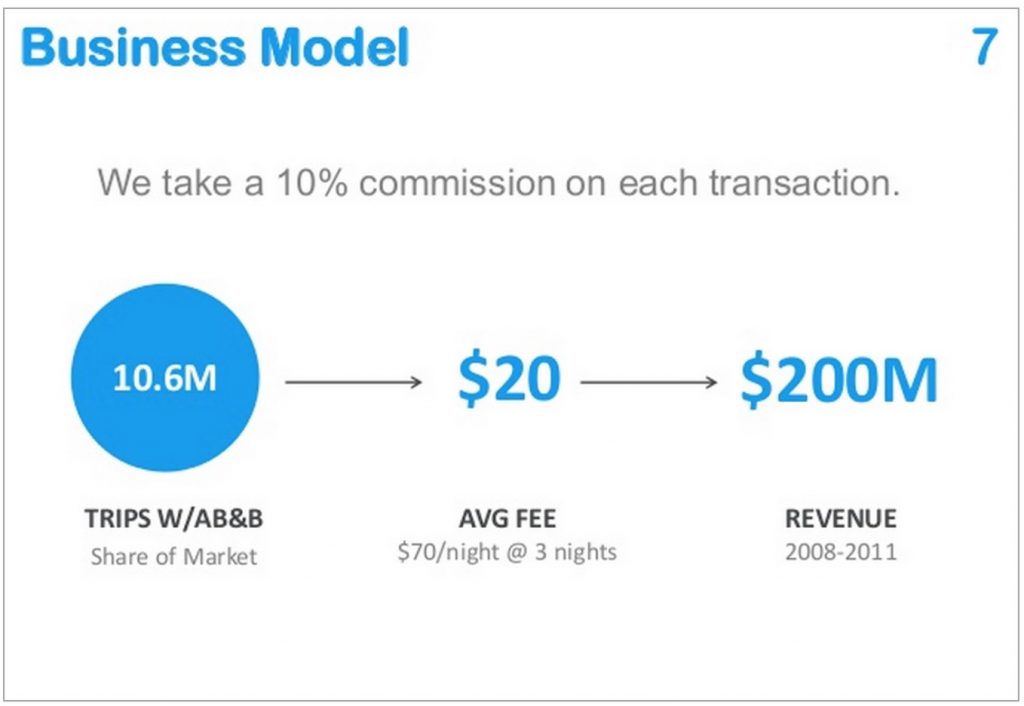 Buffer: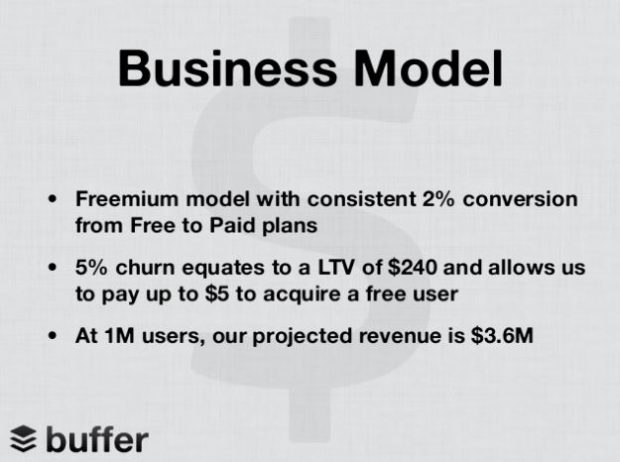 9. Team
Who is currently managing & growing the business?
This section should provide short, concise info about:
Who are the founders/management team + advisors/investors if relevant
Their mission, goals and achievements so far
The company organization and shareholder structure
Crew, a freelance developers & designers recruitment platform: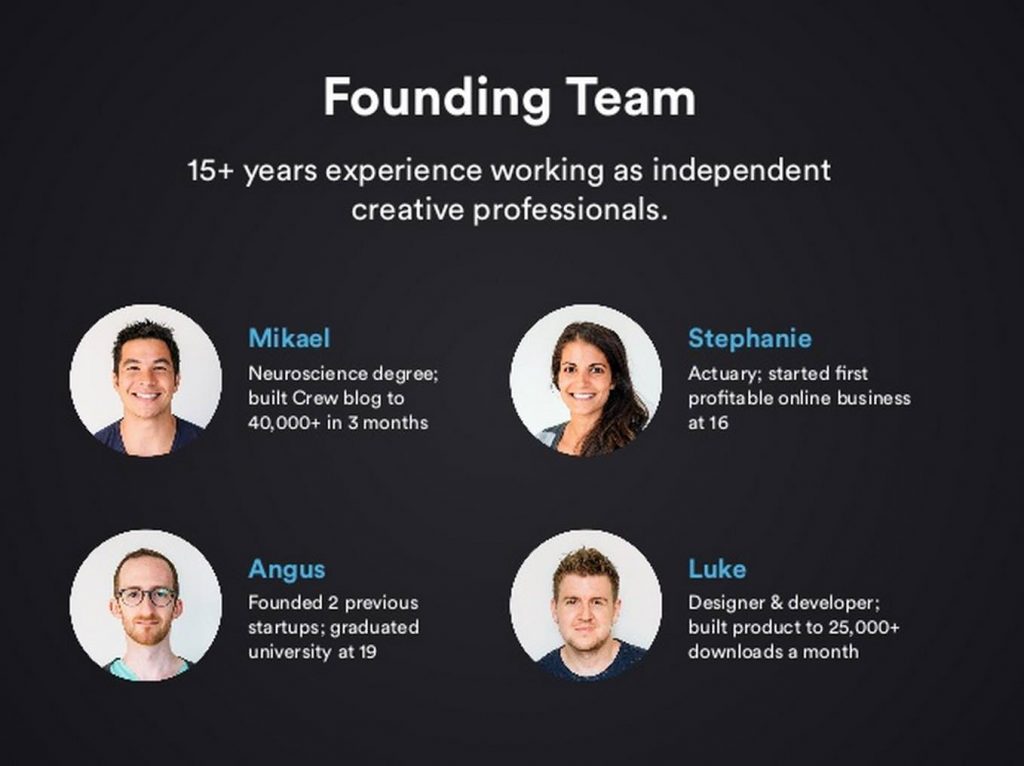 Buffer: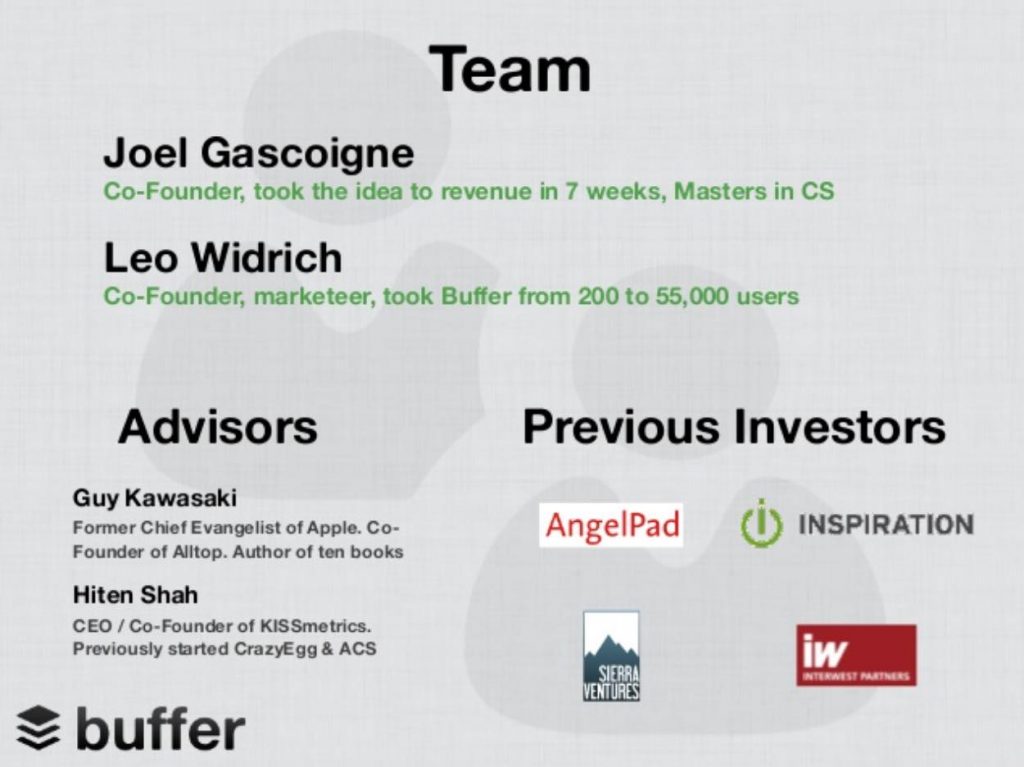 10. Financials
Here, you want to give a sense of your financial health. Include relevant financial details such as P&L, balance sheet and cash flow.
If you are looking for funds, then:
What deal do you offer?
How will you use the funds?
Can you describe exactly the project to be financed?
How do you currently use the cash?
Front: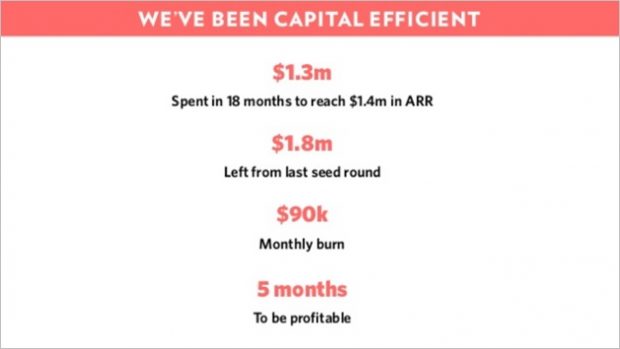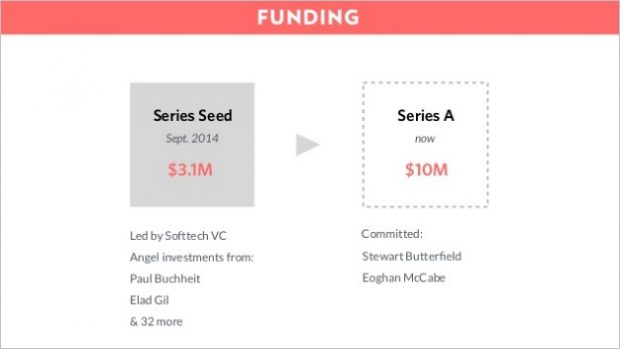 Pitch Deck Resources