Welcome to PPTPOP !
I'm Clemence Lepers, creator of PPTPOP.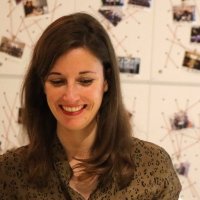 If you desire to start making irresistible presentations and pitches  – for client meetings, business reports or even pitch decks – this page is for you.
See, when it comes to presentation skills, I'm quite sure you've heard enough about "tell stories", "show your passion" and "be natural" tips for one lifetime.
That's not helping you.
That's just noise.
And you don't need more of it.
What you need is well-researched, actionable content that helps you get shit one.
So if you crave for practical, simple tips and examples that actually work in the real world, this blog is for you.
Now, back to this page…
There's a lot of content here – infographics, in-deep strategies and techniques, free templates. And you don't have the time to read it all at once. That's why I've put together this page to help you get started.
The way it works is simple. You pick a section that matches your goals, and then you chose from each "menu" options:
Make Better Presentations
If you're looking to develop high impact presentation skills, you'll love what I've got for you below. These are my best strategies, tips and hacks to build stronger presentations, fast.
Check it out:
Persuade Others, Sell More
If you want to get people to do what you want them to do (shall you read that again?), then you need to understand the most essential psychology and copywriting principles.
In the section below, you'll find my best articles to help you "sell" more.
Your ideas…
Your services…
…and even yourself
Get Presentation Templates
 Presentation templates help you clearly and concisely present information. Use them to craft modern, professional presentations that…
Get your point across
Influence
…and make you look amazing in front of your audience.
Build a Stronger Business
Equip yourself with some solid strategies to upgrade your business:
PPTPOP's Best Resources
Successful people do one thing very well:
They invest in themselves.
And because it's hard, requires time and commitment, they get incredible results most people will never get.
When you want to learn something new and get out of your comfort zone, you have two choices:
1) Learn how to do it yourself
2) Hire the best experts to show you the way (read books, attend conferences, meetups or take trainings and online courses)
The problem is…
There are a lot of options out there and that's not always a good thing.
How are we supposed to know what's good for us?
A while back, I created a solid guide of the best presentation training courses available online. These courses will help you improve your presentation skills, and most importantly, get the results you're after.