Welcome to PPTPOP.
PPTPOP is the place where you learn how to make presentations and pitches that persuade and close more deals.
I'm Clemence Lepers.
When I was a kid, I looked like this: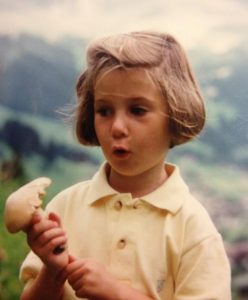 Today, I look slightly different but I still like wild mushrooms (and lobster rolls).


I've got a ton of content here – articles, books and courses, all aimed at giving you the knowledge to turn your words, pitches and presentations into powerful weapons of persuasion that get you more of what you want.
And also aimed at helping you growing professionally and personally.
You don't have the time to read it all at once, so it might be helpful to only read blog posts that match your goals.
Please choose your desired goal below.
I want to…
---
Strategies for sales pages, emails and ads
---
High impact presentation skills 
---
PowerPoint templates
---
Inspiration

Successful people do one thing very well:
They invest in themselves.
And because it's hard, requires time and commitment, they get incredible results most people will never get.
When you want to learn something new  and get out of your comfort zone, you have two choices:
1) Learn how to do it yourself
2) Hire the best experts to show you the way (read books, attend conferences, meetups or take trainings and online courses)
Solid online courses
---
Game-changing books
---
What the pros read: 4 books every smart marketer has on its bedside table
Don't know what to read?
Here are my 4 favorite books of all times (along with the reasons why).