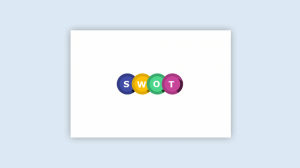 Hello my sweet friend!
🙋
In today's post, you are going to get your hands on a free, editable SWOT analysis PPT template that'll help you make an effective SWOT, save time and stand out in front of your audience.
But first…
Here's a super quick summary of the structure of this article so you get a sense of what will be covered:
✅ What a SWOT analysis is and why you need one
✅ SWOT analysis examples from real companies (Airbnb, Tesla…)
✅ The SWOT analysis template (works for PowerPoint and Keynote)
With that said, Let's dive right in…

1. What is a SWOT Analysis (And Why You Need One)

The point of a SWOT analysis is to help you identifying your business's strengths and weaknesses, as well as the opportunities and threats it faces in the marketplace.
Said differently:
Strengths + weaknesses = internal to your company
Opportunities + threats = external factors
Here's a simple definition given by the University of Kansas:
A SWOT analysis guides you to identify your organization's strengths and weaknesses (S-W), as well as broader opportunities and threats (O-T). Developing a fuller awareness of the situation helps with both strategic planning and decision-making.
2. SWOT Analysis Examples
Now, let's take a look at a few concrete examples so you can get a better sense of how a good SWOT analysis looks like…
The SWOT Analysis of Airbnb
A‌i‌r‌b‌n‌b‌ operates an online marketplace where members can arrange or offer home-stays or tourism experiences.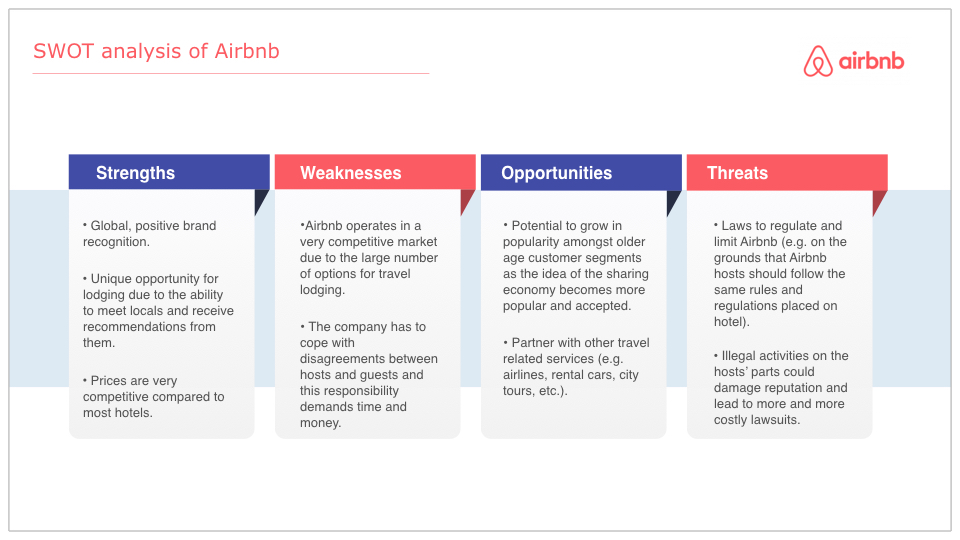 Source
The SWOT Analysis of Starbucks
Starbucks is an American coffee company and coffeehouse chain.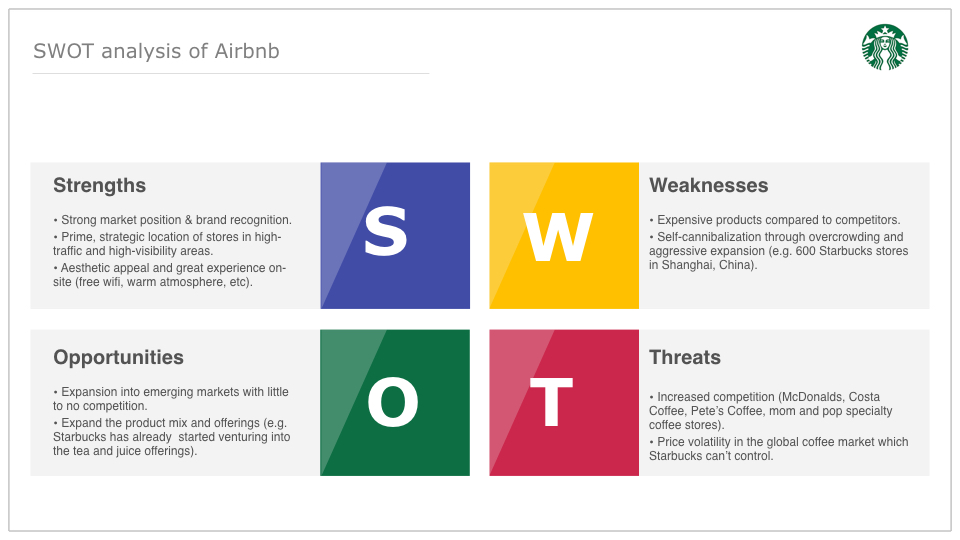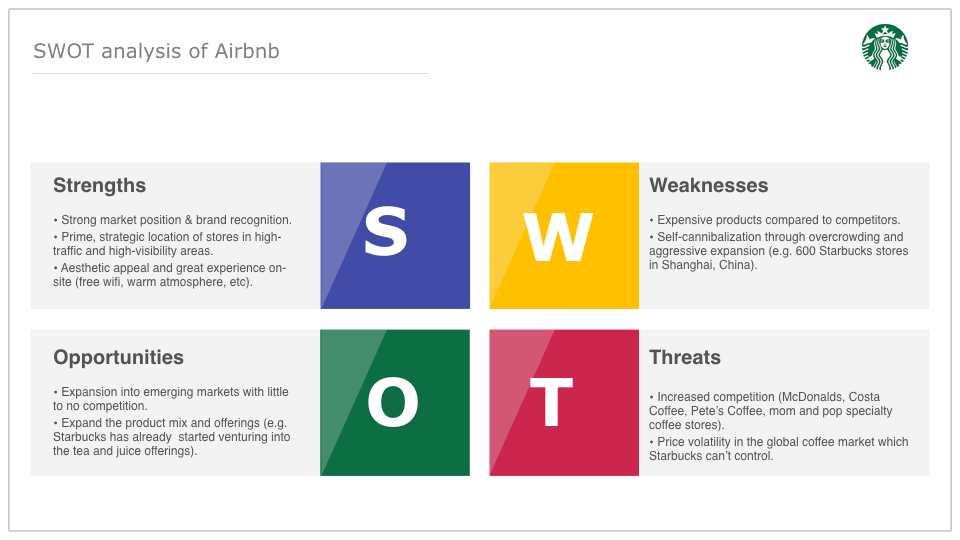 Source
The SWOT Analysis of Tesla
Tesla is an American automotive and energy company that specializes in electric car manufacturing and in solar panel manufacturing.

Source
Now, let's check out the SWOT analysis template.
3. The SWOT Analysis PPT Template (Bonus: Keynote Version)
Here's screenshot of the SWOT template pack: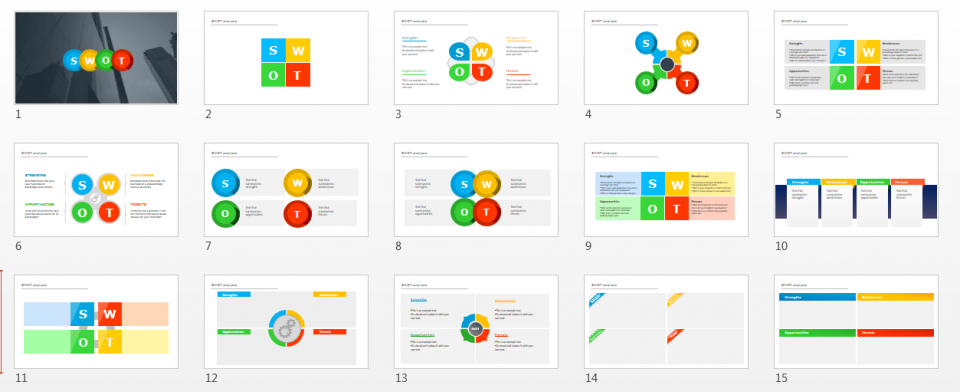 It's 100% editable and includes a lot different PowerPoint design variations. Here's a sneak peek of what you'll get: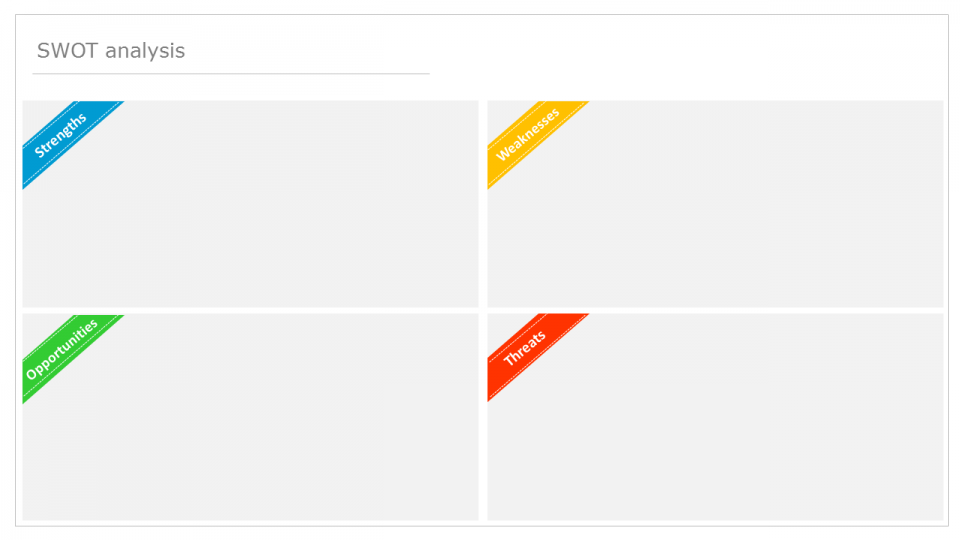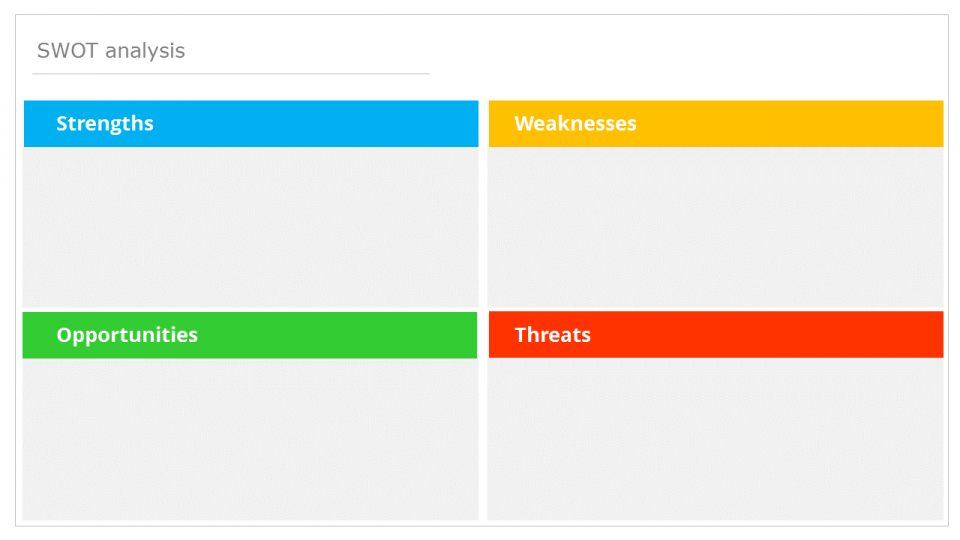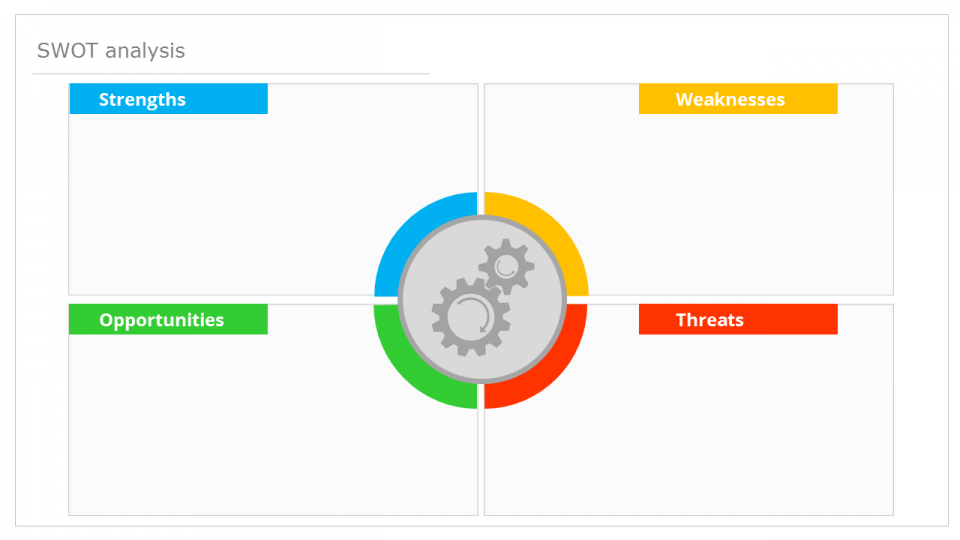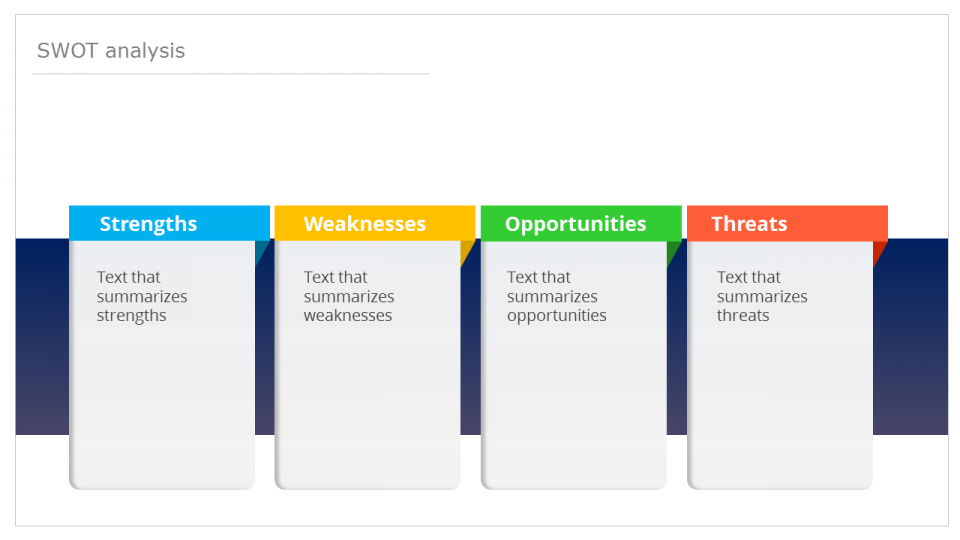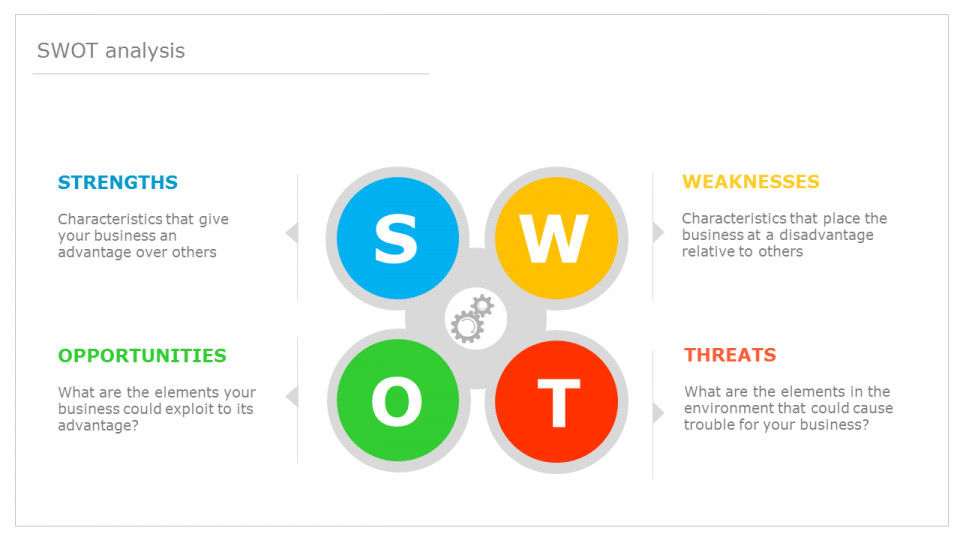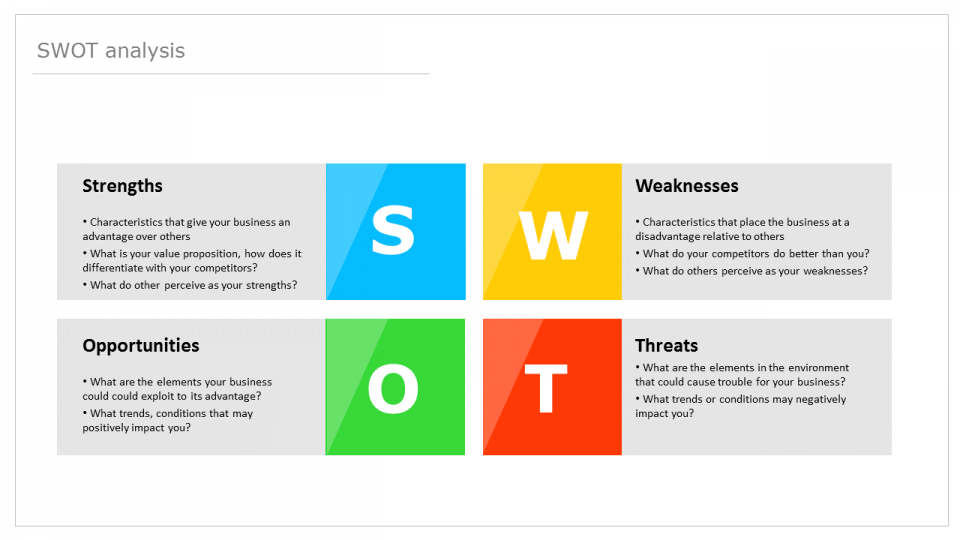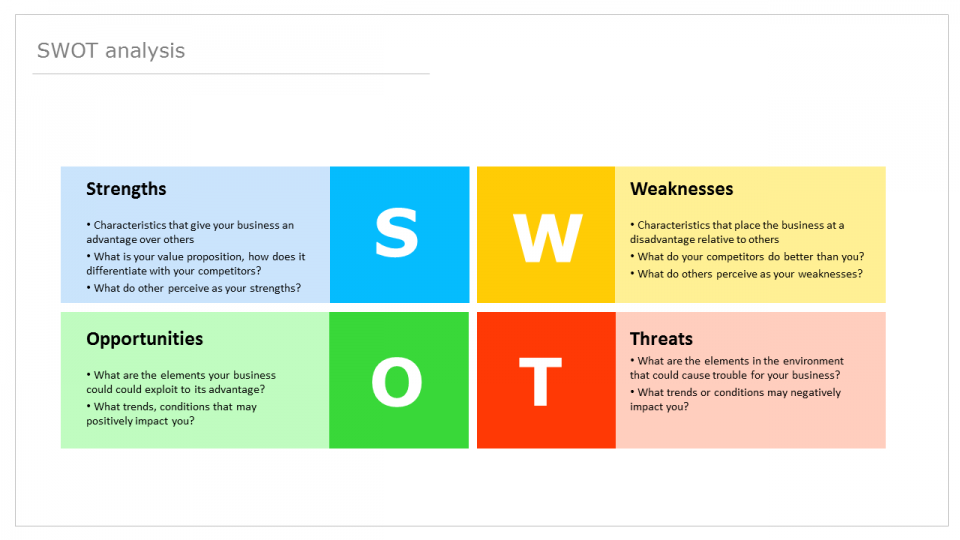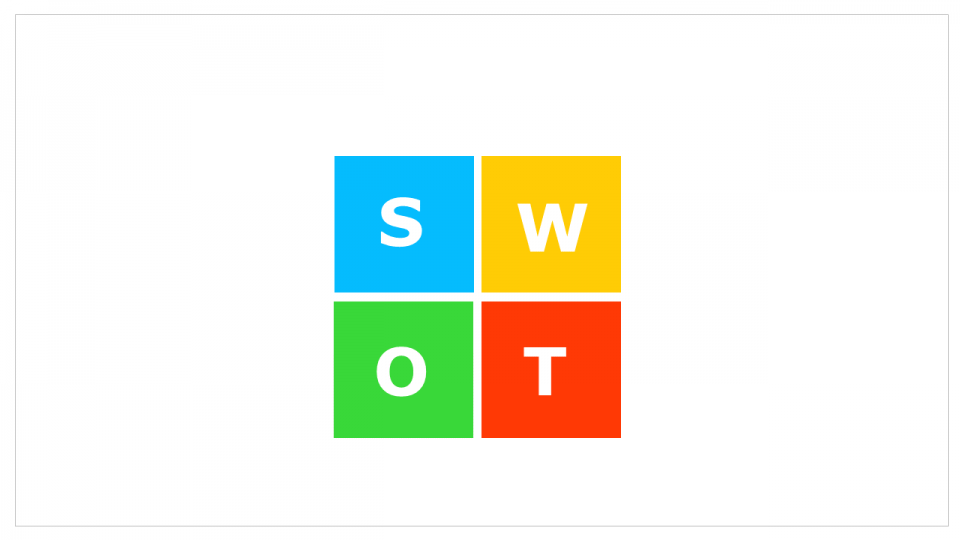 How To Use These Slides
If you need to customize some of the slides and elements for your own use, click right on the shape, and ungroup the elements.
Just as in below example: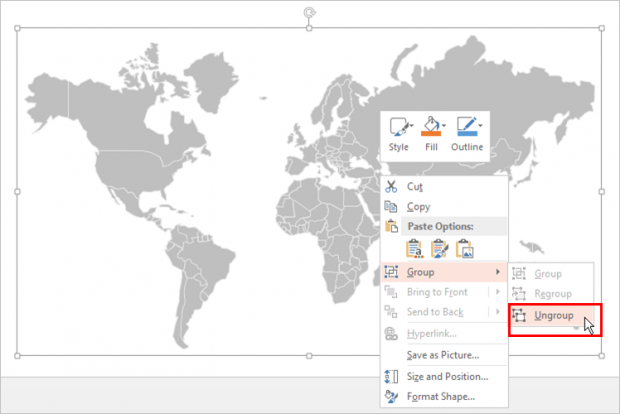 How to Get Your Editable SWOT Template
Click here to download the PPT version
Click here to download the Keynote version
Do You Spend a Lot of Time Making Presentations?
If you though… "YES!", then I have a question for you:
What if you could actually design presentations faster, clearly convey your message while looking amazing in front of your audience?
What if, for less than $20, you could get immediate access to hundred of designer-made, gorgeous-looking slides at a fraction of what a good designer would charge you (for just an hour of work)?
If you're serious about making impactful presentations that people will remember, then you should consider getting pre-built, 100% editable presentation templates.
For example, this one: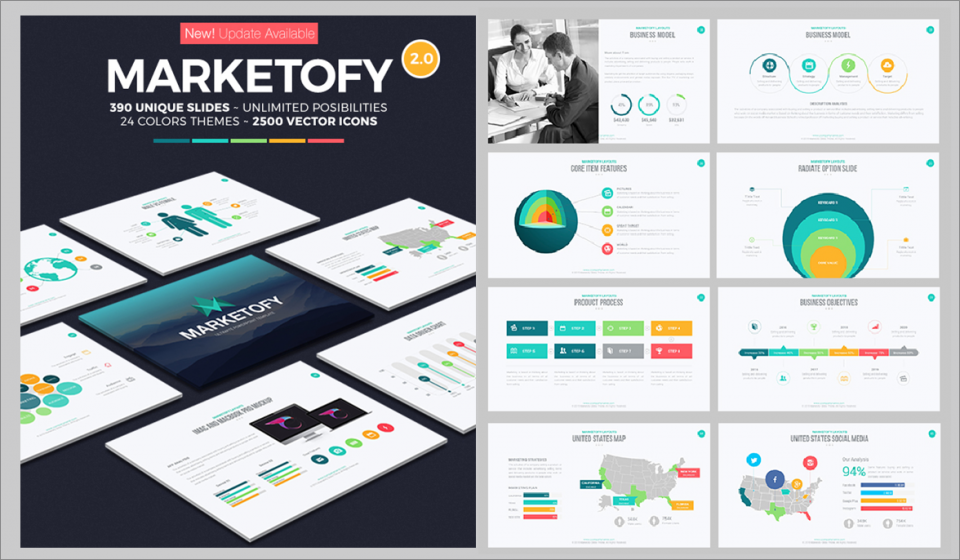 What's inside this bundle, you may ask?
Hundreds of unique slides you can use for a sales presentation, pitch deck, company overview, agency proposal, and more
Ready-made color themes
Drag-and-drop photo placeholders (basically, you drag any visual from your files, and it will take the exact shape of the placeholder)
Dozen of graphs and charts (to concisely present data-rich information)
Thousands of icons
Not sure about what presentations templates can do for you?
No worries. You could check out my detailed, unbiased review of the best templates available on the market below:
Affiliate Disclosure. PPTPOP is a participant in the Envato Affiliate Program, and we get a commission on purchases made through our links (it doesn't cost you anything).