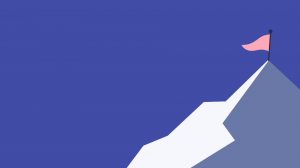 Consider this as your personal, snack-sized crash course on how to make a (good) business plan.
Whether you…
…Need to get that high-stake business plan presentation ready by yesterday.
…Want a PROVEN framework that will help you structure and develop that plan, step-by-step.
…Look for a solid, editable presentation template that'll wow your audience.
Here's what you'll learn today:
✅ What a winning business plan is and why you need one (It's not only about having a nice template. You need to read this if you truly want to succeed at making your own…).
✅ How to structure your business plan. Use one of these three bulletproof outlines to craft a BP that works for any product or service (and no matter if you're a well-established company or a tiny startup).
✅ "Simple Checklists" you can use to build your plan, step-by-step. They include the exact questions A-list businessmen answer in their business plans (Note: This takes a lot of work but it separates the big dogs from the wannabes).
✅ One all-purpose, free business plan presentation template. And my two favorite, top-tier templates for Keynote & PowerPoint. Use them for wildly successful business plans…
Quick jump to sections for the busy bee:
How To Make a Successful Business Plan Presentation
1. The Definition of a Business Plan
What is a business plan?
Unless you can answer that question within the next 10 seconds (I'll start counting now), read what's following:
"A business plan is a detailed summary of a business, its mission, vision, and goals, why these are going to be successful, and how they're going to be achieved" (source). Basically,  it's a roadmap for the development of your company.
And here's my personal, somehow condensed definition:
Business plan = what you intend to do + how it will be done
2. Why You Need a Business Plan
"If you fail to plan, you are planning to fail."
Benjamin Franklin
There are literally a gazillion of reasons you should make a business plan:
Assess the viability of your venture
Better understand your competition
Sell your business
Determine your financial needs
You're less likely to fail (71% of fast-growing companies have plans)
And so on…
But let me save you some time here and tell you the one major reason:
A business plan is a turnkey tool for managing your business.
First, having a plan will force you to document everything about your business: your goals, value proposition, target customers, revenue model, financial & cost structure, competition, milestones, etc.
Second, it will help you track your success, because you have a written record of your goals + delivering against them.
3. Three Different Structures You Can Use
Look:
There are a lot of different ways to build a business plan presentation. And if you start searching for some help on Google, I can almost guarantee you'll get a headache in the next 20 seconds.
The thing is, your business plan structure will mostly depend on…
Your audience (business partners, clients, investors?)
The objective of your business plan (inform, convince, raise funding?)
Your type of business (product manufacturing, service, tech?)
Your stage of development (business idea, minimum viable product, profitable business?)
See, there is no right or wrong structure.
So here is your takeaway:
Make sure to determine why you are making a business plan and in which context you intend to use it.
With that said, let me introduce you three basic business plan outlines you can use:
a) The Classic Business Plan

I recommend you to use this structure if you already have an established, stable, cash-generating businesses (clearly, you didn't start your company two days ago).
1. Executive summary/Company overview (intro, mission statement, history, status, objectives)
2. Product and Service (features, benefits, stage of development)
3. Market analysis (market size & growth, trends, customers, competition)
4. Marketing plan (acquisition channels, positioning, revenue model)
5. Operations plan
6. Development plan
7. Management (company organization and team)
8. Competitive advantage
9. Financial plan (projections, assumptions, fundings, business risks)
10. Funding (requirements, strategy, sources and use of funds)
b) The Classic Business Plan With Lots of Figures
If you need to focus on the financial aspect of your business, this structure will be a great fit.
Section One: The Business
1. Description of Business
2. Products/Services
3. Market Analysis
4. Marketing Plan
5. Location
6. Competition
7. Management and Operations
8. Personnel
9. Application and Effect of Loan or Investment
Section Two: Financial Data
1. Projected Financial Statements
Income Statements
Cash Flow Statements
Balance Sheets
Assumptions to Projected Financial Statements
2. Break Even Analysis
3. Sources and Uses of Funds
c) The Investor-Focused, Pitch Business Plan

Your business is quite new (nope, your company wasn't created in 1982) but you already have the whole business model canvas completed. You're looking to pitch your solution, and most likely want to raise funds for your project.
1. A description of the major problems your customers have
2. Your solution (and what makes it better than the others)
3. Business model (how you make money)
4. Target market (who specifically do you serve)
5. Competitive advantage (what do you have that can't easily be copied/beaten)
6. Management team
7. Financial summary
8. Funding required
4. The Essential Elements (Detailed Business Plan Outline)
In this section, I'll give you the essential questions a great business plan needs to answer.
For each part, I'll also provide you additional, university-backed resources you can (and should) use to dig deeper on the topic.
Executive Summary
The target of this part is to provide a short overview of your business, as it is today and as you want to develop it in the near future.
✅ Who are you? (e.g. [Company] is a [business type] founded by [founder's name] [number] years ago)
✅ What's the financial ownership structure?
✅ How you long as your business being operating?
✅ What product/service do you sell, to whom and across which geographies?
✅ What do you want to achieve, and in which time frame (e.g. number of customers, revenue target, market share)?
✅ What's the goal of this business plan (get funding, if yes, how much and for what, etc)?
Products / Services Description
So…
What do you sell and who do you sell that to?
First, let's answer a few questions about your target customers (aka the group of people/organizations you aim to reach and serve)
Target Customers
Their Demographics (Their Structure)
✅ How old are they?
✅ Mostly male/female?
✅ Where do they leave?
✅ How much do they earn?
✅ What do they do for a living?
Their Psychographics (Interests, Values and Opinions)
✅ What are their interests (inclinations and affinities)?
✅ Activities do they enjoy?
✅ Things they believe in and what are their core values?
Now, let's dig into your value proposition (also known as USP – unique selling proposition, the #1 reason people should buy from you, and not your competitors)…
Value Proposition
✅ How does your product/service solve their problems/improve their situation?
✅ Which specific benefits do you deliver?
✅ Why do/should they buy from you and not from the competition?
Market Analysis
The point here is to give a solid summary about the environment in which your own business model functions.
What you want is to understand – and help your audience understand – the three most important aspects of your environment (I'll get to those in just a second), and how they're likely to evolve in the future…
Yes, it takes work to gather all these pieces of information, but having a complete understanding of your business environment is what separates the pros from the amateurs.
a) Market Forces
Your goal here is to assess the attractiveness, dynamics and challenges of your specific market. There are various essentials components in the market forces. And you need to know the answer to the following question marks.
Market Issues
✅ What changes are underway?
✅ Where is the market going to? (Example: saturation in top-tier countries, emerging markets becoming increasingly more important)
Market Segments
✅ What are your customer segments (the group(s) of people you aim to reach and serve)?
✅ Where is the biggest growth potential?
✅ Big or small market segment? Niche? Mainstream?Example: Wholesalers, millennials…
Needs & Demands
✅ What do customers want to get done?
✅ What unsatisfied needs exist? (Example: large unsatisfied healthcare needs in emerging markets)
Switching Costs
✅ Is it easy for customers to find and buy similar offers?
Revenue Attractiveness
✅ What are customers willing to pay for?
✅ Can they easily find cheaper/better products?
b) Industry Forces
The point here is to understand the position your company occupies vs. other companies that produce similar products/services.
Answer these questions about your competitors, and possible substitute products:
Competitors
✅ Who are your major competitors (current and future)?
✅ What are their strengths and weaknesses?
✅ What do they do better than you?
✅ And what do you do better than them?
✅ Which customer segments do they focus on?
✅ What have you learnt from their operations/marketing/pricing strategies?
✅ How do you plan to attack/beat them?
Substitute Products
✅ Which product could replace yours?
✅ How much does it cost compared to yours?
✅ Is it easy for customers to switch to this product?
Stakeholders
✅ Who can influence your business?
✅ How influential are they?
c) Key Trends 
The goal of understand this particular aspect of your business is to predict the general direction in which your business is developing…
Tech Trends
✅ What are the major tech trends / disruptions in and outside your market?
✅ Do they represent threat or opportunity?
Regulatory Trends
✅ What new rules/laws may affect your business?
Societal and Cultural Trends
✅ Which shifts in cultural / societal values affect your business?
✅ Which trends can influence the buyer behavior?
Socio Economic Trends
✅ What are the key demographic trends?
✅ What are the income distribution and key spending patterns in your market?
To find reliable data on Google, you can use these search strings:
"Your Industry" + report + inurl:[name of a famous consulting company] (Bain, BCG, McKinsey)
"Your Industry" + statistics/report + site:.edu
Example: "Retail industry" + report + inurl:accenture
Example: "Subscription services" + report + site:.edu
You can also gather data about your competitors or a topic that's relevant to you with these tools:
Google Trends (analyzes the popularity of top search queries in Google Search across various regions and languages)
SimilarWeb (Get traffic insights for any website)
Google Alerts (Get a report sent to your inbox every time your competitor is mentioned online)
Sales & Marketing Plan
Tell me more, why would people actually want to buy what you're selling…
✅ Who are your target customers, in a nutshell?
✅ What are their hopes, fears and dreams?
✅ Is your market growing, steady or declining? (yeah, include data)
✅ Is your market share growing, steady or declining?
✅ How do you generate awareness (crucial for new stage businesses)?
✅ Which channels do you use/plan to use to reach, acquire and retain customers?
✅ What is your pricing strategy?
Management & Operations Plan
Unsurprisingly, this section describes who'll be managing the business, and how it will operate.
✅ Who are the key management team members in place?
✅ What are their qualifications, experiences and skills?
✅ How do these backgrounds help you in this business?
✅ What are their exact responsibilities (goals, missions)?
✅ Who do you plan to hire (and why?)
✅ How do you operate the business?
✅ Who is controlling/owning the company?
✅ What's the shareholder structure?
✅ What's the legal structure of your business?
✅ Do you have a board of directors?
✅ How and where are your products/services produced?
✅ How do you operate quality control, customer service, product development etc?
✅ Do you have trademarks or patents (pending, existing, or purchased)?
Development 
✅ Where you going?
✅ What are your milestones?
✅ What are your short term, mid term targets (in terms of customers, revenue…)?
✅ How will you achieve those goals?
Financial Summary
Here, you want to give a sense of your financial health and your cash flow…. and help your audience assess whether you guys can make a profit.
✅ Do you need funding? If yes, how will you use it?
✅ Can you describe exactly the project to be financed?
✅ Where did the money from the past came from?
✅ How do you currently use the cash?
✅ Provide statements (balance sheet, income statements, accounts receivable and payable, debt, cash flow…)
5. The Free Business Plan PPT Template
Here are a few screenshots: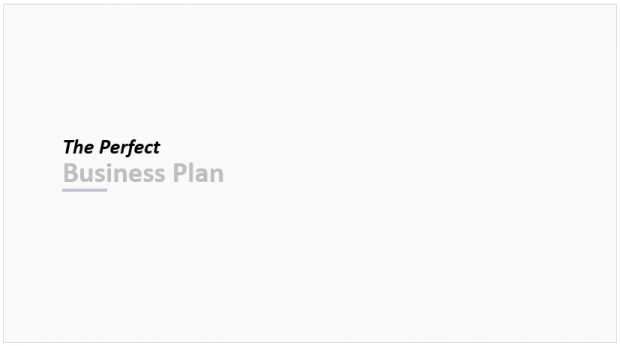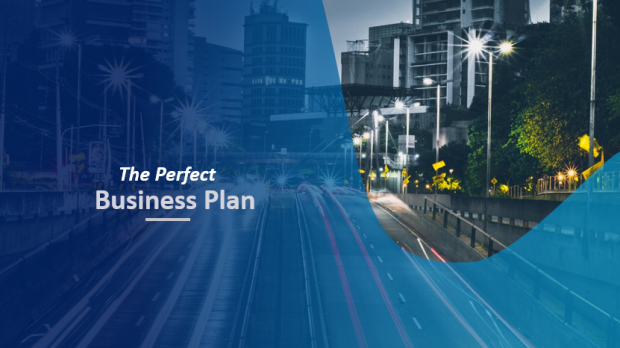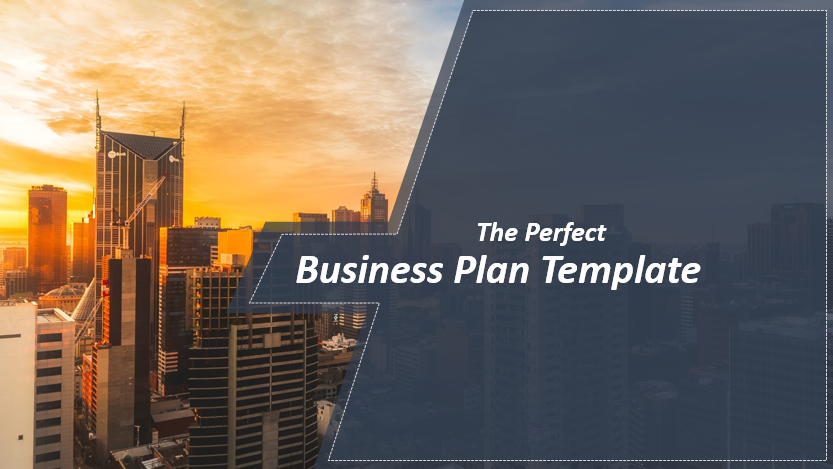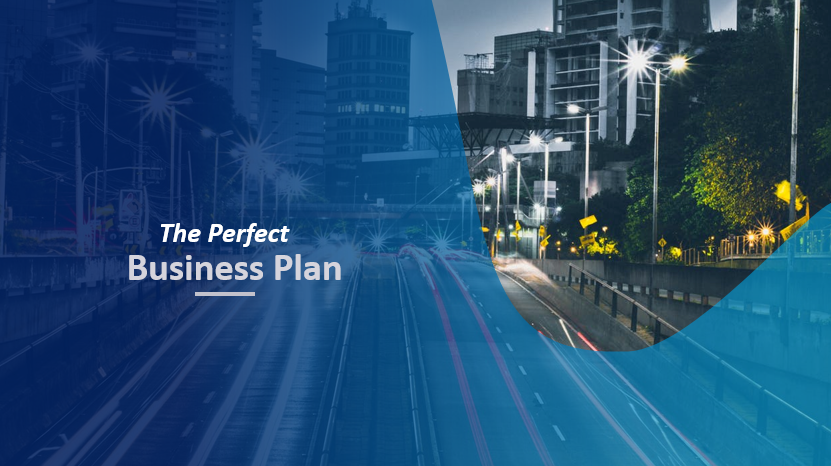 Here's h0w the body slides look like: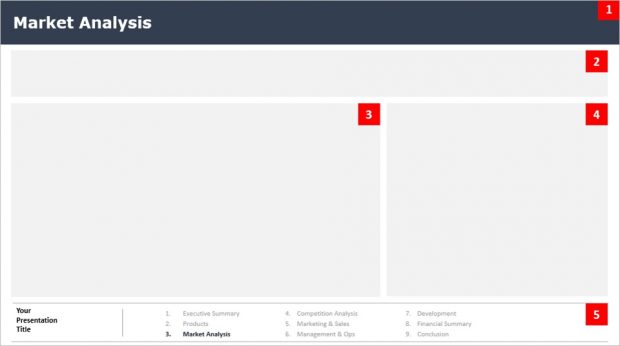 Here's how it works:
  

1

   The Presentation Section
Put the name of the section you're covering in this area. The point of this is to guide your reader/viewer in the presentation, and let him know what the slide is going to be about.
  

2

   An Attention-Grabbing Headline
Your headline is here to grab the attention of your audience… and motivate them to keep on reading. Now…
GOOD headlines have at least one of these 4 qualities:
1) Self-interest (focused on your audience) -> How our product helps B2B businesses drive more sales
2) News (teach them something) -> The paid acquisition is exploding. Here's why.
3) Curiosity (get them want to know more)  -> Three reasons our service help B2B biz drive more sales
4) Ultra-specific (use figures) -> The 3 little-known techniques we're using to grow by 50% every quarter
  

3

   Your Body Copy
What crucial points do you need to highlight to support your headline?
Headline -> How we grew organically by 50%
Body copy  -> Three 3 core growth hacking techniques our marketing strategy has incorporated
  

4

   Visuals That Illustrate Your Point
Visuals can be graphics, tables, or breath-taking pictures. Their target is to emphasize on your slide's message, and help you audience connect the dots. Click here to grab my go-to list of breathtaking, free-to-use photography resources.
  

5

   A Bottom Bar To Recall Your Structure
If you're making a rather heavy business plan deck (don't…), integrate a section – at the bottom of each slide – that will recall your audience where they're at.
Make. Their. Life. Easier.
How to Get Your Business Plan PPT Template
If you'd like to download this template, I am going to ask you one simple favor:
Share this article with your network. Here's why:
1) I know you have influence and that when you share something, people pay attention.
2) This bundle is gorgeous, and it's free. I am giving it away in exchange of some sweet traffic to my website (Look: you can still delete the post on your social media account if you believe this template brings little or no value to you).
Deal?
Simply use of one of the share buttons to access your slides instantly.
You're awesome 
Get your free PowerPoint presentation template right below:
Additional Business Plan Resources 
6. Top-Rated Business Templates… (Or How to Build a Stunning Business Plan 3x Faster)
A solid business plan is your best chance to raise funding for your company.
If you would like beautiful, designer-made slides that help you get your value proposition across and show investors how serious you are, then this might be of interest to you:
Pre-built, 100% customizable presentations templates to help you do just that.
You don't have to spend a huge amount of time on designing, editing and arranging those slides for your high-stake, upcoming pitch presentation.
You're smart enough to know you could spend that time on more strategic, higher level activities that actually move the needle (like tweaking your value proposition, challenging your business strategy or fine tuning your pitch).
Check out these three premium template packages I've hand picked for your below.
Invest a few dollars. Save dozen of hours. Look amazing.
Here are my two favorite premium business plan presentation packages:
Business Plan Template
This template will help you put together a clean, well structured business plan.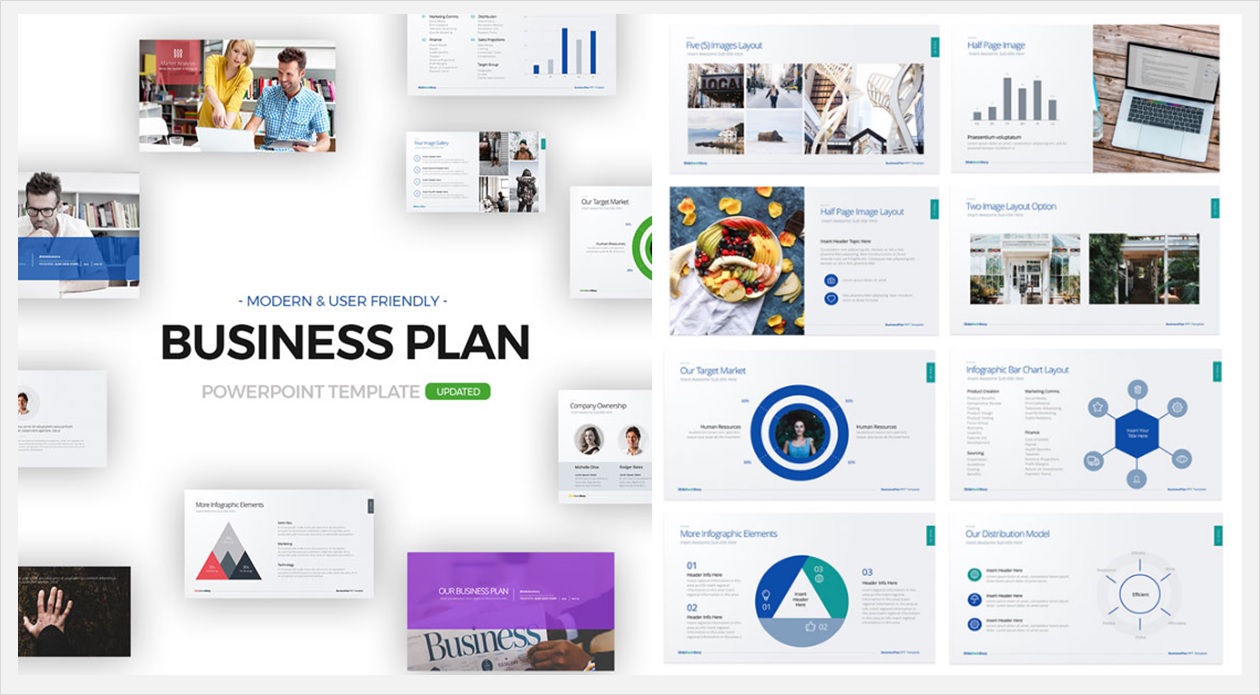 Here are a couple of screenshots.
Here's a lay-out for the transition slides:

A slide you can use to present your product or services pricing options:

The template includes a lot of data visualization possibilities to help you present figures in a non boring way: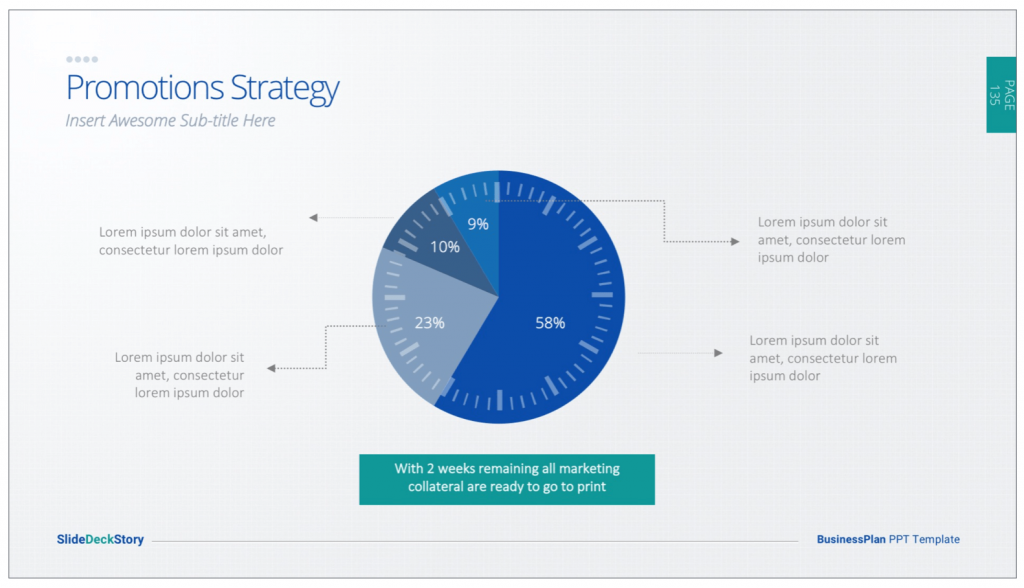 Key Features
147 unique slides (including company history, competitive analysis, marketing strategy, SWOT, financials, etc)
5 ready-made color options
Drag-and-drop image placeholders (drag any visual from your folder, and it will take the exact shape of the placeholder)
Dozen of graphs and charts (to concisely present data-rich information)
Investor Pro Template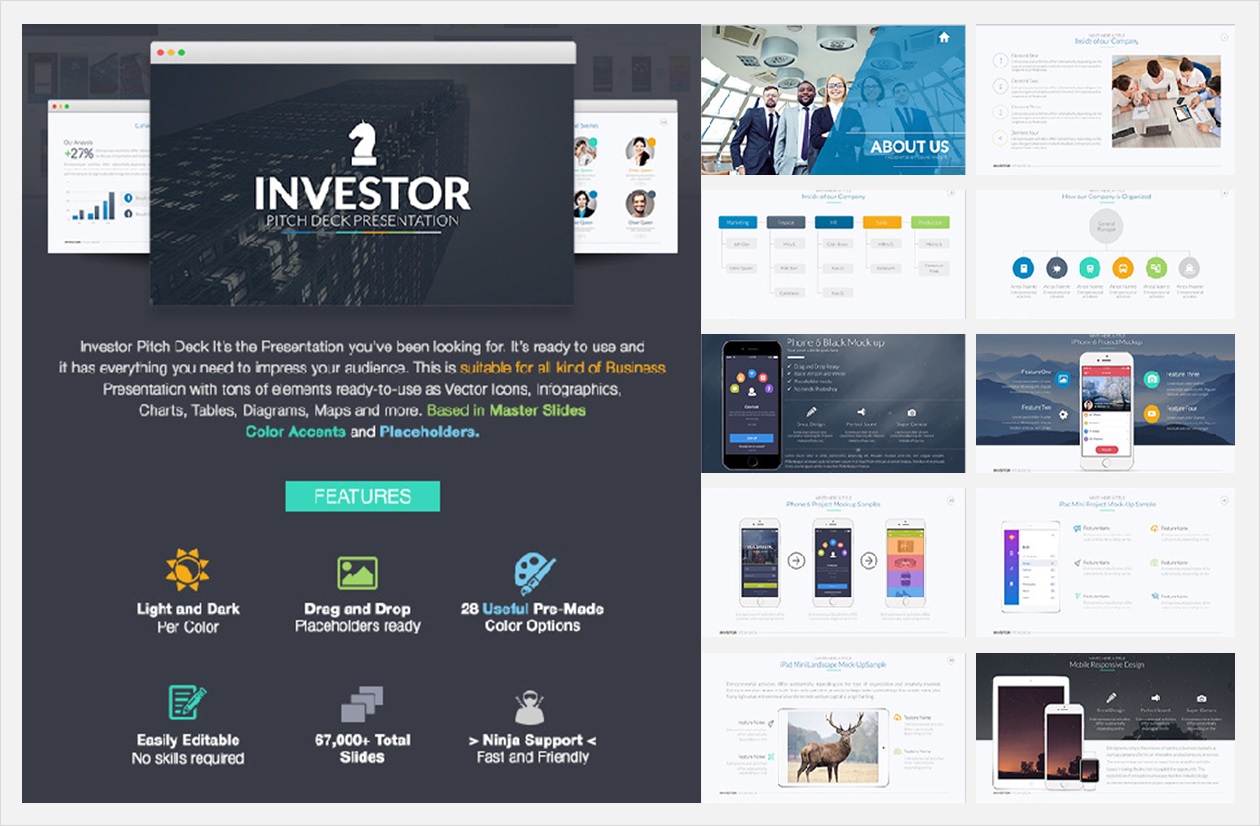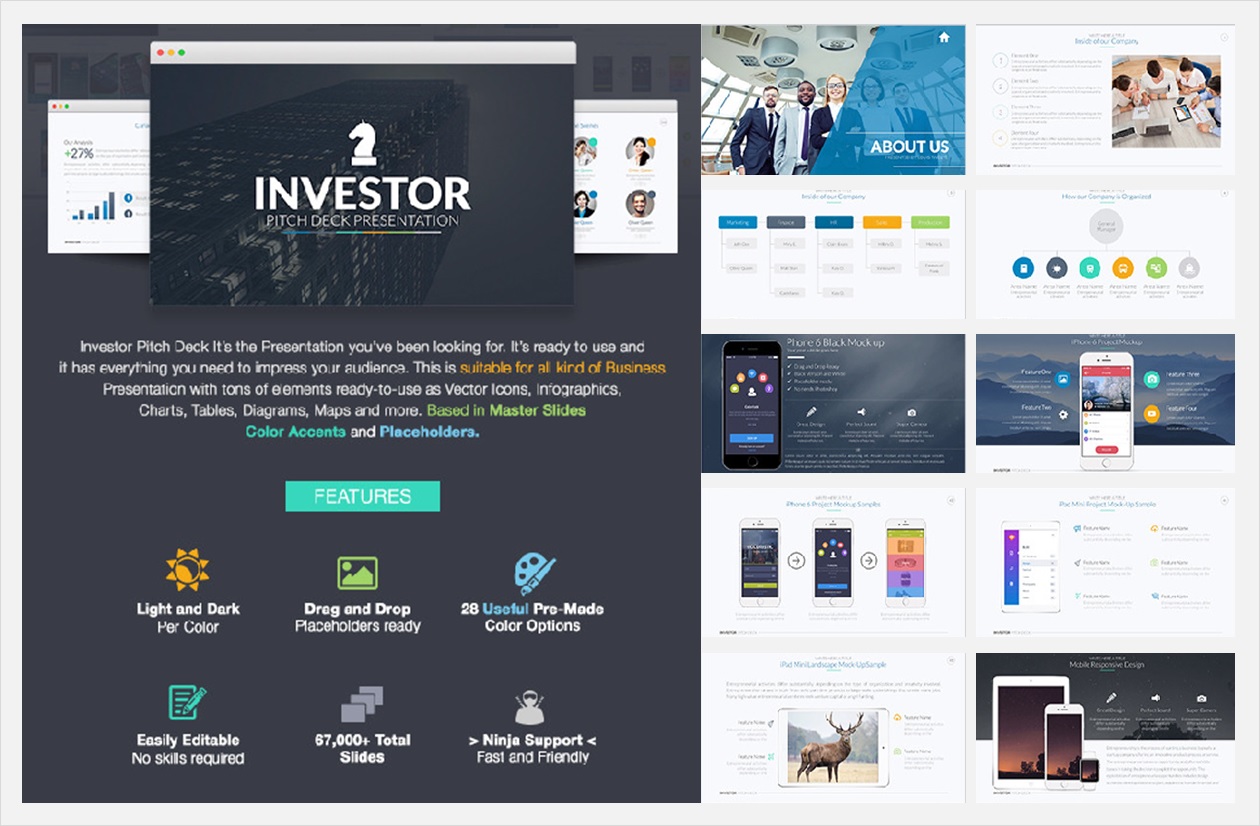 This bundle includes an insane amount of slides. Use them for to present your business plan, annual report or investment plan to senior-level executives or to your peers.
Now, let's check out the features…
Key Features
An insane amount of business slides (67,000 for PowerPoint, Keynote)
Color themes (28 for PowerPoint and Keynote, 18 for Google slides)
Drag-and-drop image placeholders (drag any visual from your folder, and it will take the exact shape of the placeholder)
3,500 vector icons (you won't lose quality when changing both colors and sizes)
Graphs and charts (to concisely present data-rich information)
 Affiliate disclosure. PPTPOP is a participant in the Envato Affiliate Program, and we get a commission on purchases made through our links (it doesn't cost you anything).