If you've been wondering…
"But how does Airbnb makes money?"
You're in the right place.
This comprehensive case study will explain you how Airbnb business model works, step-by-step.
At the end of it, you'll know:
Exactly how Airbnb is making money

Their value proposition, customers, resources, costs, and much more

Smart marketing strategies they've been using to grow at breakneck speed (like the "Craigslist's hack")
But before jumping head first in the meat of this post, I'd like to spend a few second with you to get the foundations right.
---
What is a Business Model?

I though that would make sense to get us started with a definition.
Because the truth, my friend, is that everyone talks about business models. Yet, most people don't really know what a business model is.
So unless you're able to explain what a business model is in one sentence, let's take a look at a quick definition.
According to Alexander Osterwalder and Yves Pigneur, the authors of Business Model Generation, a business model describes how your organization creates, deliver and capture value.
Basically:
Business model = create value + make money out of it
"The business model concentrates on value creation. It describes a company's core strategy to generate economic value […] and provides the basic template on how the firm is going to make money".
[Tweet "Business model = how a firm creates, delivers and captures value."]
Who Needs a Business Model?
1. Owners / founders / managers of small businesses and startups
2. Organization leaders and executives who want to create added value
3. You, because you're willing to understand the ins-and-outs of business, as well as what it takes to come up with innovative models of value creation
---
The Business Model Template
 If you're like me, hearing a concept (creating value and making $ out of it) and not having a single idea of how you're supposed to implement it makes you want to jump out of window.
So let's get specific…
Your business model – anybody's business model – can be visually described through 9 building blocks.
These blocks outline the logic of how your company intends to make money and come straight out of the Business Model Generation handbook.
Since I'll be explaining the business model of Airbnb using this framework, you just need to understand that a business model consists of 9 building blocks.

Click here to download the editable, PowerPoint template of this business model.
We're going to use this canvas to explain why and how Airbnb – a barely noticed startup – became the world's number one marketplace for sharing homes and spaces.

Case Study: The Business Model of Airbnb

1. Customer Segments

It all starts and ends with customers.
They are the group of people and organizations you aim to reach AND serve. They are the lifeblood your business.
[Tweet "Customers = the people you aim to reach + serve"]
So, let's think for a second:
Who are Airbnb's customers?
Hint: I wrote are.
So, Airbnb's is a platform, right?
It's a platform that connects customers (you, looking for a nice place to rent during holidays) to sellers (me, willing to monetize my house).
AirBnB is a multi-sided platform

that serves two interdependent Customer Segments: the guests (personal and business travelers) and the hosts (residential asset owners). A multi-sided platform is of value to one group of customers only if the other group is present.
We'll see later that each of these Customer Segments has its own Value Proposition and associated Revenue Stream.
Now, let's see what value Airbnb is bringing to its customers…
2. Value Proposition
 Let's get started with a quick definition:
The value proposition describes the bundle of products / services that creates value for a specific customer segment. Source.

Basically, how do you create value for your customers and what makes you different?
Your Value Proposition is the reason why customers turn to you over your competitors

. It could be anything ranging from newness or product performance to customization, design and price.
The Value Proposition of your company should always tie into some benefit – an end result that your Customer Segments care about.
[Tweet "Value Proposition = products / services that create value for a specific customer segment."]
If you want to understand the Value Proposition of Airbnb, you need to get started with asking yourself the following question:
What benefits does Airbnb bring to people like you and me?
Let's starting list:
– Book rooms with locals, rather than hotels
– Find truly unique places (you could rent a castle, a boat, or an igloo if you wanted to)
– Customize searches by price, room type (entire place, private / shared room…), size, amenities (wifi, pool…), property type, host language…
– Monetize your house: make extra money on the side
– It's a no-brainer because it's reliable and safe (reviewed guests and hosts)
In a sentence:
The Value Proposition of Airbnb is to be a trusted community marketplace for people to list, discover and book unique accommodations around the world.
3. Channels

How do you reach customers?  How do THEY want to be reached? Directly, indirectly? Physically, digitally?
Airbnb has implemented strong marketing efforts to reach customers.
Craigslist Platform Integration
At the early stage, Airbnb leveraged Craigslist, a platform with millions of users looking for accommodations, to increase their user base substantially.
When users were filling out the form to list their bedroom on Airbnb, the company provided them a quick link to post the listing on Craigslist. Brillant. This strategy helped them creating a lot of links pointing at Airbnb.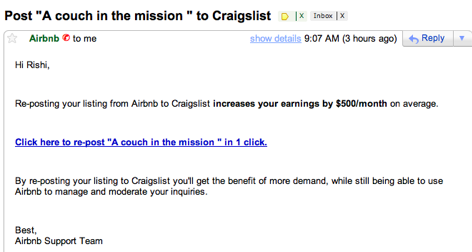 Advertising
Print / display / social paid advertising (targeted ads on Facebook or Twitter).

Referral (Word of Mouth)
Each time they sign up, you get credit that can apply to a specific trip. It's a simple enticing program that leverages the use of community.

4. Customer Relationships

How do you find, retain and convert customers? How do you build relationships with them?
Airbnb has two segments of customers:
Owners and renters.
The startup provides renters with awesome experiences to keep them coming back. As for owners, the San Francisco start up makes it easy and safe for them to monetize their assets.
Also, Airbnb knew that to acquire and retain their customers, they need to provide a fast, reliable and secure customer experience.
Having a high-performing website is incredibly important to them.
5. Revenue Stream

How do you make money?
Each Customer Segment (point 1) produces a different revenue stream.
Airbnb's model is commission-based, as the company takes a cut whenever a booking is completed on their platform. They charge 6 to 12% service fees to travelers and 3% to hosts.

6. Key Resources

What resources allow you to create and offer your Value Proposition? AirBnB has various resources:
Digital
The key resource required for Airbnb is their online platform. Nothing would happen without their website that brings together owners and renters.
Physical
Millions of listings in 191+ countries.

7. Key Activities

What Key Activities does your Value Proposition require? What do you do to make your business model work?
Airbnb's business model is dominated by platform related activities. It requires that the company continually develop and maintain its platform (marketing, community management…)
8. Key Partners

Which suppliers / partners are making the business model work?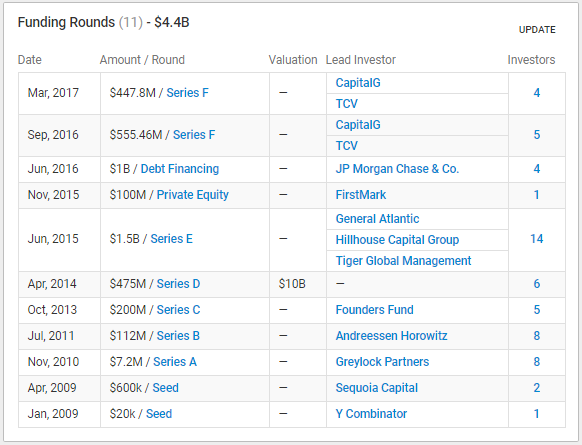 Airbnb has established partnerships with a lot of different companies, NGOS, associations, and more.
You can find a list of established partnerships with right here.
9. Cost Structure

So where is Airbnb spending money?
Airbnb's major costs are related to maintaining and developing the website platform: technology (e.g. programing), marketing (e.g. advertising) and sales (country managers/business development) are the main costs incurred under this pattern.
Technology: Payment Processing Firms and Platform Maintenance & Development
As Airbnb operates its transactions 100% online, the company has to pay transaction fees to payment processors like Visa, MasterCard or Paypal.
Airbnb needs to maintain and develop its website platform.
Insurance
Airbnb provides insurance for the rental space of hosts and travelers
Human Capital
Aka all the people working at Airbnb, which also includes the freelance photographers.
Marketing & Sponsorship
Airbnb heavily relies on online advertising campaigns. To give you an example, they spent over $23 million in advertising the United States in 2015.
---
Conclusion 
Are you constantly thriving to create value for your customers and improve your organization?
Are you one of these people who want to defy outdated business models and find innovative ways of making things move forward? Great companies are the ones that create significant value for customers and society.
Airbnb's business model is focused on creating value.
Think about the iPhone, Uber… These brands have one thing in common: innovation – they have invented, designed and implemented new game-changing models that solve people's problems.
---
Additional Resources
This book is a
must have

for anyone willing to understand the mechanisms that get businesses create, deliver value and generate money out of it.  What you'll learn: how businesses are built, what having a great value proposition truly means, and specific examples of today's most powerful companies' business models broken down.
---
How to Make Gorgeous Presentations When You Have No Time, No Budget (And No Design Talent)
Know that feeling when you have to design that slick and professional presentation – for your boss, a high-stake client or even investors – but you have no time and budget to make it?
The thing is, these slide decks are key pieces for managing your business: sales meetings, marketing strategies, business plans, and so on.
But let's be real, you're not a designer (neither am I), and unless you have natural talent at crafting amazing business slides, it can be really tough to put together presentations that impress and deliver more than you promise.
What we need is a way to craft all these high-stake presentations easily, and fast.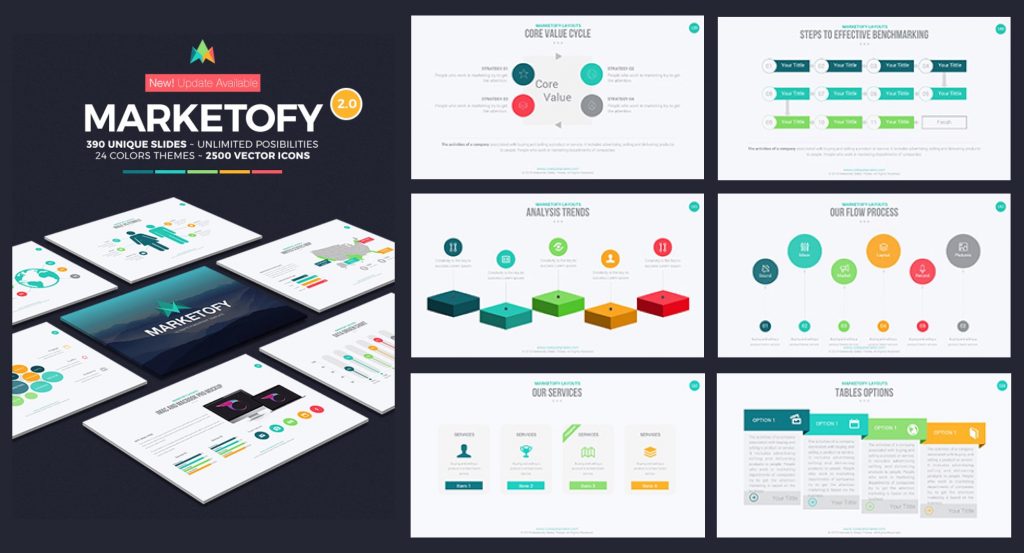 Pre-built, designer-made templates let you create beautiful presentations like a real pro (and no, it won't take you months or crazy design fees).
That's right:
You won't need to spend your entire nights (or weekends) to design, edit, arrange, re-arrange, modify again and again your slides to finally put together a presentation that looks, well, it looks "just fine".
Because everything you need – unique, easy-to-edit slides, beautiful icons, graphics and so much more, will be stored in one giant folder patiently seating on your computer's desktop.
You'll make slick, professional presentations AND save a huge amount of time because you'll be able to create presentations using templates that are just waiting for you to turn them into powerful, top-tier business materials.
Here, have a look at some of these templates:

Clean and modern slides. Who said data charts had to be lame?
By now, you understand why presentation templates can help you create high value decks in a fraction of the time it takes others (Just imagine the look on your colleagues' face when you start revealing your slides at the next meeting…)
And guess what, you can get these templates like Marketofy for the less than the price of a movie ticket (or a lobster roll, if you prefer). That's basically less than $20 for…
Hundreds of easy-to-edit slides for you all presentations

2,500+ vector icons (that means you can change colors and sizes without losing quality)

Dozens of charts and graphs, maps. Fully-editable!

Fast and free customer support 24/7

And so much more!