Raise your hand if you've ever felt like:
"Uh, I have a business meeting next Monday, but I've no idea about how to design my presentation so it actually looks GOOD".
The good news is, you're not alone. And today, you're going to learn how to design professional PowerPoint slides that get your message across.
In just a few minutes.
So if you've ever wondered….
How to organize the info on your slides in a way that is relevant and clear for your audience
How to design good-looking slides in a fraction of the time it takes to others
Then you'll love today's post.
Before jumping into how to craft your business PowerPoint slides, I want to get started with two super important principles.
1) Don't use built-in, lame templates
Microsoft PowerPoint templates have been around for a while.  They've been used, re-used, and actually, over-used.
Do yourself a favor, don't use built-in templates any more.
First, they're incredibly boring.
Second, theymake you look like a lazy person who didn't put much work in designing his presentation  ("Oh, THAT template again….")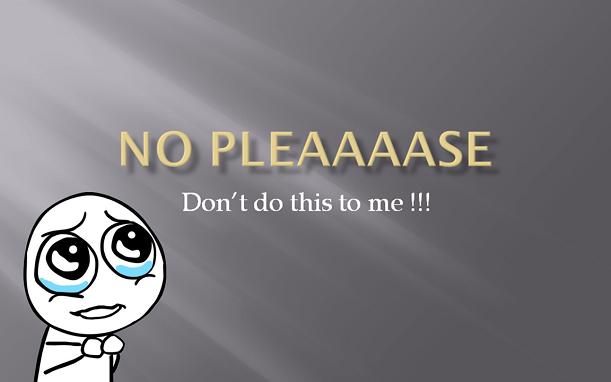 2) Don't use pre-set PowerPoint text boxes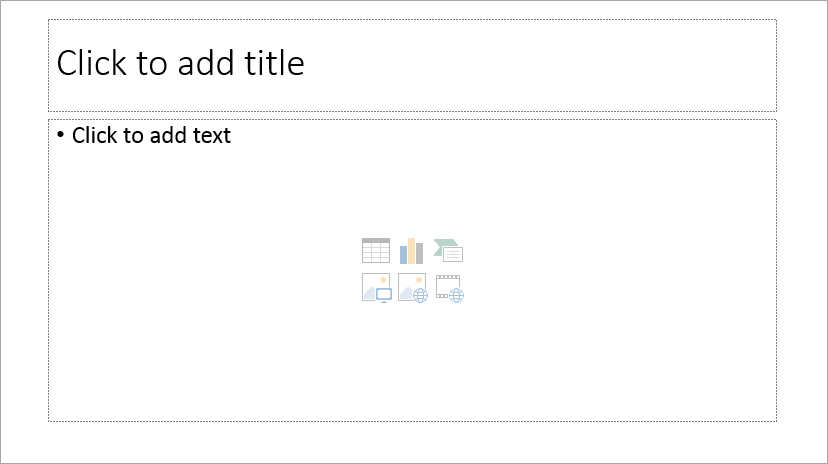 If you want to add text on your slide, create your own text boxes (insert > text box)….instead of using PowerPoint pre-set text boxes.
You'll have the freedom to integrate them wherever you want on your PPT slide and chose the text size you want (text size won't adjust automatically, so you'll have more control).
That's getting one step closer to designing professional PowerPoint layouts that work for you.
Now, let's move on to the meat of this post.
---
Craft your professional PowerPoint templates
I've been using the same template over years.
Literally.
Sometimes, I apply some tiny tweaks and changes to modify the lay-out and colors.
But the rest is basically the same.
This template allows me to save a HUGE amount of time.
So whether you're in marketing, engineering or private equity, this template will help you design a professional PowerPoint presentations FAST.
First things first, let's check out how this all works step by step.
How it looks like: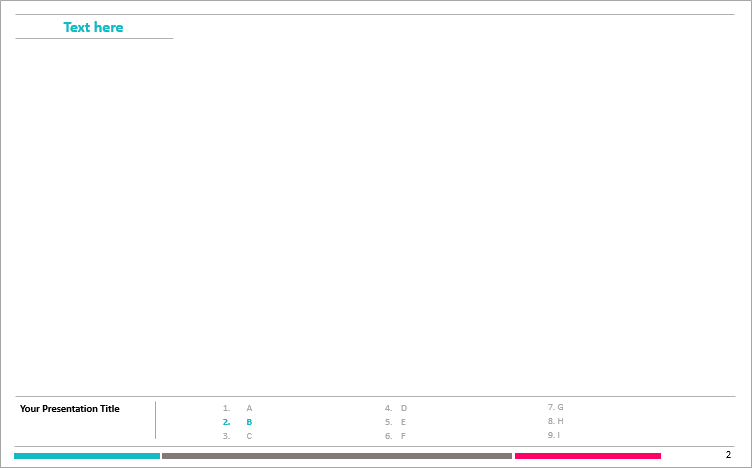 Now, we're going to dissect that template so you can understand clearly where things (AKA your content) are supposed to go: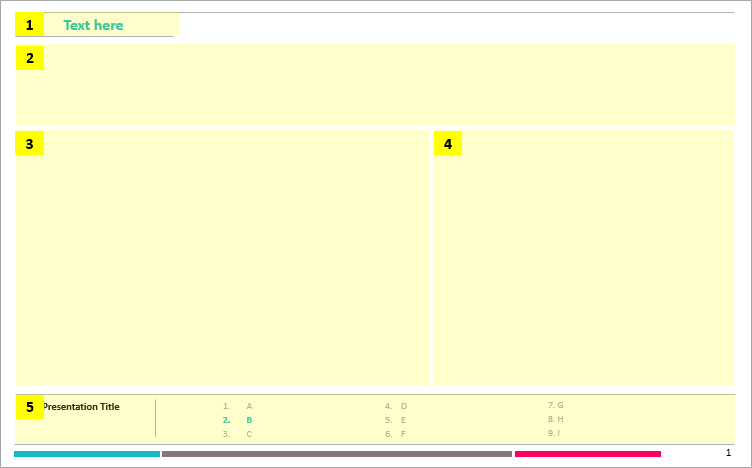 ---
1. The presentation section
You want to put the name of the section you're covering in this area.
The point of this information is to guide your reader/viewer in the presentation, and basically let him know what the slide is going to be about.
For instance, let's say you're making a presentation about your Q3 sales results.
The slide section description could be 'Sales results summary".
---
2. An attention-grabbing headline
Your headline has two targets:
Grab the attention of your audience
Motivate them to keep reading
Now, powerful headlines have four qualities:
1) Self-interest (focused on your audience)
-> How ABC company helps you drive more sales 


2) News (teach them something)

-> Q3 results decreased by 13% for three reasons


3) Curiosity (get them want to know more)  

-> The simple process that will help you become a better speaker


4) Ultra-specific (use figures) ->

Use these 3 techniques to grow your website traffic by 50% in 90 days
I advise you to use this space to wrap up the content of your slide.
Imagine someone's really busy and doesn't have the time to go through all the details…. could you give him a hint about what it's going to be about, or even better, tell him what's the takeaway of this slide?
---
3. Your body copy
Or "the meat".

The point of this part is to dive into the content of your slide.
For example:
Headline
-> How ABC company helps you drive more sales

Body copy
 -> You could be listing the 3 core services you offer to prospective customers that help them get more sales 
---
4. Visuals that illustrate your point

Three reasons I strrrrrongly advice you to use visuals on your slides:
On top of it, using visuals on your slides will force you to save space…. and delete the content that's not crucial on the rest of your slide.
Visuals can be graphics, tables, or breath-taking pictures.
Their target is to emphasize on your slide's message, and help you audience to connect the dots.
Here's my go-to-list of breathtaking, free-to-use photography resources:
---
5. A bottom bar to recall your structure 
If you're making a rather heavy business presentation, I advice you to integrate a section – at the bottom of each slide – that will recall your audience where they're at.
Add this bottom bar to recall your presentation structure.
For example:
Presentation topic: the 5-step process to becoming a better presenter
1. Basics
2. How to hook your audience
3. Body postures
4. Tone of voice
5. Advanced techniques
You're taking about 3.
Then your audience know you're at the middle of the presentation.
---
Things to remember
1. Use the CRAP Principle (contrast, repetition, alignment and proximity)
2. Think about your audience's comfort
Easy-to-read fonts.
Not too many text colors (two or three are enough)
3. Keep it simple
Some people will say "but, my PPT is too technical, I can't delete half of the content in here!'
Well you don't have to, regroup ideas to group of bigger ideas they belong two. Batch by categories. Be concise, don't write long sentences you'll have difficulty (and your audience too) to read.
Think "so what?"
Your audience DOESN'T NEED to know every thing. Do them a favor and only mention what's essential, and delete the rest.
---
Download your professional PowerPoint template 
---
Grab your ultimate PowerPoint bundle
Additional resources
---
Want to build amazing slides 3x faster?