Are you looking for a beautiful, editable word maps for your PowerPoint presentations?
You know, the ones that will help you convey information in a clear and concise way, and impress your audience.
Then, look no further.
In today's post, I am giving away a gorgeous, fully editable PowerPoint map that you can use to build more creative presentations, look more professional and get your message across.
Let's get started with mentioning what's inside the post:
We'll be jumping into the template details in a second.
But first...
Let's take a quick look at what you can do with this editable world map for PowerPoint.
# Delete/Select Countries
Let's say you just want an editable US map.
Then you'll have to delete the "rest of world".
Right?

To do so, click on the whole world map, right click > group > ungroup.
What you've done is separate all the countries in individual blocks.
Now, you're able to delete/select entire areas instead of having to click individually on each country (which would have taken a close-to-insane amount of time).
You can also select one country and dice enlarge it.
Say you want an editable India map.
Click the India country map to select it.
Then copy it (ctrl + c), and paste it (ctrl +v) in on a new slide.
You're done !
Customize Your PowerPoint Maps
These editable maps offer you the option to change the country colors and border styles.
You could use that option to customize your whole map (and turn it from grey to pink for instance), or color some countries you've chosen.
For instance, the countries your company is doing business in:

To change the country colors (right click on the country > format shape > fill > solid fill). To change the country border colors (right click on the country > format shape > line color)
Here are a few actionable tips you can use to enhance your slides and to get your message across more easily:
- Color the countries you're in
It will create contrast and help your audience to instantly visualize in which areas you are present (and in which you're not). I recommend this option if you use the whole world map.
- Add numbers on the countries
If you wish to highlight details about specific countries, like business figures, add numbers on them. Then, add a list on your slide size with the numbers and countries it refers to.
This is especially useful if you're doing business in many different countries.
Here are two specific examples:


To make sure your listed countries are well aligned, do as below: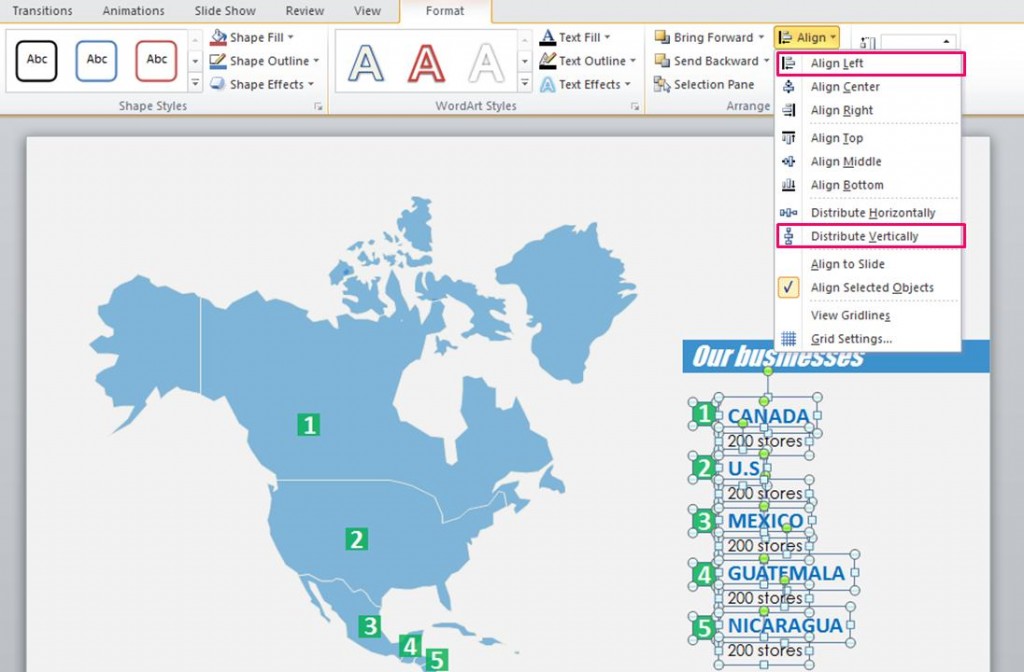 Map pins are included within the presentation template.
How to Download This World Map PPT Template
If you'd like to download this template, I am going to ask you one simple favor:
Share this article with your network.
Here's why:
1) I know you have influence and that when you share something, people pay attention.
2) This bundle is gorgeous, and it's free. I am giving it away in exchange of some sweet traffic to my website (Look: you can still delete the post on your social media account if you believe this template brings little or no value to you).

5
Deal?
Simply use of one of the share buttons to access your slides instantly.
You're awesome 🙂
Want To Build Gorgeous Slides 3x Faster?
If you spend a huge amount of time designing, editing, updating slides, arranging elements, and basically making sure every thing looks great for your high-stake upcoming presentations, then I have a question for you:
What if you could actually design your presentations 3x faster , save dozen of hours, and look even better in front of your audience?
Pre-built, 100% customizable templates help you do just that.
Invest a few dollars. Save dozen of hours. Look amazing.

SEE ON GRAPHIC RIVER