Clémence Lepers ?

Welcome to PPTPOP.
When I was a kid, I looked like this: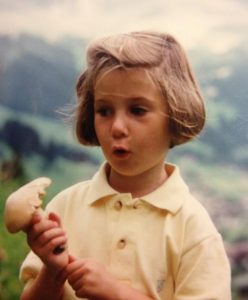 You might not care much about that but I used to talk to mushrooms. Today, I look slightly different, I still like mushrooms (but I don't talk to them any more).

This is my blog and it's focused on teaching you actionable strategies to turn your words, pitches and presentations into powerful weapons of persuasion that impress and deliver more than you promise.
Because that's what gets you….
More leads
More sales
Delighted customers
A wowed audience
And so much more…
Easy clicks that are useful.
Want to read something but not sure where to get started? Click here to check out my favorite resources to help you become a better version of yourself.
Want to make gorgeous presentations but you have no time, no budget (and no design talent), click here.
If you're new on the blog and like what you're reading, then subscribe to the email list. I share strategies, post updates (and very fun stories) you can't find on this website.
If you'd like to know a bit more about me, here are a couple of things I really like:
Yoga

Scuba diving

—————

FOOD ALERT, FOOD ALERT !

CLOSE THIS WINDOW RIGHT NOW HERE IF YOU'RE HUNGRY

—————
.
.
.
.
.
.
.
.

Foie gras

Learning new things

Becoming a better version of myself every day
Contact
I'm always on the hunt for awesome projects, collaborations and partnerships. Drop me an email: clem@pptpop.com