So you wan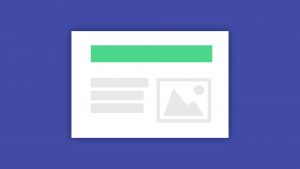 t to learn how to make a gorgeous, clear presentation cover that will help you get your point across, look professional and impress your audience?
If that's what you've been looking for, then you're in the right place.
Because today, you, my little friend, are going to learn how to design beautiful covers for all your presentations. Use them for sales presentations, pitch decks, lectures, and more.
And the good news is, you'll learn how to make it in a fraction of the time it usually takes to others, using a simple 3-step process.
Let's jump right in…
How to Make a Presentation Cover Design
Ground Rule 1

: Packaging Matters
Studies suggest that the packaging design elements have an influence on choosing, getting attracted, like, purchase the product and considering packaging as a brand promotion vehicle.
Now, if your presentation "packaging" sucks… well, you're sending the wrong message to your audience. Clearly, it's not good for your brand and it's not good for your sales.

Ground Rule 2

: Use the Grandma Test (Don't Skip This Section)
This rule is simple:
Your grandma should be able to understand what your presentation is about just looking at your cover slide. Your cover needs to give a rough idea about the content inside the presentation.
Bottom line: Great cover slides make it crystal clear what it's all about. It's a no brainer.
Here's an example: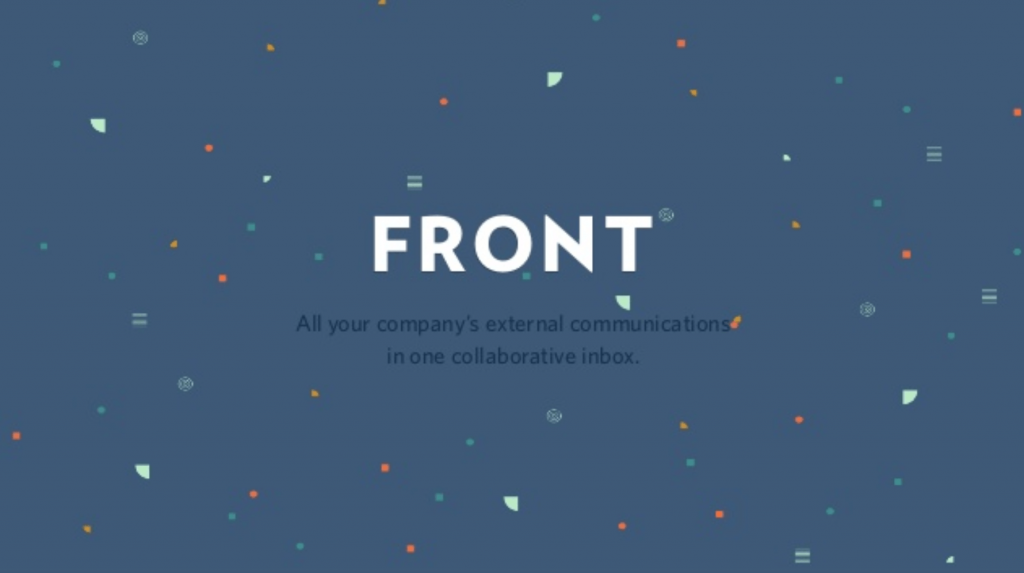 Source
Looking at this slide, I know roughly that Front offers a product related to helping companies managing their external communication betters.
The 3-Step Process to Making Amazing Presentation Cover Slides
A great cover slide has 3 elements:
The background (your visual, or the color you'll be using in your background)
The lay-out (where and how you position the different elements in the slide)
The text (usually, a headline and a sub-headline that wrap up what the presentation is about)
Let's jump right in…
Step 1

: Find a Visual Related to The Topic You Will Cover
If you want to design a cover slide that'll catch the attention of your audience, you need to start with asking you this question:
What's your presentation topic?
Answer the question using this formula:
My presentation is about [ X ]. So the topic is [ Y]
Here are a few examples:
My presentation is about [ our yearly financial report ]. So the topic is [ finance ].
My presentation is about [ power supply dynamics ]. So the topic is [ power supply / engineering ].
My presentation is about [ our client's social media strategy ]. So the topic is [ social media / marketing ].
See where I'm going?
If your presentation covers a very specific subject, try to broaden the topic a little bit so it'll be easier for you to find relevant visuals. If the topic of your presentation isn't something you can easily find visuals for, then identify which major, tangible element you can associate that topic with. Here's an example:
Here are a few examples:
Topic: SEO services
Related elements: Computer (or web traffic, web page, graph)
Topic: Consulting firm business proposal
Related elements: office building (or business people, meeting, investors)
Now, you're going to look for a relevant visual that closely relates to your presentation topic.
Beautiful, Free Visual Resources
First, the results and pick a visual you like.
Then, select one picture that closely relates to the identified keyword. If you're really struggling with choosing a visual (you shouldn't) then ask a few colleagues which one they prefers, and go for the most popular option. Done.
Tips:
Search keywords that relate to your topic (e.g. finance -> "money", "charts", social media -> "phone", "people")
Make sure to download visuals with good pixel resolution.
To save time in the future, create a folder on your desktop. Anytime you stumble upon a great visual, just add it to your folder (get more tips just like this one right here).
Step 2

: Chose Your Text Lay-Out 
You've found a visual that fits with your presentation purpose.
Great.
Unless your visual is very "plain" (read, there's lot of free, unused space), I advise not to place the text content on the picture directly. Look, here's the reason why: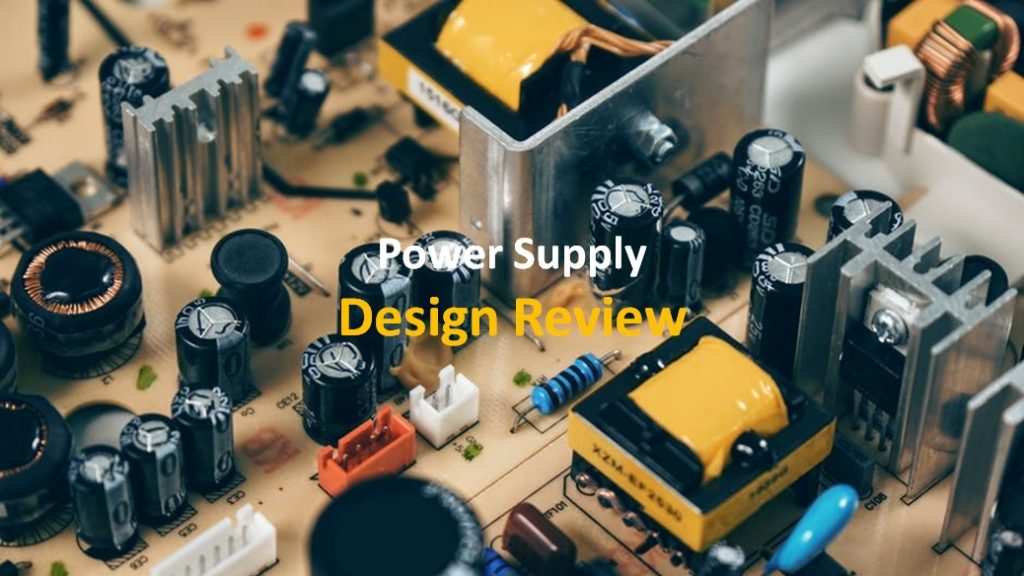 See what the problem is here?
It's HARD to read.
And your job as a presenter is to make it easy for your audience to understand what it's all about. You have to make your reader – or listener – feel comfortable.
In some cases, you can of course directly put the text on the presentation cover slide.
For instance: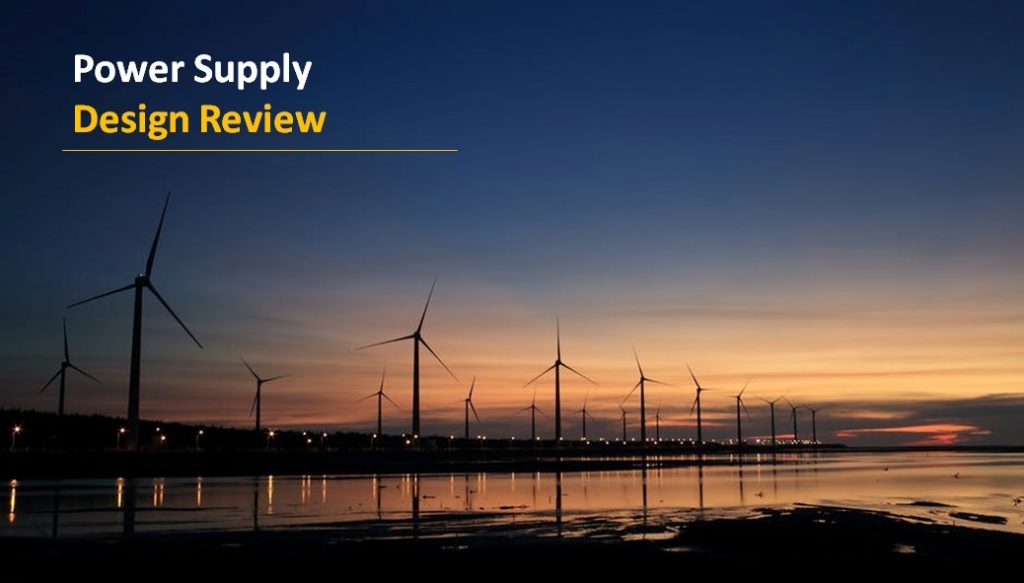 There's enough "free" space for you to place the text in a way that it's easy to read.
Here's another example: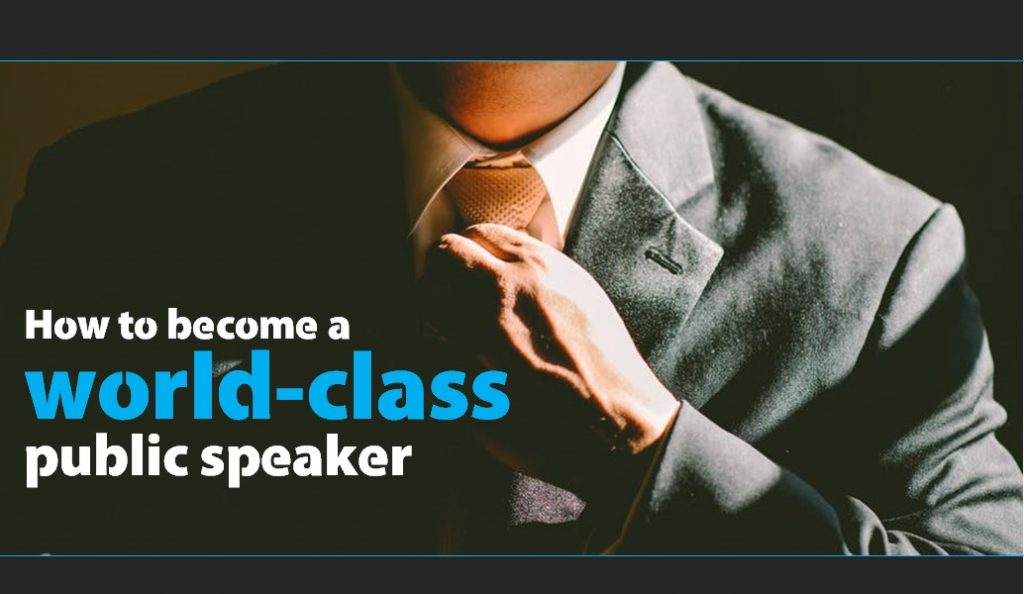 See how I am creating consistency between the world-class text color and the two blue bars on top and bottom of the cover slide?
Here are various locations you can consider on your cover slide to integrate that text bar:
If you prefer something more creative, you can select other rectangles shapes such as these ones: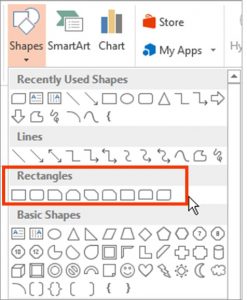 Tips:
Contrast is the king. Dark shape = light/flashy colors for the text. Light shape = dark colors for the text.
Step 3

: Add the Text

I recommend that you create on text box per line / keyword. You'll be able to customize font size and style easier. Either align the text (to the left or the right), or center it for maximum coherence.
Here ere are various techniques you can use to create contrast and maximize impact:
1) Increase the font size of a part of your text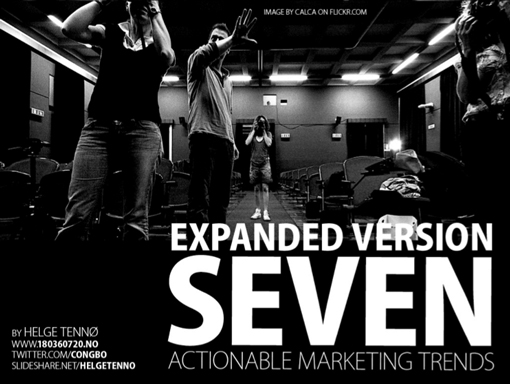 2) Emphasize on specific words using another color (you can pick a color of your background visual to create consistency)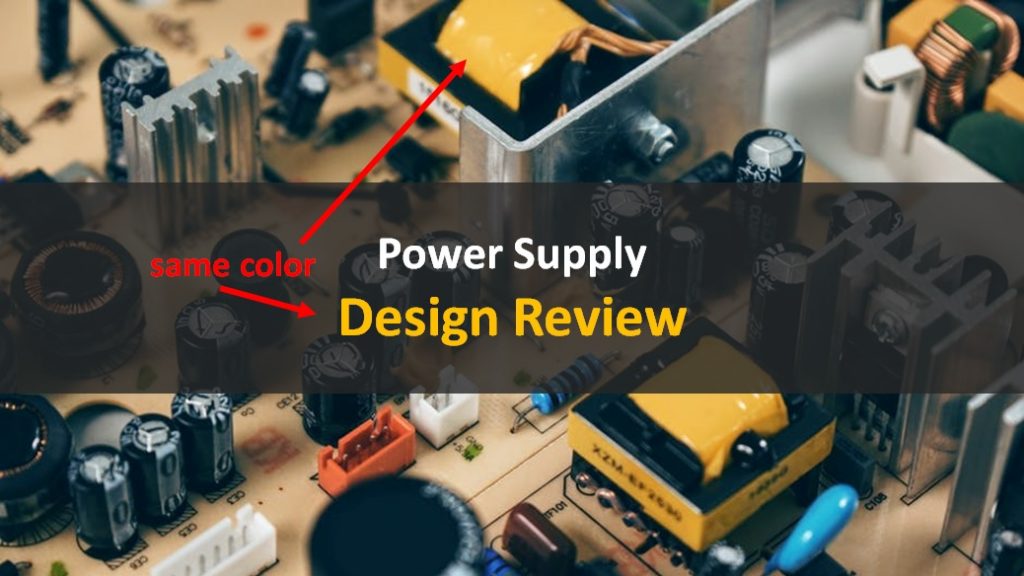 3) Change the typography of one part of your text: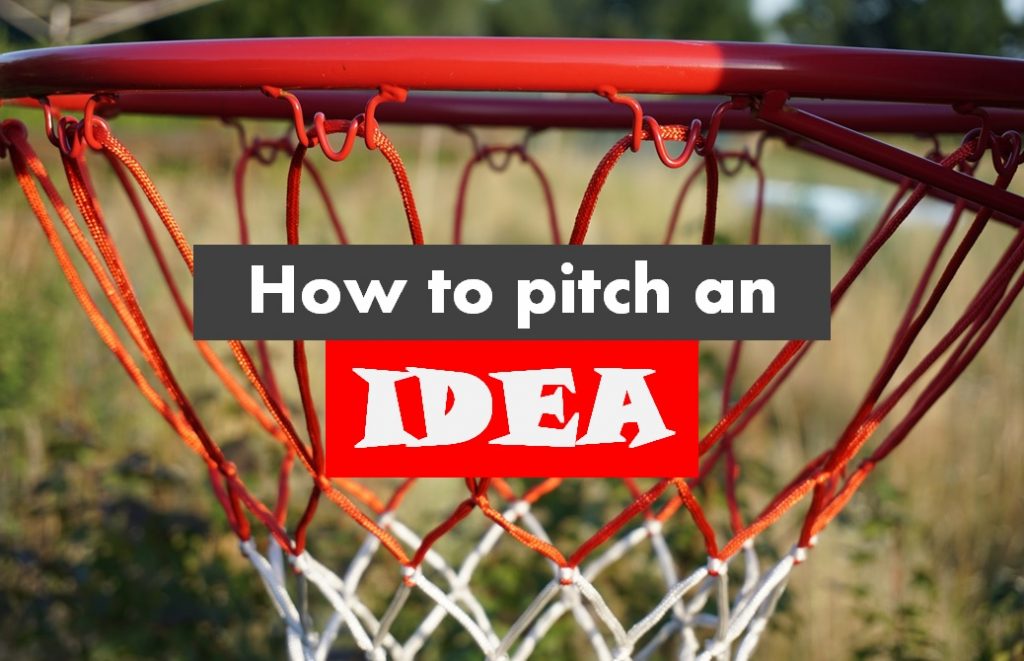 Since the presentation would be about how to pitch an idea, idea is the keyword I want to emphasize on. I'll change the typography and use a more creative font to create memorability.
For free and creative font options, check out:
4) You can also add shadows in order to create more contrast with the slide background.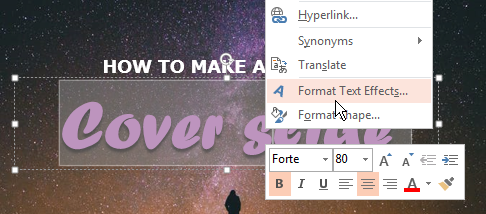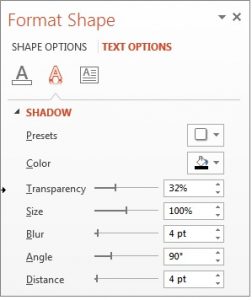 C

ase Study

: How I Made The Cover Slide Below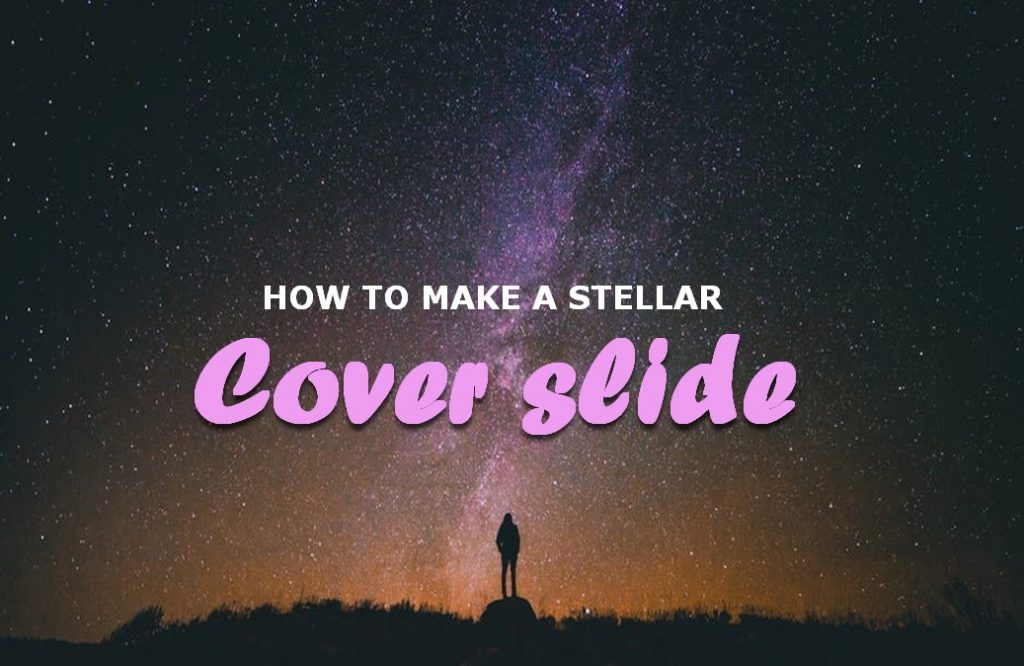 Step 1

: Find a Visual Related to The Topic Covered
Finding the right image is the key step of your presentation title design process.
Here, I wanted to illustrate what a great cover slide can look like. So I started to think: "Well, what do I mean by great… How can I show what a great cover slide means?"
And then I came up with words that are tied to the emotion I want to convey:
"Gorgeous"
"Beautiful"
"Stellar"
BOOM! I got it.
The keyword "stellar" that just translated perfectly what I wanted to communicate.  So then, I headed over to Pexels  and typed "stellar". But no free resource came up, so I tried "sky" instead (you can head over to Thesaurus to find synonyms):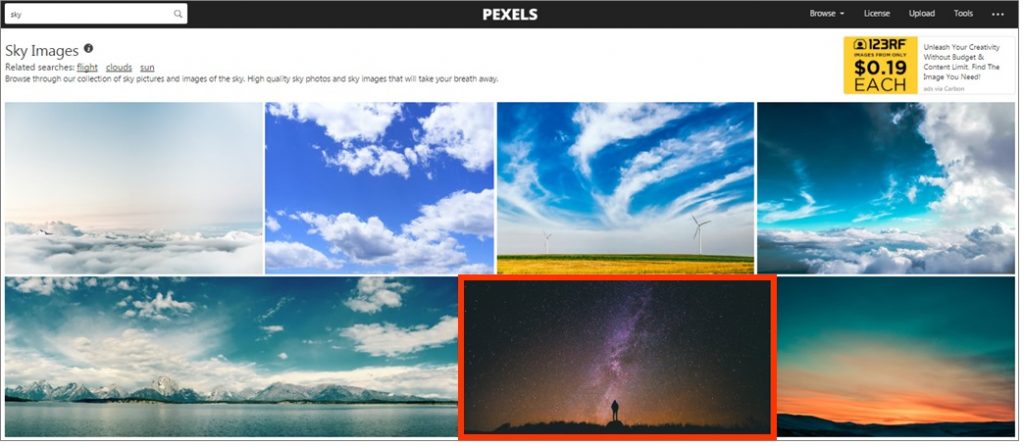 Got my visual. Time to move on to step 2.

Step 2

: Chose the Text Lay-Out 
I opted to place the text in the center of the image.
Step 3

: Add the Text 
I used a font called Forte.
For the word "cover slide", I customized the text style with shadows (select the text -> click right > "format text effects…") and play with the options until you get something that satisfies you.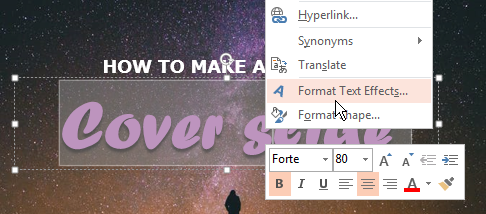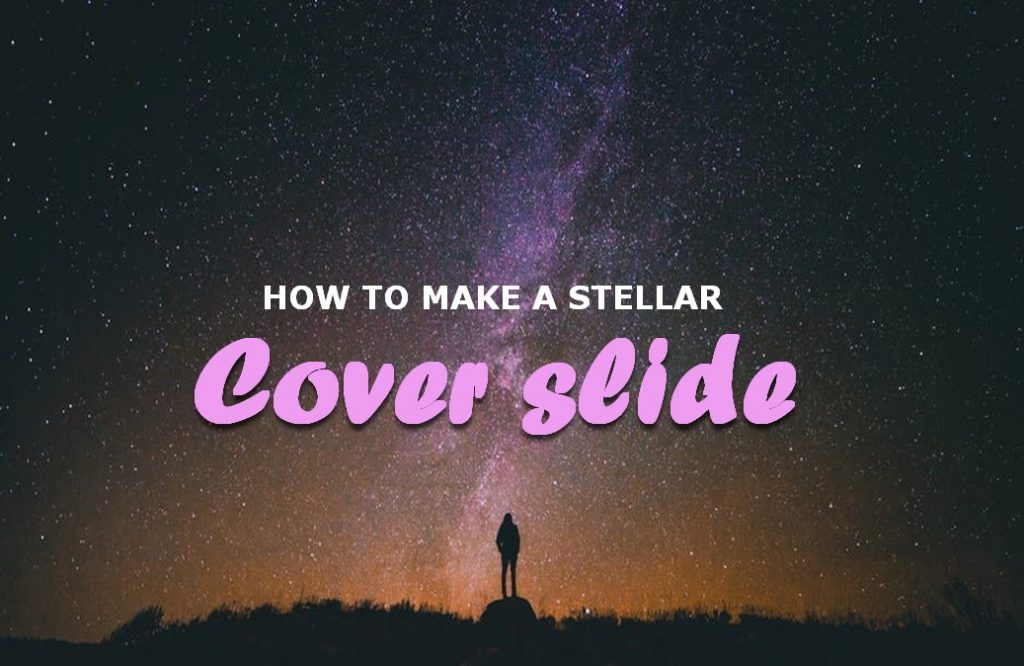 ---
Let's recap:
Step 1: Find a visual representing the point you are trying to make
Step 2: Chose Your Text Lay-Out
Step 3: Add the Text
Bonus: You can download the presentation cover slide examples right here.
How to Design a Gorgeous, World-Class Presentation Without Having to Spend Your Whole Weekend On It…
Would you rather spend hours designing, editing and tweaking your next high-stake presentation or would you rather get the work done 10x better, and 20x faster?
If you prefer the second option, then I've got great news for you:
Pre-built, designer-made, editable templates can help you do just that.
Invest a few dollars. Save dozen of hours. Look amazing.
Check out my favorite presentation templates here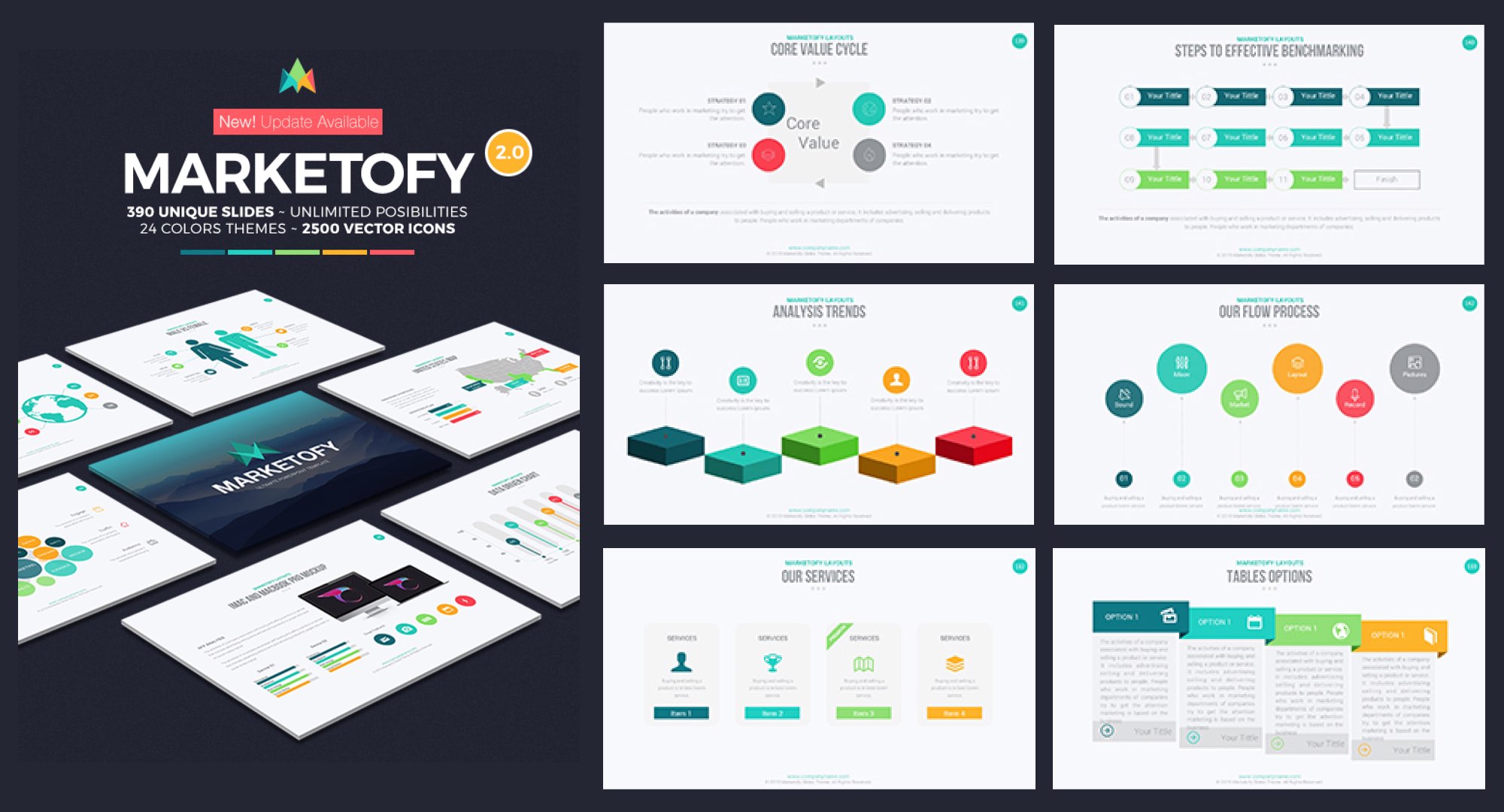 Click below to check out this template:

PowerPoint version
Keynote version