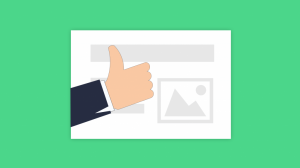 👉A tsunami of presentation tips and techniques. Apply them right away.
Quiz time:
What do presentation tips like "tell a story" or "show your passion" have in common beside behind plastered all over the internet?
They're as useless as a pedal-powered wheelchair.
And that's the reason why you won't find them here today.🤓
Instead, you'll learn practical strategies and techniques to structure, design and deliver highly effective presentations – step-by-step. All the tips I'll share with you are 100% actionable and only take a few minutes each to implement.
With that cleared up, let's dive right in…
---
Presentation Tips: The Complete List
---
Everyone has different priorities.
That's the reason why I've put together a simple table of contents to help you access the presentation tips that'll bring you the most value.
Just click on a part that matches with your goals, and then read the strategies from the guide.
🔭 Part 1. How to craft a message that resonates with your audience [4:39]
⚙ Part 2. How to prepare and structure a solid presentation [4:03]
📝 Part 3. Presentation content tips to write effectively [5:42]
🗂 Part 4. How to design gorgeous slides for any type of presentation [5:46]
📢 Part 5. Learn how to dramatically improve your public speaking skills [6:46]
🔥 Part 6. An infographic packed with all the essentials (+ awesome keyboard shortcuts!) [4:30]
Part 1

. How to Craft a Killer Presentation Message
In this section, we'll start with the basics most people are skipping.
Whether you're a business professional, a startup founder or a high school student, you will learn my favorite tips for preparing a presentation that is relevant to your audience expectations.
Let's get started…
Research shows that
people who understand their audience are more successful in achieving their communication goals
.
To know more about them, answer these questions:
What are their demographics (age, gender, location, income…)?
What are their psychographics (beliefs, interests, values, culture)?
What are their hopes, fears and dreams?
How will your presentation help them get more of what they want?
Here are some practical online resources you can use to learn more about your audience:
First…
Assess their knowledge of the topic
The content of a good presentation has to match with the expectations of your audience. So your goal is to find out what they already know (or don't) about the topic you're about to cover.
Now, there are 3 major types of audiences.
Your goal is to identify which category yours falls into:
| | |
| --- | --- |
| The "lay" audience | No special or expert knowledge. They usually need background information. |
| The "managerial" audience | Any background information, facts, or statistics needed to make a decision should be highlighted. |
| The "expert" audience | The most demanding audience in terms of knowledge, presentation, and graphics or visuals. |
Then…
Understand their attitude toward the topic
Knowing your audience members' attitudes about a topic will help you tailor the content of your presentation in alignement with their expectations.
To uncover what they think, answer these questions:
How interested are they about the topic I am about to cover?
Have they heard of my company / product /service / solution before?
Where is their knowledge gap (what can I teach them that they don't know already)?
Do they have all of the information to make a decision?
What fears / anxieties could be holding them back?

TWEET THIS AUDIENCE ANALYSIS TECHNIQUE
According to the California State University Employee Development Center, we usually of give presentations to either inform, persuade or educate.
Inform -> "ABC Marketing Department: Q4 Sales Projections"
Persuade -> "Super SEO Agency: How We Help You x3 Your Conversions"
Educate -> "10 Advanced Presentation Design Techniques From The Pros"
Identify in which category your presentation falls into.
Setting goals has been proven to increase both motivation and success rate.
And because studies have also shown that "individuals with clear, written goals are significantly more likely to succeed than those without clearly defined goals", here's what you are going to do:
Take a big piece of paper and write down a crystal clear goal for your presentation. That'll help you stay focused and remove anything that does not help towards that goal (more on that later in the post). Be as specific as possible:
I'm doing this presentation to [ goal ]
For instance:
I'm doing this presentation to….
Teach advanced growth hacking techniques to startup founders
Get my boss to increase next year's marketing budget
Build a relationship with that prospect (so two months from now he wants to purchase from us)
Bottom line: Have ONE goal. Set your SMART goals before you write a single word.
Your core message is the #1 thing you want your audience to remember.
So here's the deal: it's very important because every piece of information you'll be putting inside your slide deck will be angled toward supporting that one thing.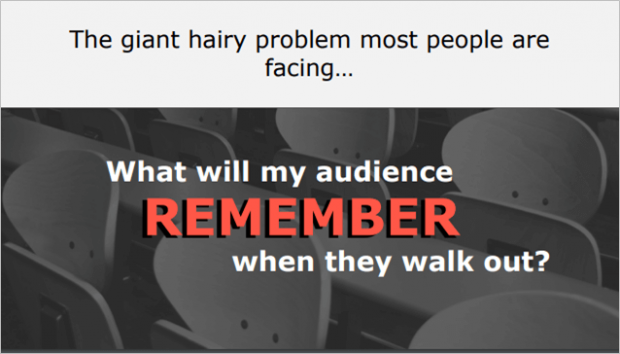 Now, use this simple formula to build it:
Action verb + who + what
Action verb + [ targeted audience ] + [ result wanted ]
For instance:
Show these NYC-based consultants how my company can help them get more leads.
Convince my boss to increase the marketing budget next year.

TWEET THIS MESSAGE BUILDING GUIDELINE
What are the top 3-5 big reasons that will motivate your audience members to do what you want? The point here is to think about what you need to tell them to reach your presentation goal.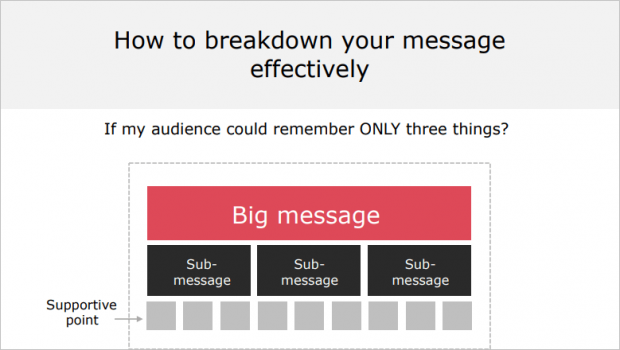 Do this exercise:
If my audience could remember ONLY three big things about my presentation, what would it be?
(1) __________
(2) __________
(3) __________
Here's the deal:
Every claim needs to be backed up with supportive points confirming it.
To find reliable resources (statistics, research papers or case studies), head over to Google and try these search strings:
site:edu + "your keyword" + "data"
site:URLof a site you want info from + "your keyword" + "report"
inurl:research + "your keyword" + "statistics"
quotes about + "your keyword"
Here's an example where I'm looking for a McKinsey report related to corporate innovation: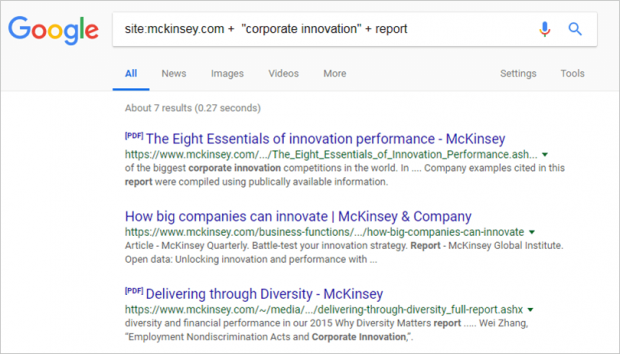 Elevator pitch = summary of the purpose of your presentation in one sentence
Most people can't do it (try asking your colleagues next time they're working on a slide deck at the office…). But the thing is, making an elevator pitch is a great way to feel confident about your presentation and help your audience understand what it's all about quickly and precisely.
To do that, make sure your elevator pitch answers this question:
Why should I listen to you?
Today, I am going to teach you about [ result ] Today, you will get / discover / learn / access [ outcome ] If you agree to meet with us, you will [ result ]
For instance:
Today, you will discover how ABC marketing can help you increase your leads acquisition.
Today, I am going to teach you the 3-step process I used to double my organic traffic in 2 months.

TWEET THIS PRESENTATION PITCH TECHNIQUE
Part 2.

Presentation Preparation & Structure Strategies
By now, you should already…
Be familiar with your audience's characteristics and expectations
Have a clear goal for your presentation (that's aligned with what your audience wants)
Know your core message along with key points you want to communicate
In this section, we'll move on to the next step:
Structuring your presentation.
I'll share with you effective presentation preparation strategies and techniques I use to develop consistent slide decks. Every single time.
Set up your checklist of the steps you need to take to develop your presentation (and reach your goal). Then write down the estimated time you think you'll need for each step. That will help you keep track of the amount of time spent on each of them and be more efficient.
Here's the 5-step process I personally use:
1) Define my presentation's goal
2) Craft my message (the # 1 thing I want them to remember)
3) Develop the outline and structure (the 3-5 things I must say to get my message across)
4) Gather all the pieces of info needed to back my message up, write the copy
5) Consolidate all elements and design the deck

TWEET THIS PRESENTATION PROCESS GUIDELINE
What's the content of a good slide deck?
Here's how most presentations are structured:
Opening

: Tell them what you are going to tell them. This section highlights what your presentation is all about.

Body

: Tell them. This section distills your message, sub-messages and supportive points.

Closing

: Tell them what you told them. Wrap up the key insights of your presentation, and include a specific call-to-action if that's relevant.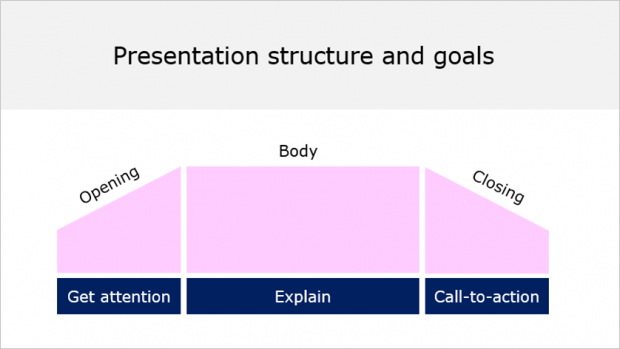 Let's imagine you're making a sales presentation pitching a Saas project management product. Here's how your structure could look like:
Opening

: the problem behind getting all teams on the same page today

Body

: 3-5 arguments supporting how your company's product can solve this problem

Closing

: agree to send the prospect a proposal by next week
When structuring the content of your presentation you want to do one thing:
Put yourself in the shoes of the audience and ask "so what?" (AKA is this relevant and crucial to support my message… or not).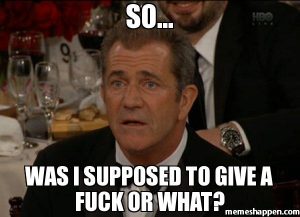 For instance:
Uh, lemme state that XYZ company was funded in August 1998 by Bob Smith who was…
Duh, "so what"? Nobody cares. Get rid of it.
One slide = one idea, one message, one core point.
The content of each slide must be tied to your core and sub-messages, otherwise don't bother.
The purpose of this slide is to [ ____ ]
For example:
The purpose of this slide is to [ show that our sales grew by 16% this year ] The purpose of this slide is to [ demonstrate that our app features are the best in the market ]
The persuasive story pattern is a storytelling technique that will help you structure a presentation that is easy to digest and remember.
The point is to start with describing the life as your audience knows it (the status quo). Highlight their core problems, pain points, or a situation they're currently facing that requires change.
Then to lay down the dream (what is could be). Life doesn't have to be this way, we can change that situation.
Now that you have revealed the path to a better way, develop on the points that will help escape from the conflicting status quo situation you previously introduced.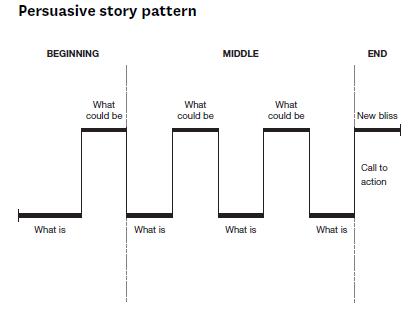 Here is an example:
Problem: current situation faced by your audience. Do you suffer from/Sick of being…
Dream: how it can change. It doesn't have to be that way/there's a solution…
Solution: your solution. Imagine if you could…how your life would be if you could…
The three-act structure is an old storytelling principle that can be found in plays, poetry and movies.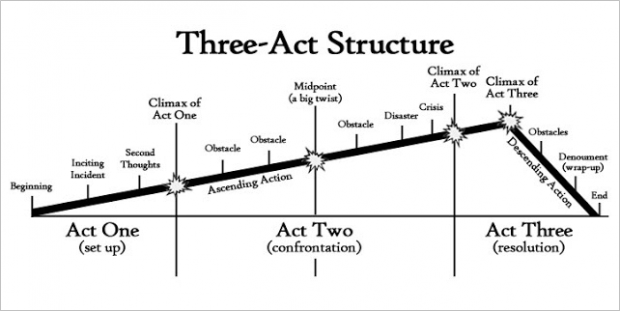 Source
Set up: climate change / tiny farmers providing food to restaurants
Confrontation: how climate change affects the growing season
Resolution: policies that should be in place + how people in other areas are mitigating the effects of climate change on local resources. Source.

TWEET THIS PRESENTATION STRUCTURE TIP
Include takeaway slides at the beginning or at the end of every section of your presentation.
This is especially useful when presenting to senior executives, as they will often "want to go deeper into certain points that will aid in their decision making. If they do, quickly pull up the slides that speak to those points".
Here's an example of a summary slide: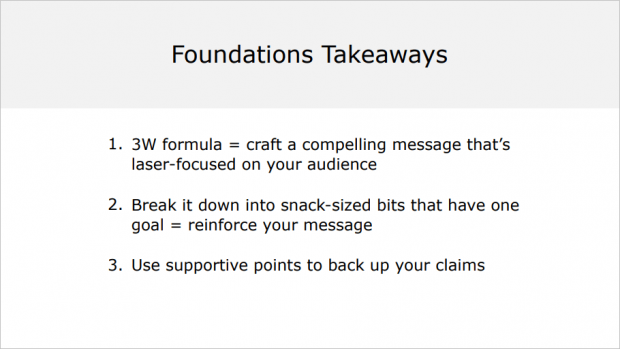 Transition slides to help your audience identify where they are in your presentation.
The bottom line?
You can never be surprised by the next slide, it needs to follow naturally.
For corporate presentation design, you can highlight the text of the section you are about to cover next: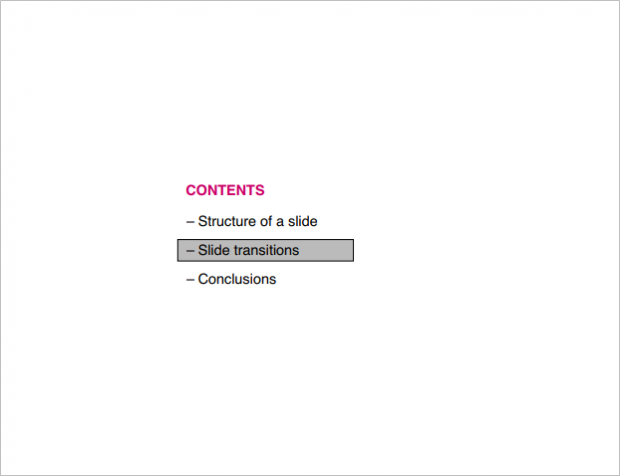 Another way to create great transitions is just to integrate plain background slides with headlines that refer to the topic you're about to cover next.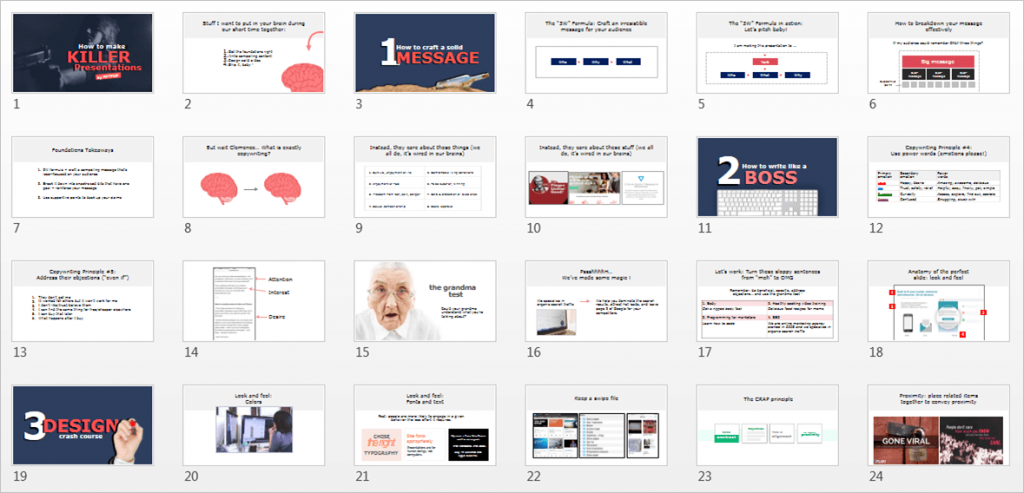 Part 3

. Presentation Content Tips: How to Write Attention-Grabbing Copy
Copy… what?
Copywriting is about using words that get information into someone's brain (so they want to buy from you).
And what makes copywriting so powerful is the incredible number of things you can do with it: emails, web pages, video scripts, presentations….
All of these are literally made of… WORDS.
WORDS that can catch the attention, crush objections, and make people want to buy what you're selling.
The great news is, most people don't really seem to know any of this.
In this section, we'll deep dive into the wonderful world of copywriting.
You will learn essential copywriting tips and techniques so you can write in a natural, engaging way, and get your presentation message across more effectively.
It's a fact, integrating a "succinct sentence headline identifying the main assertion (in your slide) leads to statistically significant increases in audience retention" (source).
Headlines are catchy phrases that are designed to summarize the main point of your slide.
They're especially useful for body slides:

Headline: Formulas to introduce yourself like a pro
Effective headlines share three core attributes:
Short

. A headline must be short to be easily remembered (rule of thumb: it should fit into the 140 characters of a tweet).

To the point.

A headline has to be specific (use numbers or concrete examples)

Benefit the audience

. Your audience shall see, whenever possible, an advantage based on the headline. Make. Their. Life. Easier. Tell them what your main point is (answer this question: "What do you want people to get from this slide?")
Let's take a look at an example:
Not really helpful, right?
Now, let's turn this headline into a good headline:
Here's why the second version of the headline is better:
You read it and you instantly understand the main message of the slide.
Bottom line: don't make people think, make their life easier.
For the "Brain dump" technique, just write down a couple of subject lines and start filling them in. For instance, your slide is about the weight-loss problem.
Let's start writing:
Subject 1: How to lose weight (super sucky)
Subject 2: How to lose weight effectively (meh)
Subject 3: 5 best-ever weight-loss secrets from thin people (good)
Subject 4: 3 things experts won't tell you about weight-loss (catchy)

Select the most attention-grabbing headline when you're done. The one that make you feel like:
"Uhhh I want to learn more about that"
Or
"This headline condenses exactly what I'm going to cover next"
In case of doubt, get feedback from friends or colleagues.

TWEET THIS HEADLINE CREATION TECHNIQUE
Let's say I want to figure out some good headlines for presentation design services I have.
Throw in the term "presentations" into Amazon and see what comes up: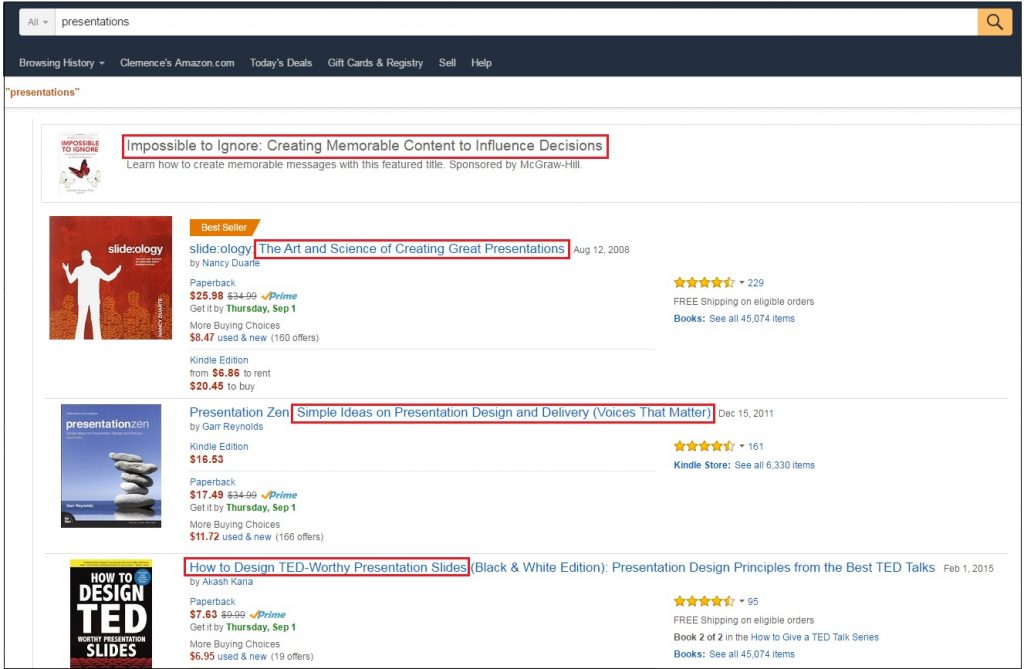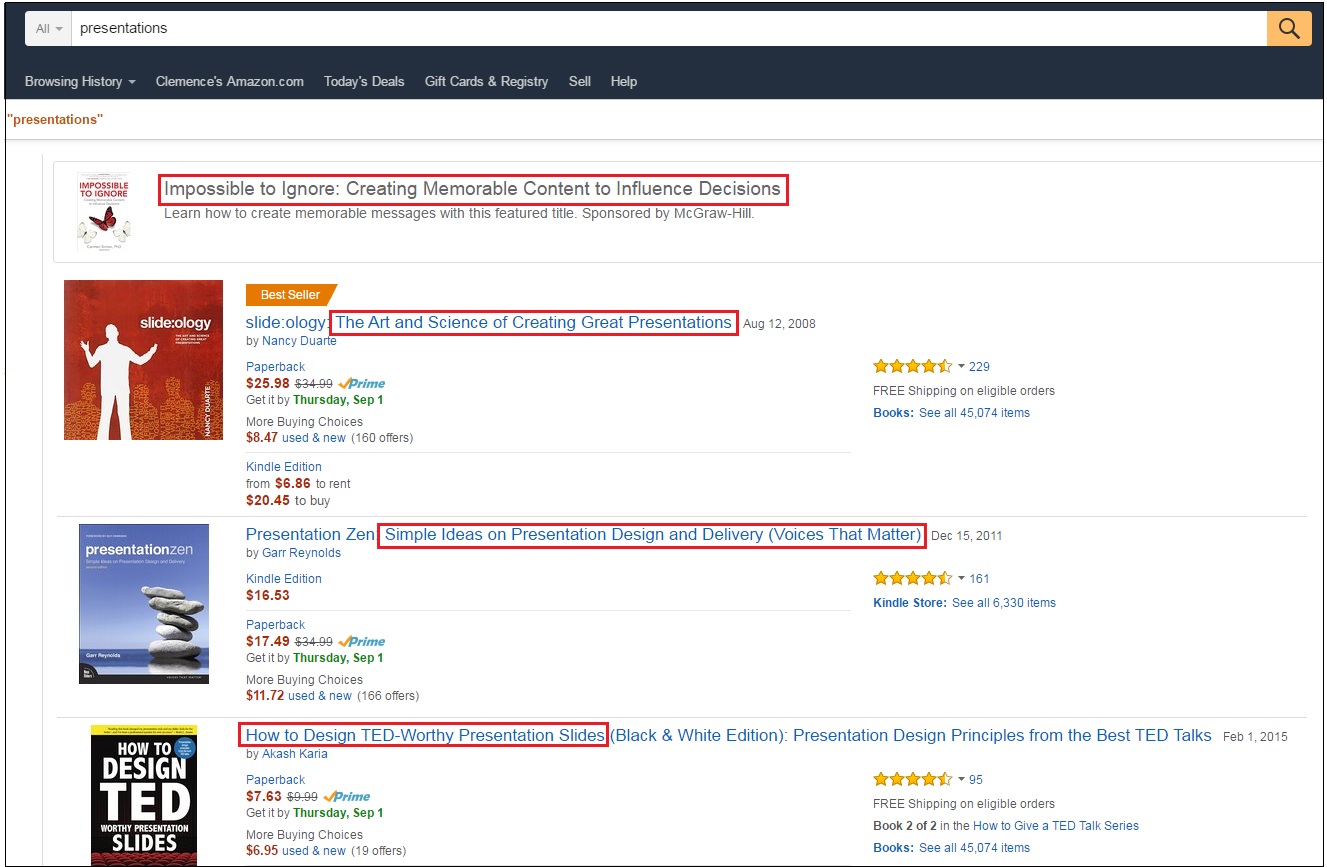 Example of headlines I can come up with:
The little-known secrets behind TED-worthy presentations.
I'll help you design unforgettable presentations that influence, persuade and leave a memorable impression.
Use these starters:
New
Now
Here's
Announcing
Presenting
Introducing
Look !
Source: CA$HVERTISING
For example:
Our powerful new seminar teaches sales reps the power of persuasion to drive people into a buying frenzy
Now you can stop worrying about your website traffic for good
Announcing the hottest new lobster roll of Paris

TWEET THESE HEADLINE STARTERS
The concept of lenses helps you to write headlines that appeal to a specific audience. Lenses work especially well for sales presentations. There are three types of "lenses" you can instantly apply to your headlines:
"Competitive" lens

: "Dominate the search results, and leave Page 2 of Google for your competitors".

"Benefit Driven" lens

: "80% faster than any other internet provider".

"Inspirational" lens

: "What if you could learn the exact system to rank a website that generates traffic, sales & Customers 24/7?"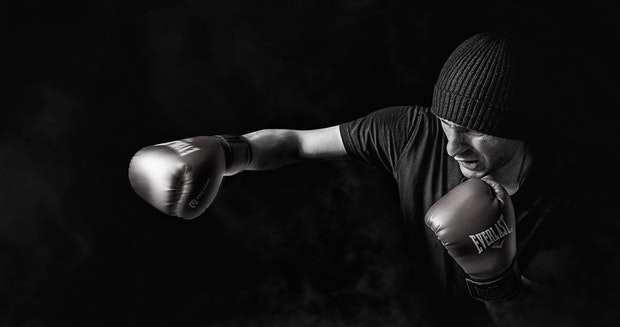 Which one sounds more appealing to you:
"A program to increase your sales".
"A step-by-step, take-you-by-the-hand 4-weeks program that helps you double your sales in 60 days".
That's what I thought too. Here, the power words are "step-by-step" and "take-you-by-the-hand". Their target is to make the reader feel safe and confident.
If you want to your audience to feel something, start with defining which emotions you want them to feel (anger, curiosity, relief, happiness?) Then use proven power words that are tied to these emotions and integrate them in your presentation content.
I teach you exactly how to do just that in this post.
"Nobody cares about you, people care about what you can do for them."
Here's how the me-to syndrome looks like in real life: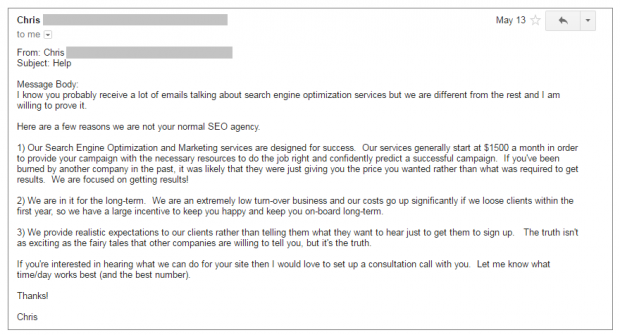 Can you spot what's wrong with this spam email?
Well, I'll tell you:
The me-too syndrome AKA the number of time it's about THEM vs. the number of time it's about ME.
Here's the breakdown:
THEM (AKA "I"; "us", "our"): 15
ME (AKA "you"): 11
Me-too score: 58% (15/26)
To avoid the me-too syndrome, especially in sales presentations, make sure me-too score is under 50%, but more importantly… don't talk about you, talk about what you can do for THEM.
How will you improve their business?
What will you tell them to educate them on a specific topic they're interested in?
How will your skills/services/products will make their life better?
Look, nobody believes hypey, empty promises.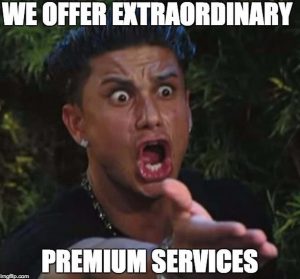 Instead of writing:
"ABC offers the best CRM software".
Write:
"+5,000 small businesses use our CRM software".
Always. Be.  Specific.
Don't say:
"How to improve your finance quickly and claim back your freedom".
Say:
"How to cut your expenses by 26% in the next 30 days".
Which do you think is more persuasive, examples or statistics?
Read the following two paragraphs and decide: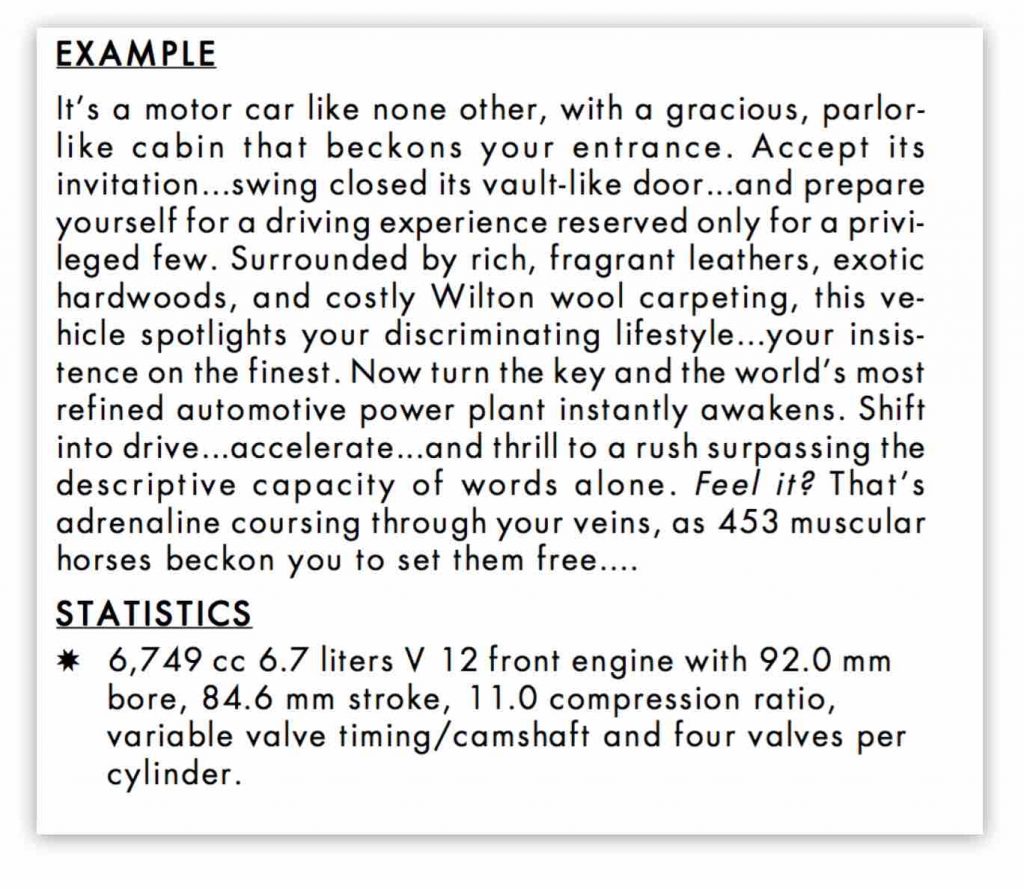 Source: Cashvertising
Wondering why the example whets your appetite for more instead of the statistics? It's because emotions are the key to sales. If you're making a sales presentation, make sure you always place your money on the example.
"Write for the ear, not the eye. Old adage."
There's nothing worse than getting junk content from another me-too company that rambles on and on about how amazing they are.
On the other hand, when you read something that's written to you – like personally – you'll devour every word. Because you'll want to know what's in it for YOU.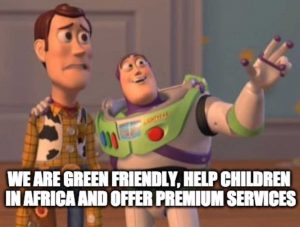 Don't do this.
Instead, express only one though in a sentence.
Use your next sentence to say the next thing.
79% of people scan read, rather than read every single word. Source
For instance:
I confess.
It's a problem.
This is important.
Here are two test paragraphs that talk about the same offer.
Read both and see which you enjoy reading most: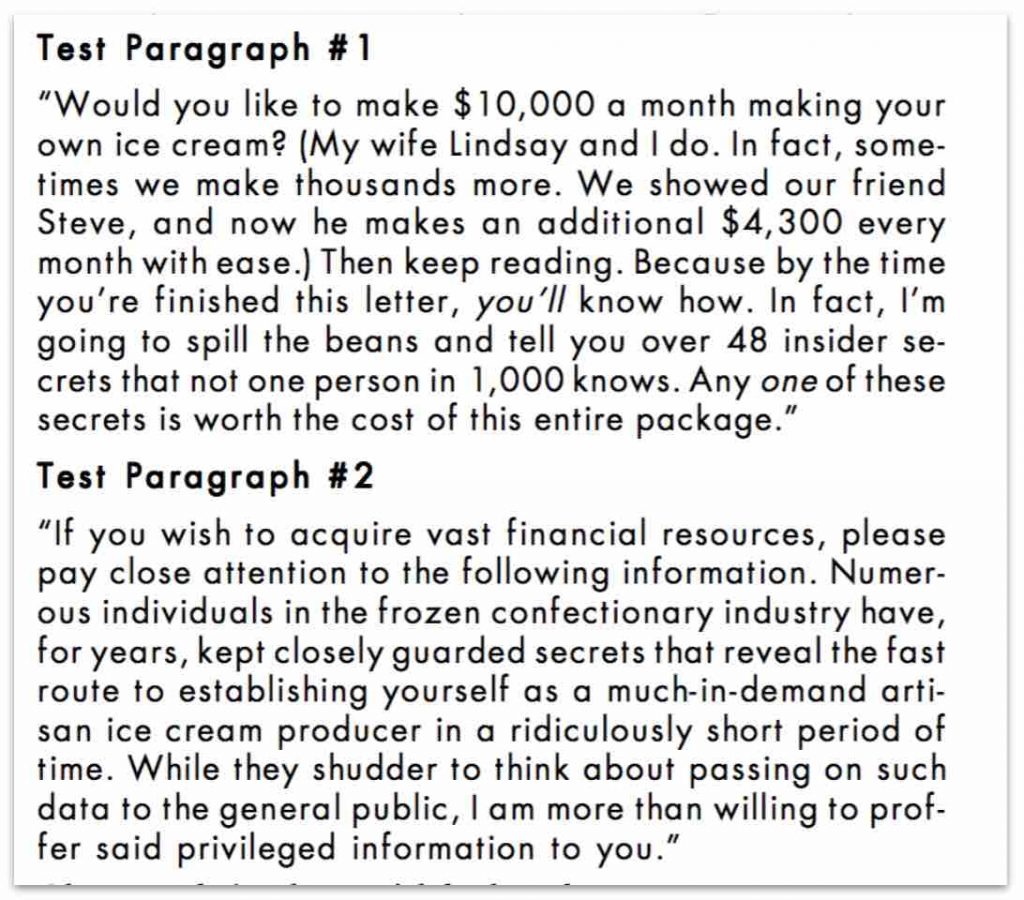 Source: Cashvertising
The more you ask your audience to think, the more likely you'll lose them. Use shorter, easy-to-understand words that a 6th grader can get. Seriously.
Read out loud every single sentence in your deck and ask yourself:
Is it easy to understand or not?
If the answer is no, then shorten the phrase or break it down in smaller, easily understandable pieces.
Part 4.

 How to Improve Your Presentation Design
How to make good presentation slides when you're not a designer?
What online tools can you use to become better (and faster) at designing your PowerPoint or Keynote slides?
Presentation design isn't hard once you master the essentials…. but where should you start?  In this section, you'll learn actionable, timeless design tips and techniques that'll give your slides that extra boost.
Enlarge the width of your presentation slides to enjoy more design space:



Create a consistent color theme for your presentation and stick to it.  You can also decide to apply a single color theme for each section of your presentation.
Chose colors that are: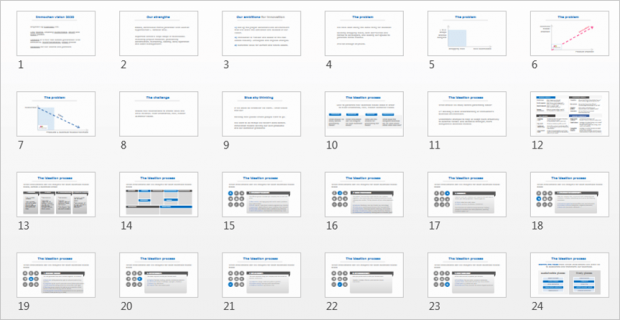 Color theme: white / grey / blue.
If you're not sure about where to start, try out Kuler, Adobe's awesome color palette generator. It's free and you can choose from thousands of pre-built schemes: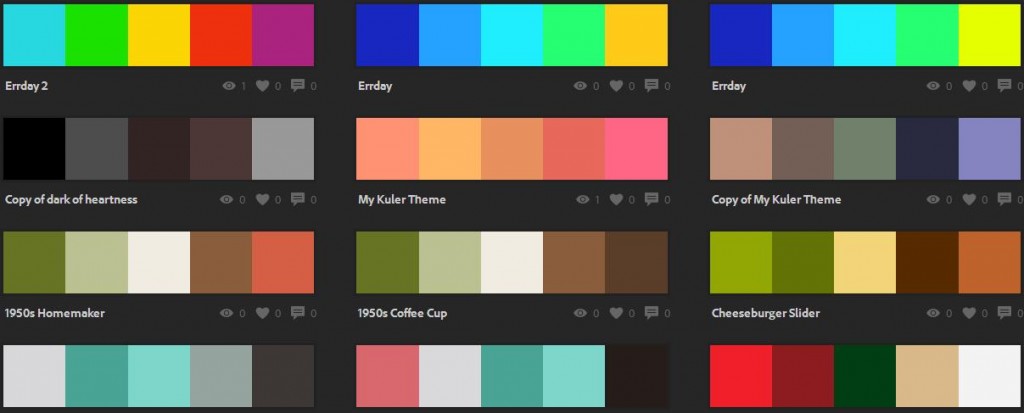 First, check out the color code: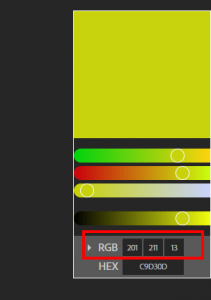 Then, apply this RGB color codes in PowerPoint: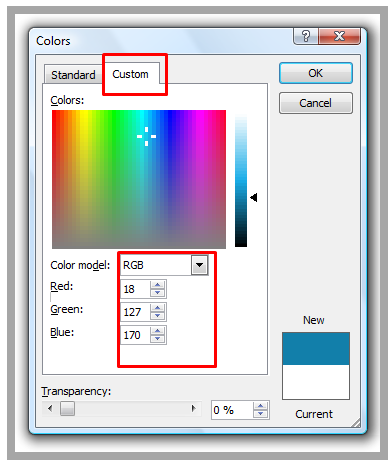 Here are several free online tools to craft your winning color themes:

TWEET THESE PRESENTATION DESIGN GUIDELINES
Did you know that people who use visual aids are 43% more persuasive than those who don't ?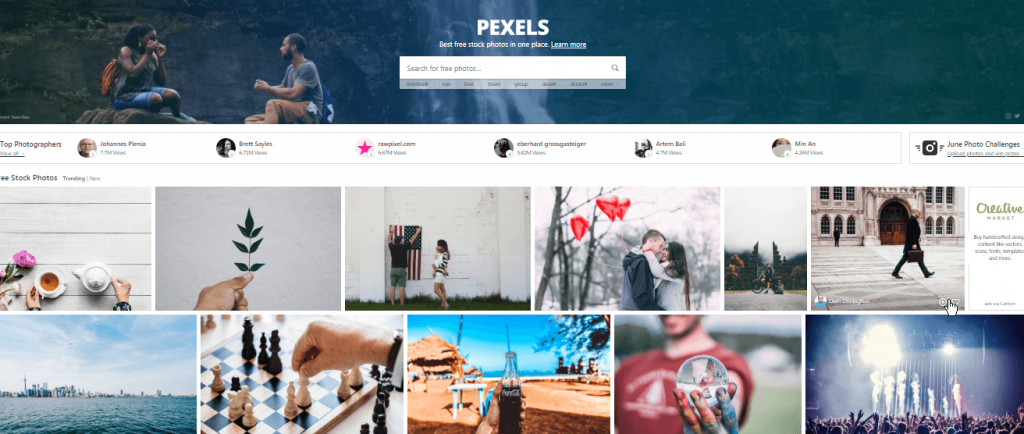 Here's my go-to-list of breathtaking, free-to-use photography resources:
Use this simple 3-step process to craft stunning presentation cover slides:
Step 1: Find a visual representing the point you are trying to make
Step 2: Unless you have a plain background picture, add a horizontal rectangular bar
Step 3: Integrate your text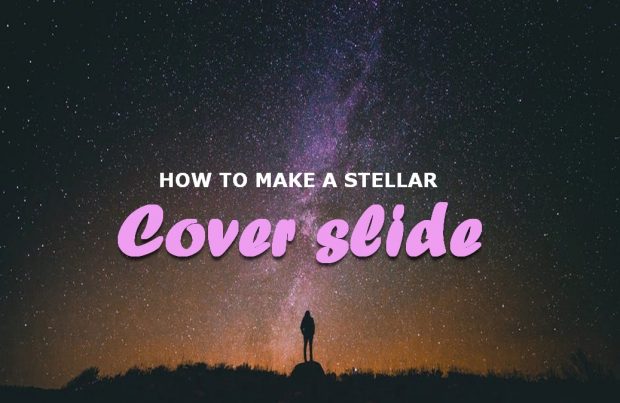 Headline: How to make killer presentations
…and for content slides:
Get the full details here:
Use this simple slide structure for consistent business presentation designs: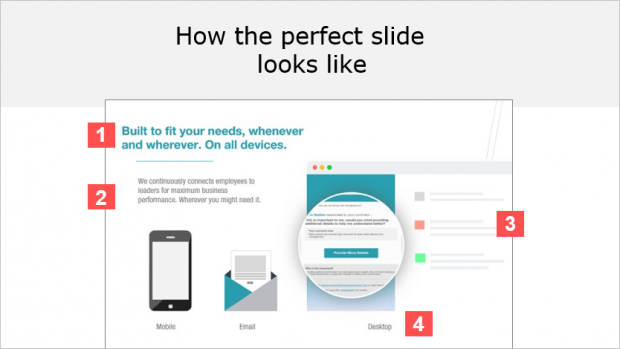 1) Your headline
2) The content of your slide
3) An illustration that's relevant to the content
4) A caption of your illustration (especially if showing graphs or figures)
Bottom line. Before deciding to integrate content in your slide, always ask yourself:
"What would I like them to remember about this data?"
"What's the message I want them to take away?"

TWEET THESE PRESENTATION LAY-OUT GUIDELINE
Use approx. 1/3 of your slide area to integrate a headline that wraps up the content of your slide (Yes, it could also be 20%… just make sure you're allocating the same amount of space in each slide for consistency purpose)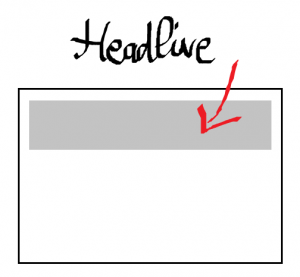 Here's an example: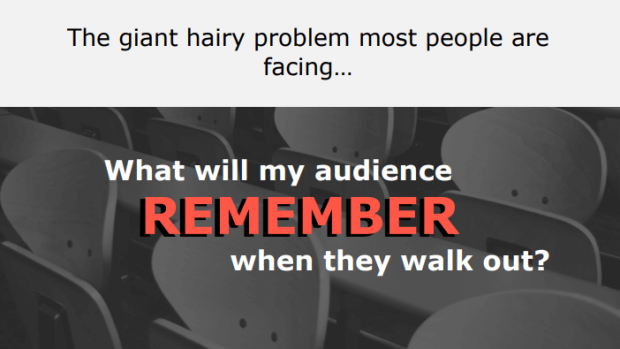 TWEET THIS SLIDE HEADLINE TECHNIQUE
Illustrations such as icons and shapes can help you convey information more effectively.
Use them for presentation covers, business slides, transitions and more…
Here are a few concrete examples: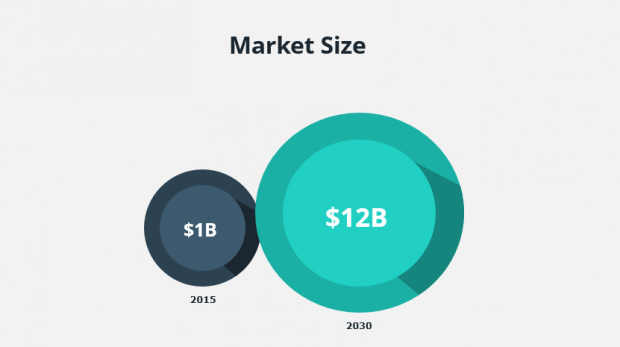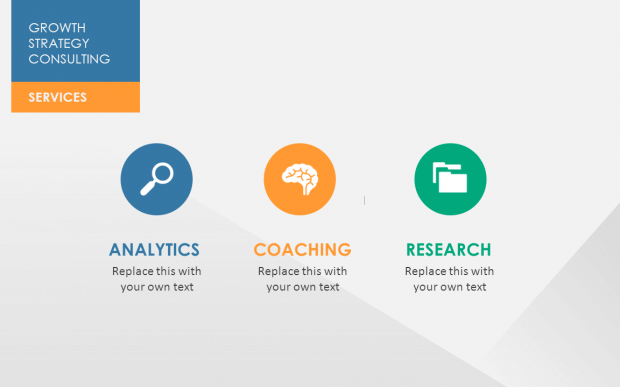 Here are great resources:
Fonts can basically be separated between two major families: serif and sans serif.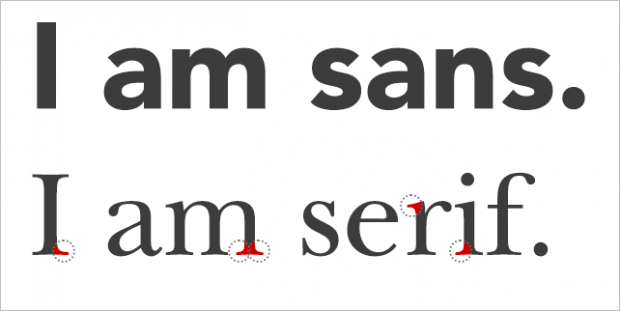 Here's a simple, crash-course on font psychology that'll help you pick the right ones for your slides:
"Serif Fonts Are More Readable Via Print
Sans-Serif Fonts Are More Readable Via Screens
Serif Fonts Convey Elegance and Rationale
Sans-Serif Fonts Convey Informality and Innovation"
For creative font inspiration and downloads, check out the resources below:
In her guide on creating great presentations, Nancy Duarte explains the principle of grid systems to prepare slides like a designer: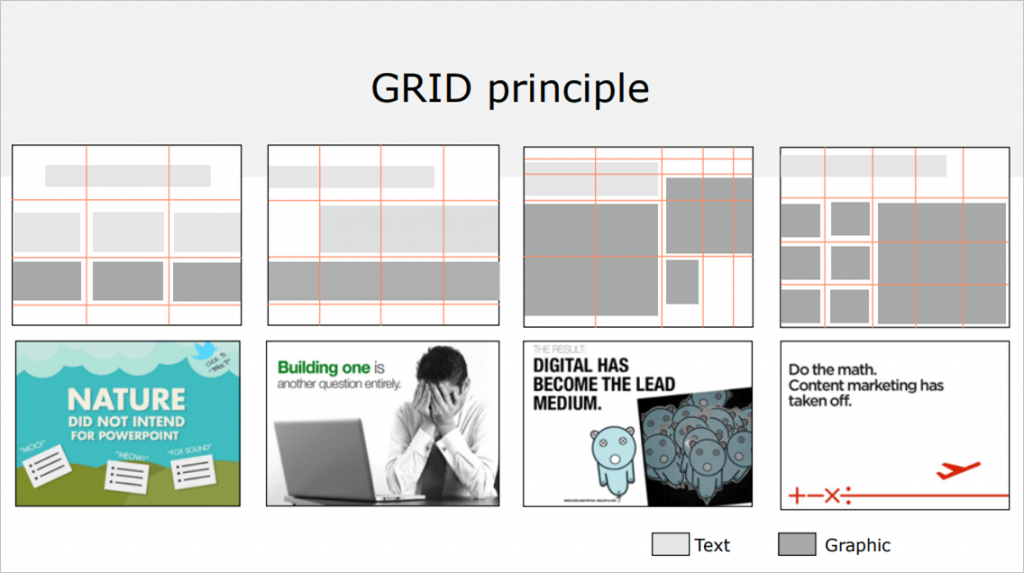 Here's an example: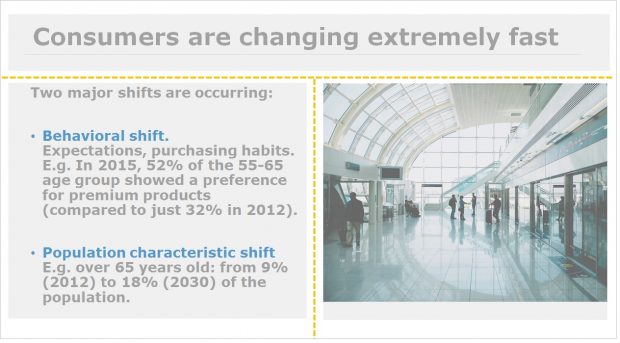 TWEET THIS SLIDE DESIGN TIP
There are not a hundred but one principle of design that I want you to get under your belt.
The CRAP principle: Contrast, Repetition, Alignment, Proximity.
Contrast is all about making things stand out. It can be achieved using three major tactics: manipulation of space (near / far, empty / filled), color choices (dark vs. light / cool vs. warm) and text (typography style / bold vs. narrow).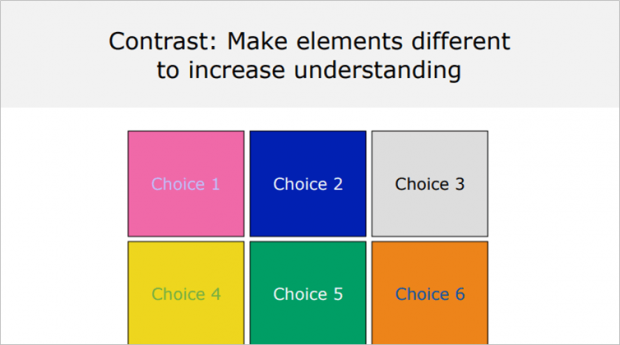 Note: Choice 2, 3 and 5 are fairly easy to read while the other are not.
Repetition, for instance making a headline and a sub-message the same color, makes scanning your deck much easier. Repetition helps you create a cohesive look to your presentation.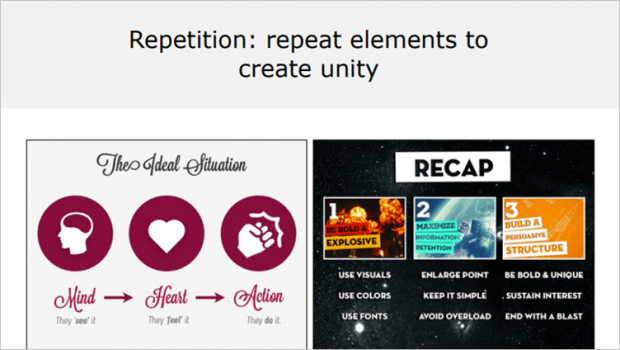 Alignment. Newspapers use this to great effect. Aligning a whole bunch of elements with one another makes them scan faster. Alignment makes things easier to read.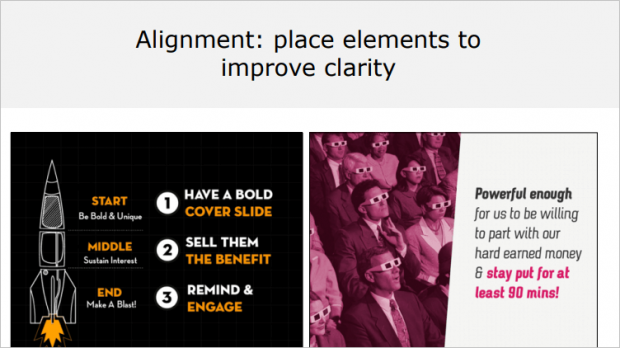 Proximity means that things are associated with one another. Let me explain that for you: the closer things are, the more they are associated The farther they are away from one another, the less they are associated.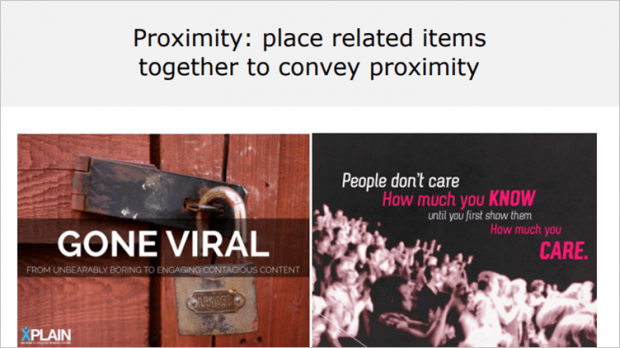 TWEET THIS SLIDE DESIGN PRO TIP
Repeat your agenda AKA your deck's plan to remind the audience of what they just got.
In the final slide confirms that the presentation is over.
For instance:
Thank you!
Contact information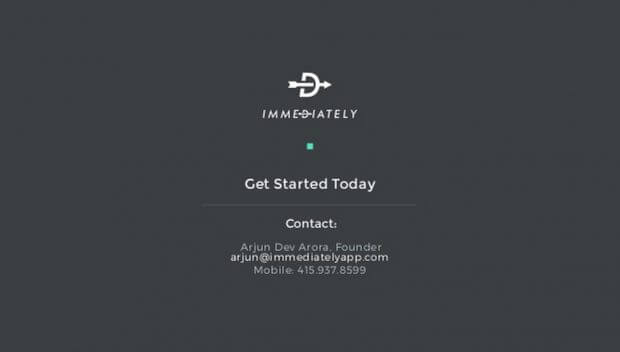 Create a folder on your desktop or inside your cellphone and title it "Swipe File" Anytime you see a beautiful design or great copy, just add it to your swipe file. Set up individual folders or labels (E.g. "Great Cover Slides", "Headlines", etc).
Pretty soon, you'll have a repository of inspiration that you can tap into when you are working on your own presentations.
Here's how my personal swipe files looks like: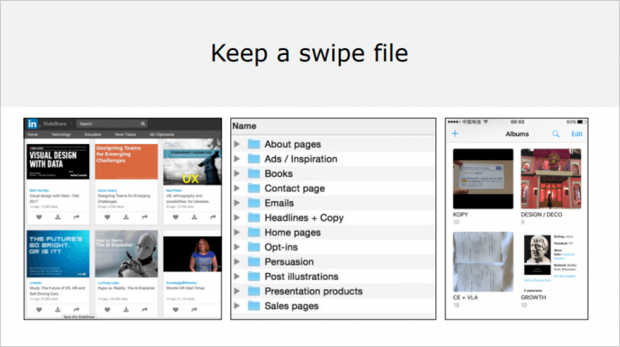 TWEET THIS DESIGN INSPIRATION TIP
Here are great resources for you to grab your next PowerPoint design ideas:
Ready-to-use templates help you create great presentations fast (and at the fraction of what a designer would cost you).
Most templates available online include everything you need, from gorgeous, easy-to-edit slides and icons to charts and ready-made color themes. In this article, I am reviewing my favorite designer-made PowerPoint and Keynote bundles that'll help you clearly and concisely present information.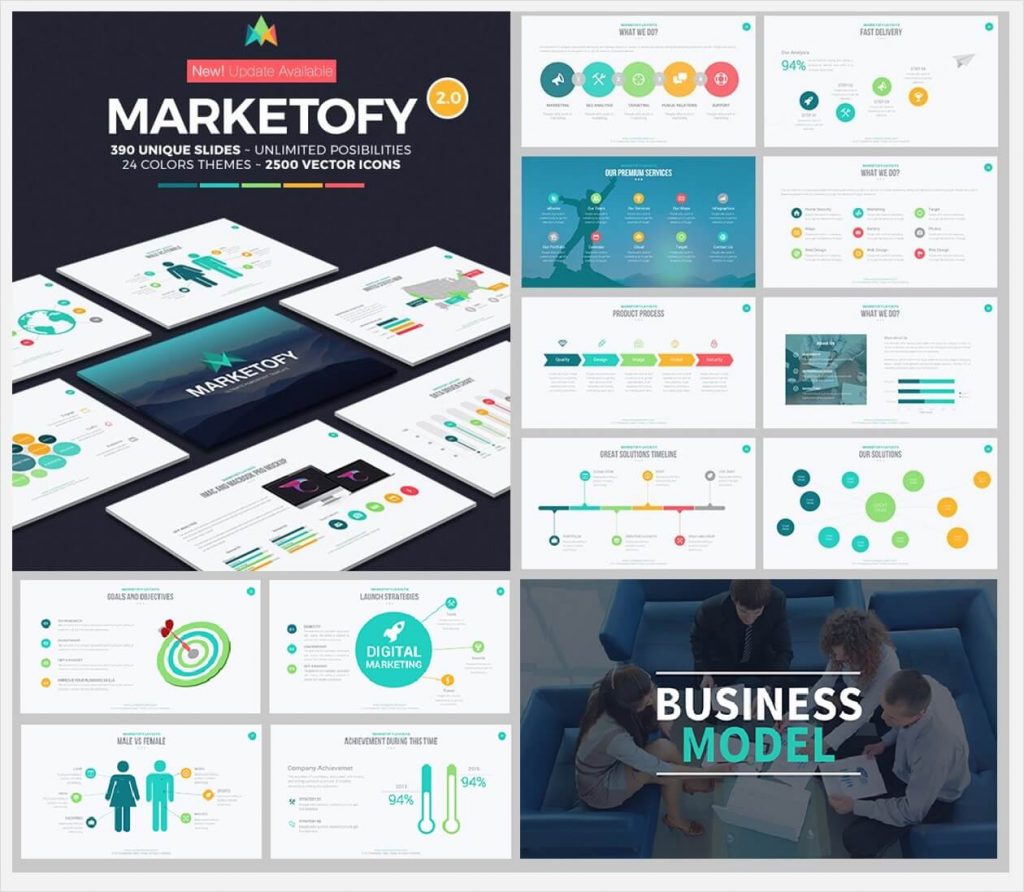 Part 5

. Public Speaking Tips to Deliver Like a Pro
How do you become insanely great in front of an audience?
In this section, I will share practical public speaking techniques to help you impact with your voice, words and posture.
You will learn…
– Strategies to build confidence and clarity in public situations – no matter how nervous you are
– 4 powerful ways to start a presentation and connect with your audience right off the bat
– Advice on body postures to create a strong executive presence
– And much more…
Using tongue twisters will help you practice speaking clearly and enunciating properly. The idea is to say them slowly, and then progressively as fast as you can without making mistake.
Here are a few cool ones to help you warm up: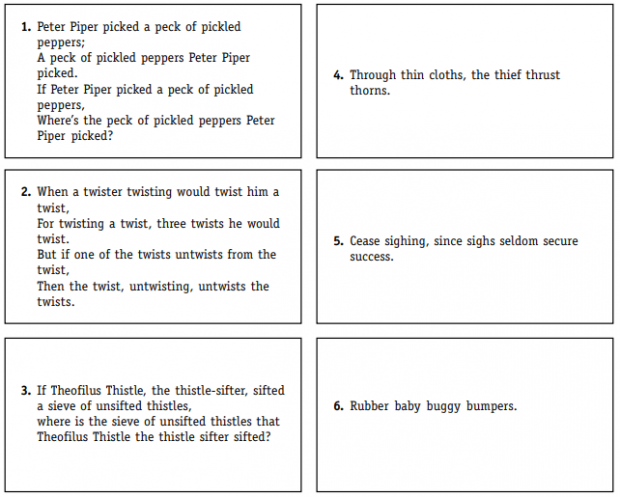 Source

TWEET THIS PUBLIC SPEAKING TECHNIQUE
"Stories are remembered up to 22 times more than facts alone." (source)
A story is a "connected set of events, with a begining, a middle and an end". According to Stanford professor Jennifer Aaker, stories are important for three reasons:
They shape how others see you… as they influence how others see you, whether they want to hire you or buy from you.
They're tool of power… because people slow down and listen to what you're saying.
Stories persuade… because they can be a tool to advocate for your idea, your cause, your company.
To craft an effective story for your speech, Jennifer Aaker advises you to incororate these 4 characteristics:
Goals: why you tell the story in the first place?
Attention: why would the audience want to listen?
Engage: why would they care?
Enable action: why would they want to share the story?
Let's take a look at a good story:
"Five years ago…. I was…."
"You can't imagine what happened to me yesterday"
A great way to start a presentation is to use statistics.
Here's an example:
"I want to get started with two facts: it takes  7 seconds for people to decide if they like you, and it takes 30 seconds to decide whether they want to listen to you or not. So by now you already know if you like me or not, and you're just about to decide if you want to listen to what I've got to say".
To find reliable resources, head over to Google and try these search strings:
site:edu + "your keyword" + "data"
inurl:research + "your keyword" + "statistics"
'your keyword" + "expert quotes"
For instance: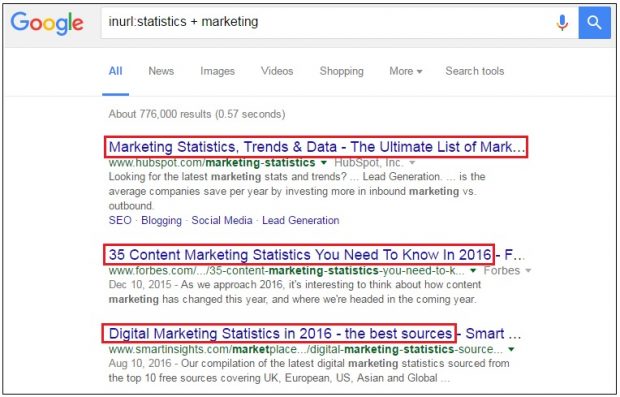 TWEET THIS PUBLIC SPEAKING TECHNIQUE
Another great way to start a presentation is to use the GTS (give them something) formula. get your audience's excited about what they'll be able to do or know by the end of your speech:
You will get / learn / discover
Today, I'm going to show you [ statement that benefits your audience ].
By the end of this presentation, you will [ result they're interested in ].
For instance:
"Today, I'm going to show you how you can use conversion optimization to triple your sales in less than 6 months".
"My name is Clemence, founder at PPTPOP. In just a moment, I am going to show you how to deliver solid presentations that get your message across, influence and get you more of what you want in front of any audience."

TWEET THIS PUBLIC SPEAKING TECHNIQUE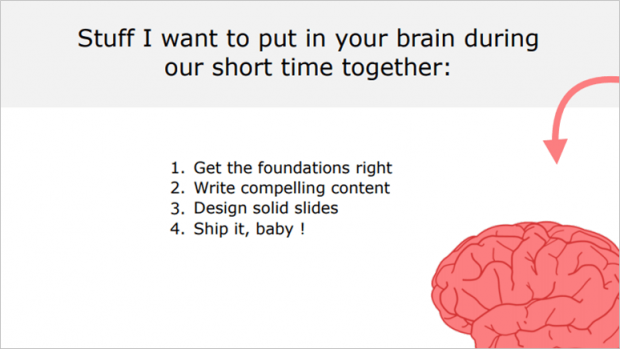 A plan makes it super easy for your audience to follow through. The point is for them to SEE where you are at in your speech , at any time.
For instance:
"Today I'm going to show you 4 steps to deliver amazing presentations".
And you're talking about step # 2.
They instantly know you're at the middle of the speech.

TWEET THIS PUBLIC SPEAKING TIP
Always: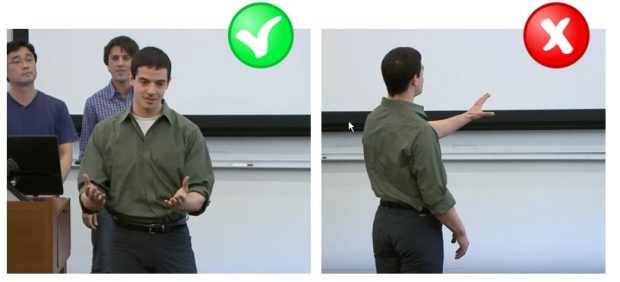 According to Harvard Business School professor Amy J.C. Cuddy, high-power poses decrease cortisol (AKA "the stress hormone") by about 25% and increase testosterone by about 19% for both men and women.
To do that, make sure to stretch out, open up and make yourself taller.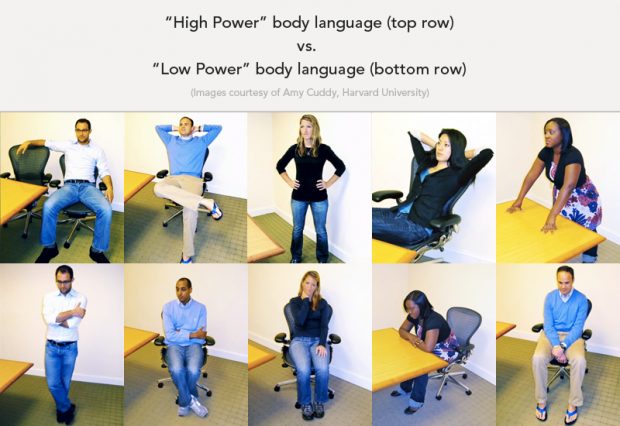 TWEET THIS PUBLIC SPEAKING POSTURE
Eye contact is crucial to keep you and your audience engaged:
Spend just a few seconds with each person you're looking at
For bigger lecture halls, make sure to use an "M" or a "W" pattern to spread eye contact throughout (source).
"Human beings are drawn to movement. If you move when you speak, you'll get people's attention".
Move toward the audience before making a point. Move away when you want to signal a break or a change of subject.
You can also use space to reinforce your ideas. For example, if you're presenting three issues, talk about each of them from a different physical position". Carole Kinsey Goman (via Forbes).

TWEET THIS PUBLIC SPEAKING TECHNIQUE
Julian Treasure, a sound and communication expert recommends you to apply the following techniques:
If you want to add weight to your speech, lower your voice
Slow down your pace to emphasize on a point
Speak louder to emphasize a point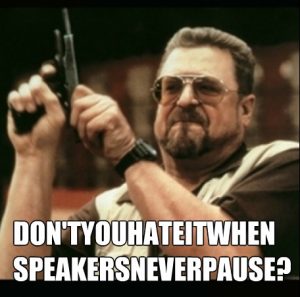 "Pausing is to speaking as punctuation is to writing."
Look, pauses are super important because they reduce the overall rate of speaking, give the audience time to reflect + absorb what you're saying and tell your listeners you are moving from one thought to the next. Here are a few tips from the presentation coach Diane Windingland:
pause before and after important/difficult words or concepts
pause after changing visual or slide
Verbal presentation skills are crucial to your success and there are two things you should do to increase engagement with your audience:
First, use the words "you" and "I" so your audience relates with what you're telling them.
For example:

You know that feeling when… [SITUATION]. I think it's amazing, don't you?
You're stuck in [PROBLEM], you're dealing with… [PAIN POINT]… You know what? I feel your pain.
Let me be completely blunt with you, if you're serious about [BENEFIT THEY WANT]…
Using sensory phrases while you're presenting will help you get your audience to feel something:
Does it feel like….
Can you imagine…
Let me show you…
Since being kids, we've been conditioned to answer questions immediately. And that's why we're using filler words such as "uh", "um", "well", "like"… that make us look super dumb and unprepared.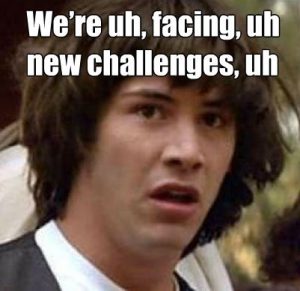 Here are a few ways eliminate these words from your vocabulary:
Video / audio record yourself to find out how bad it really is. If you're aware of it, you can work on it
Don't speak while looking at your notes (look at your notes, look up and THEN speak)
Be silent while you are trying to come up with the right word
Apply the PTA formula: Pause, Think, Answer

TWEET THIS PUBLIC SPEAKING TECHNIQUE
Mention what's important or complex at the beginning of your speech if you can. Here's why:
"For the first 5-10 minutes of a typical 50 minute lecture a student remembers a high proportion of the information presented, after which the proportion of information preserved rapidly declines. Students typically retain 70% from the first 10 minutes of lecture, and 20% from the last 10 minutes . Source.
Here's a good strategy for improving your public speaking skills:
Show don't tell (SDT).
The SDT principle has one purpose:
Enable your audience to experience the story through action, words, senses, and feelings. Incorporate as much as you can the use of specific, personal stories, vivid details that enable people to picture what you are saying.
Here's an example from Zendesk customer service software: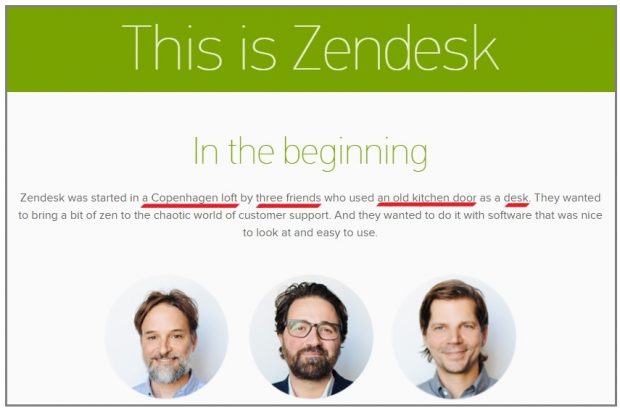 TWEET THIS PUBLIC SPEAKING TECHNIQUE
Here's the problem with reading presentations:
People KNOW you're reading.
And as soon as they know it, the way they receive your talk will shift because your intimate connection with them will evaporates, and everything will feel a lot more formal (did I say boring?).
Here are two real effective ways to rehearse your speech:
Audio record yourself to help you assess which phrases sound good and which just look weird.
Get feedback. grab a friend or a colleague and ask him: What can I improve? What's your favorite element of the speech?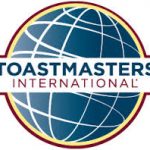 Toastmaster clubs are groups across the world dedicated to helping members improve their public speaking skills. Groups get together during lunch or after work to take turns delivering short talks on a chosen topic.
The more you present, the better you'll be, so consider joining a Toastmaster club to become a top-notch orator. They're literally everywhere.
Improv comedy is also a great way to feel more confident in public.
Watch TED talks that cover a topic you're interested in. Then, think:
Did I like this speach?
If no, why not? If ye, why? What can I learn from this speaker and apply to myself ?)
The Presentation Tips Infographic

How to Make Gorgeous Presentations When You Have No Time, No Budget (And No Design Talent)
Know that feeling when you have to design that slick and professional presentation – for your boss, a high-stake client or even investors – but you have no time and budget to make it?
The thing is, these slide decks are key pieces for managing your business: sales meetings, marketing strategies, business plans, and so on.
But let's be real, you're not a designer (neither am I), and unless you have natural talent at crafting amazing business slides, it can be really tough to put together presentations that impress and deliver more than you promise.
What we need is a way to craft all these high-stake presentations easily, and fast.
Meet Marketofy, The Ultimate All-Purpose Presentation Template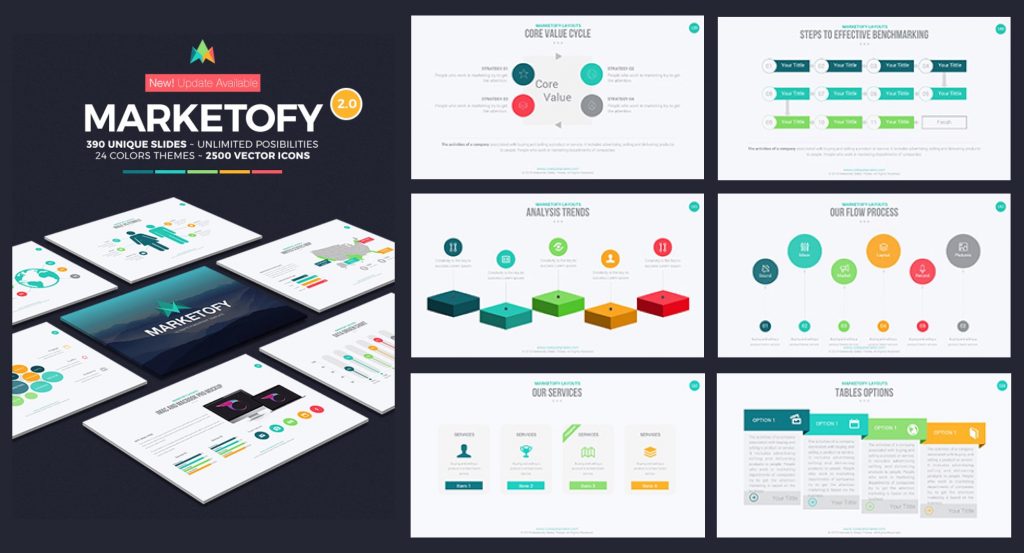 Pre-built, designer-made templates let you create beautiful presentations like a real pro (and no, it won't take you months or crazy design fees).
That's right:
You won't need to spend your entire nights (or weekends) to design, edit, arrange, re-arrange, modify again and again your slides to finally put together a presentation that looks, well, it looks "just fine".
Because everything you need – unique, easy-to-edit slides, beautiful icons, graphics and so much more, will be stored in one giant folder patiently seating on your computer's desktop.
You'll make slick, professional presentations AND save a huge amount of time because you'll be able to create presentations using templates that are just waiting for you to turn them into powerful, top-tier business materials.
Here, have a look at some of this template screenshots: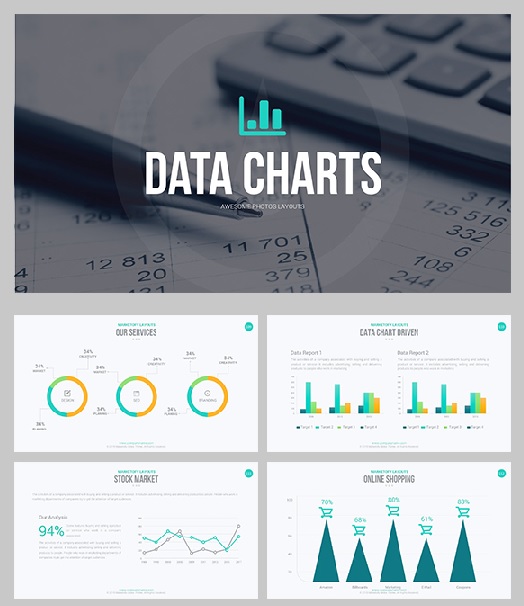 Clean and modern slides. Who said data charts had to be lame?
By now, you understand why presentation templates can help you create high value decks in a fraction of the time it takes others (Just imagine the look on your colleagues' face when you start revealing your slides at the next meeting…)
And guess what, you can get these templates like Marketofy for the less than the price of a movie ticket (or a lobster roll, if you prefer). That's basically less than $20 for…
Hundreds of easy-to-edit slides for you all presentations
2,500+ vector icons (that means you can change colors and sizes without losing quality)
Dozens of charts and graphs, maps. Fully-editable!
Fast and free customer support 24/7
And so much more!
Hope you liked and learned !