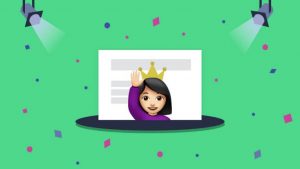 Want presentation slide design tips that work in the real world?
This is the ultimate guide to designing beautiful, engaging slides that impress and get your message across for any type of presentation (Yes, any: company overview, sales deck, investor pitch, and so on).
And let me be clear about something:
You won't find any advice like "ditch the bullet-points" or "use high-quality visuals" here. Nope.
Instead, you're going to get actionable, meeting-room-tested strategies and best practices (all illustrated with concrete examples) that you can actually implement within a few minutes.
Let's get started.
🚀
Effective Presentation Slide Design Tips

I'll talk about the following slide design tips and techniques in this post:
1. Use Color & Weight to Create Hierarchy

You probably already know that modifying the font size is a great way to control the hierarchy within your slides.
But what you may not know is that changing color or font weight is another smart way to separate the important text from secondary one. Here, take a look at the example below: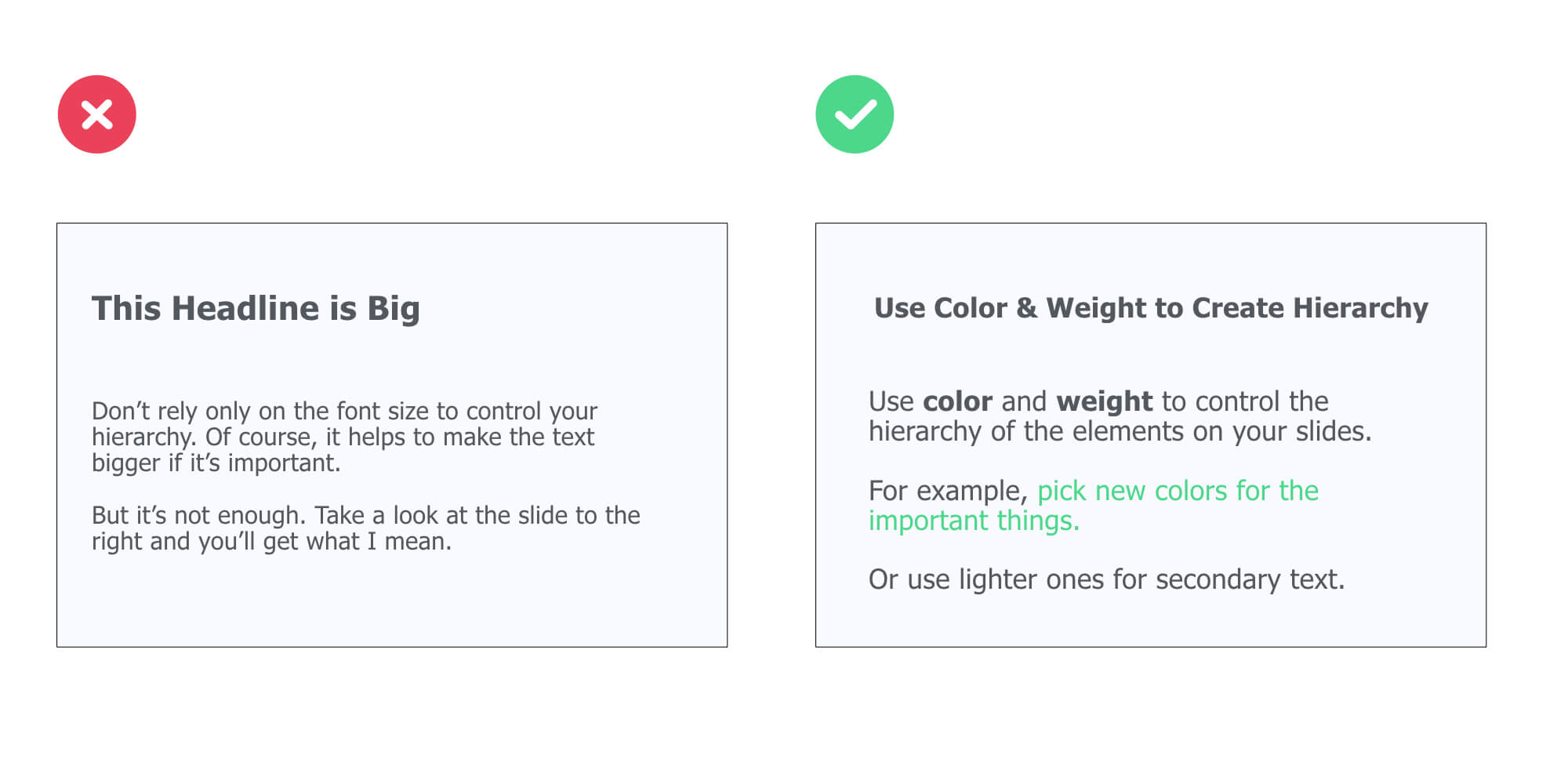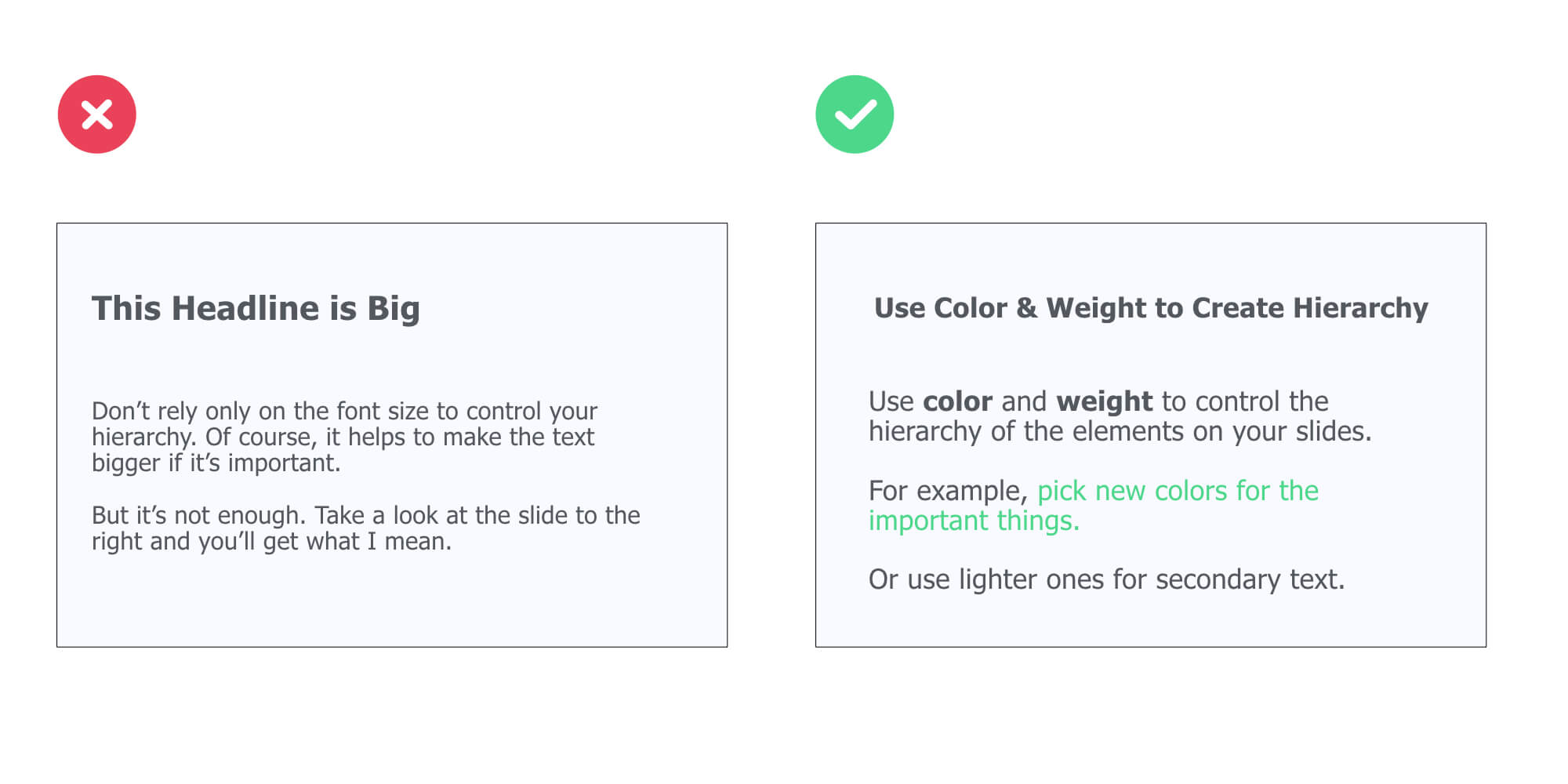 Now, here is a simple rule you can use:
First, chose a dark color for the primary content (such as the headline and body text of a slide).
Then, pick a contrasting color or/and bold font for important keywords you want to bring to your audience attention.
2. Use the HSB Formula to Breakdown Your Slide's Content

How to make good presentation slides?
Make clear presentation slides.
For corporate decks and most business-world presentations, the content slides will very likely be broken down in 3 core parts:
Headline
Subheadline
Body text
(Hence the HSB Formula)
Now, let's see what each part actually include (and take a look at a specific example after that).
Headline
Headlines are concise sentences used to summarize the content of a slide. Good headlines have three attributes:
Short. A headline must be short to be easily remembered (it should fit into the 140 characters of a Tweet).
To the point. A headline has to be specific (e.g. use numbers)
Benefit the audience. Grab people's attention and help them understand what's the #1 message of the side.
Subheadline
They are secondary headlines that basically elaborate on the main headline above it. They 're optional (don't include if you don't need them) and should be used to reel the reader in.
Body text
Body text provides the meaty details. It is usually coupled with visuals and graphs to provide supporting materials and help you get your point across.
As you can see, the HSB formula is quite simple to remember.
Now, let's take a look at an example:
Headline: Sales Breakdown by Region (Q4)
Subheadline: China accounts for 52% of total sales over the period, representing an increase of 35% YoY
Content: Sales chart details and explanation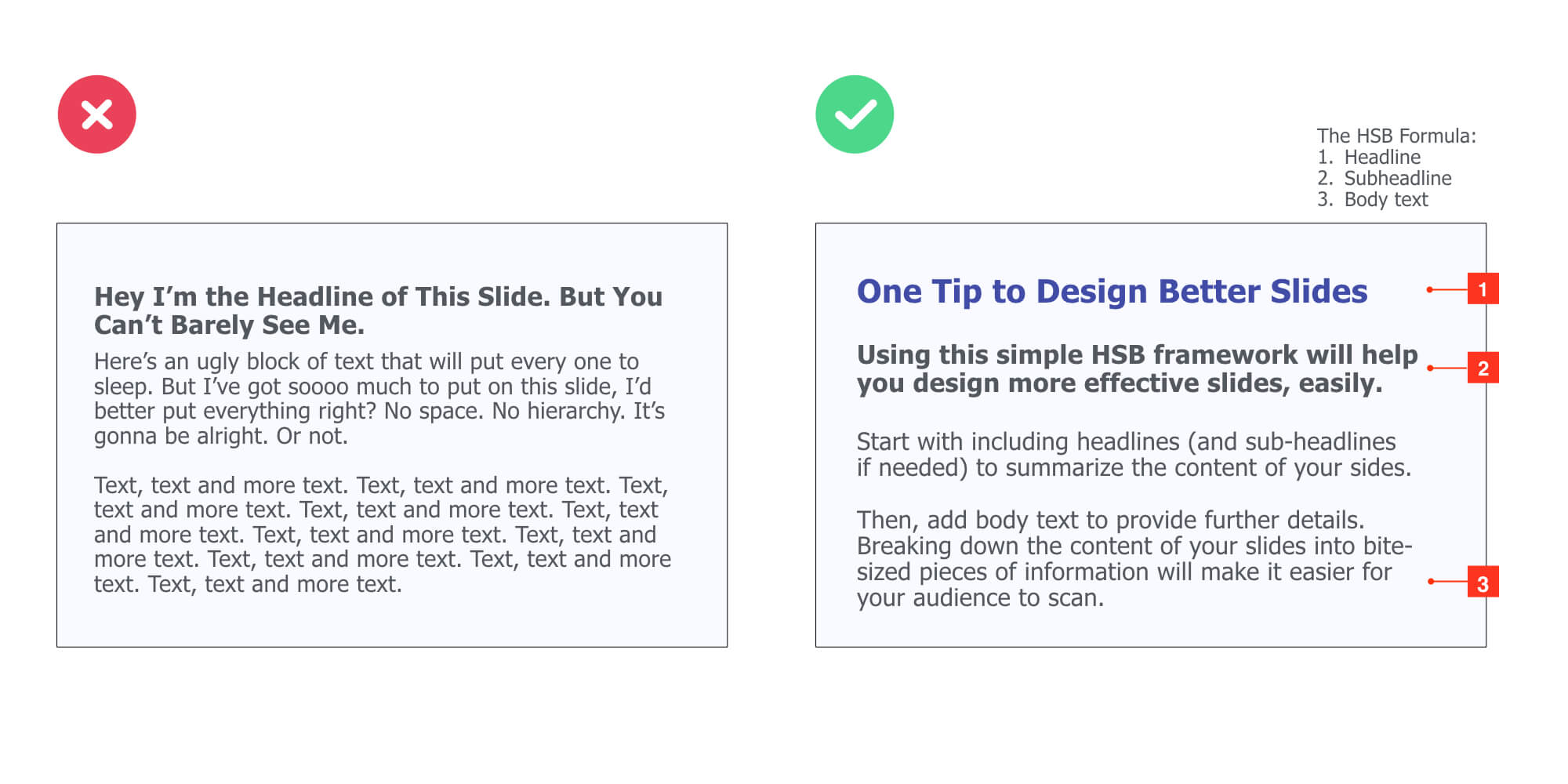 3. Use Space (Yes, Really)

I know this one sounds really obvious.
But let's face it:
Adding enough space between the different elements within slides is one of the most overlooked points when it comes to designing presentations.
Heck, we already spend a bunch of time working on the preparation of our decks. So naturally, most of us skip the formatting part. Often because we run out of time.
First, you're going to start with deleting the content that's not critical to helping your audience understand your message. How I you do that, you might ask?
Finish up adding the text content you think should appear on each of your slides. Then, answer the following questions to separate what's crucial from what's not:
"What would I like them to remember about this [Text/Illustration/Piece of Data] data?"
"Is adding this [Text/Illustration/Piece of Data] in the slide absolutely critical to helping my audience understand my message?"
Then, after having filtered out what you don't absolutely need to put in your presentation, add space between the different groups of elements in order to make your slides breathe.
Having slides that are clean and pleasant to look at will help your audience scan them easier. And if they can scan your content easier, they'll understand it faster.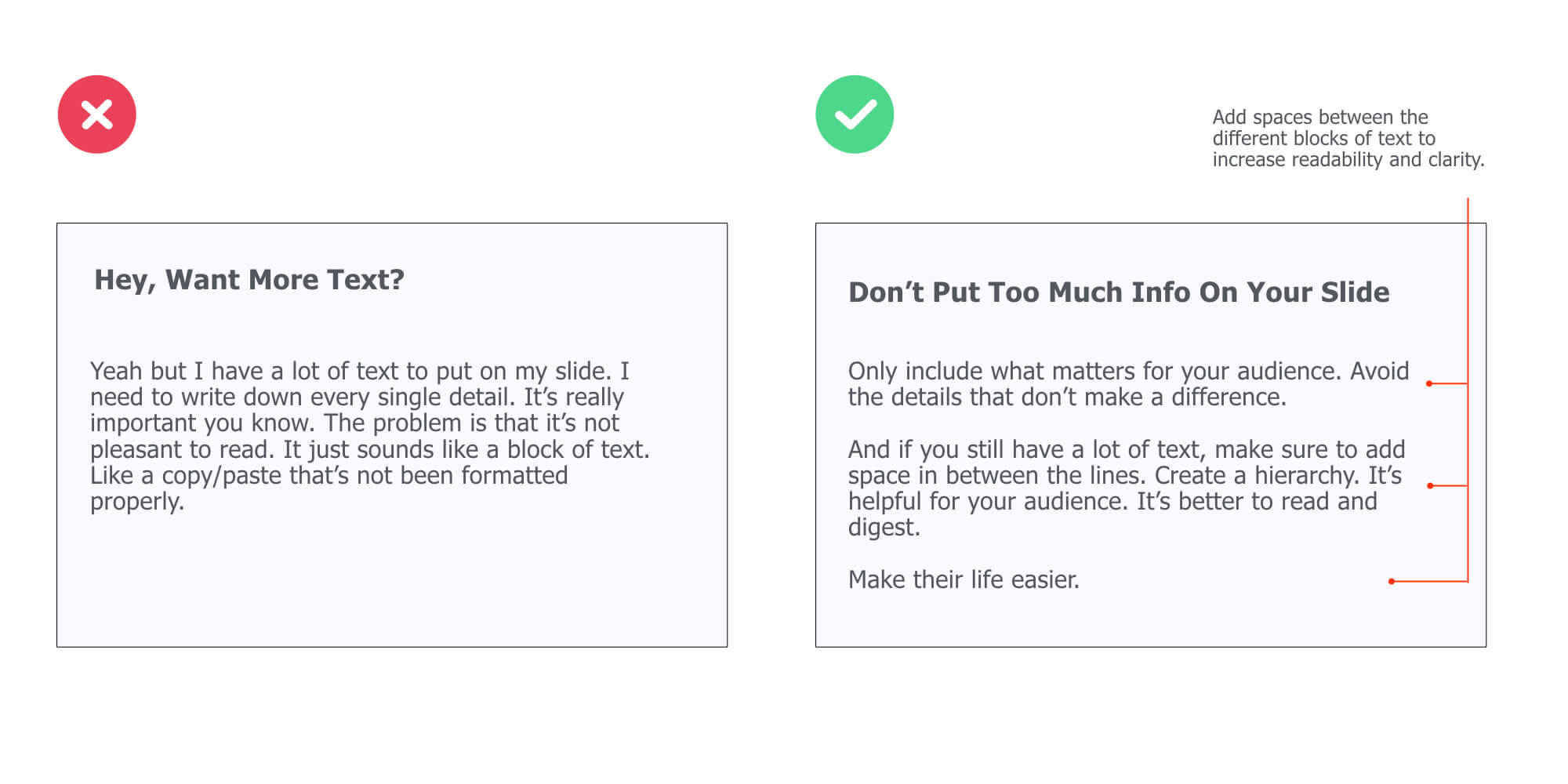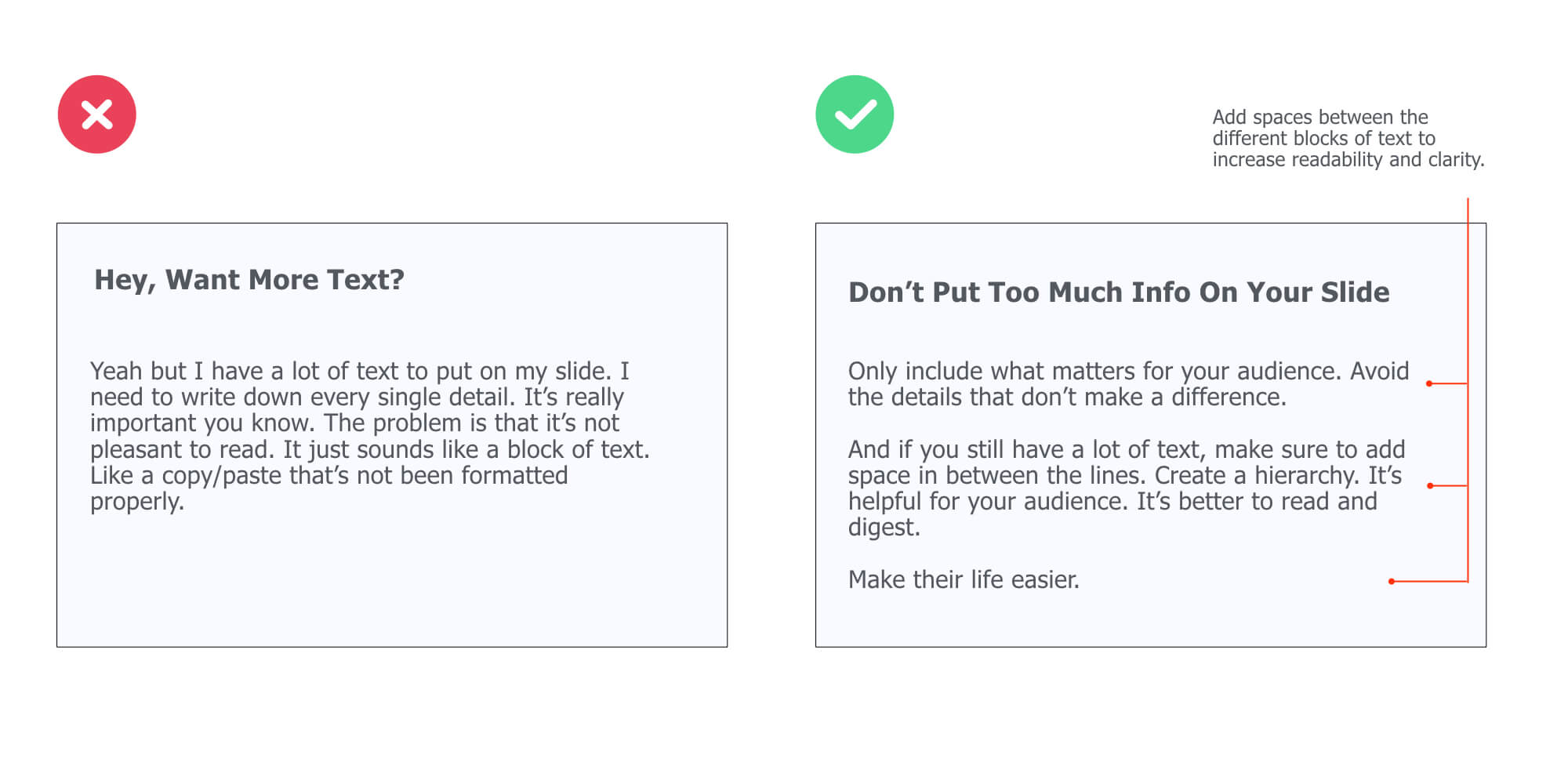 4. Optimize Your Slide Layout With Alignment

On top of adding space between elements, fixing alignment is one of the easiest (and fastest) improvements you can make to any presentation to instantly make it look 10x better.
First, make sure you're using enough space between the different elements in your presentation slides.
Next, fix your slides to make sure the alignment isn't off. For example, take a look at the difference between the left and the right slide below.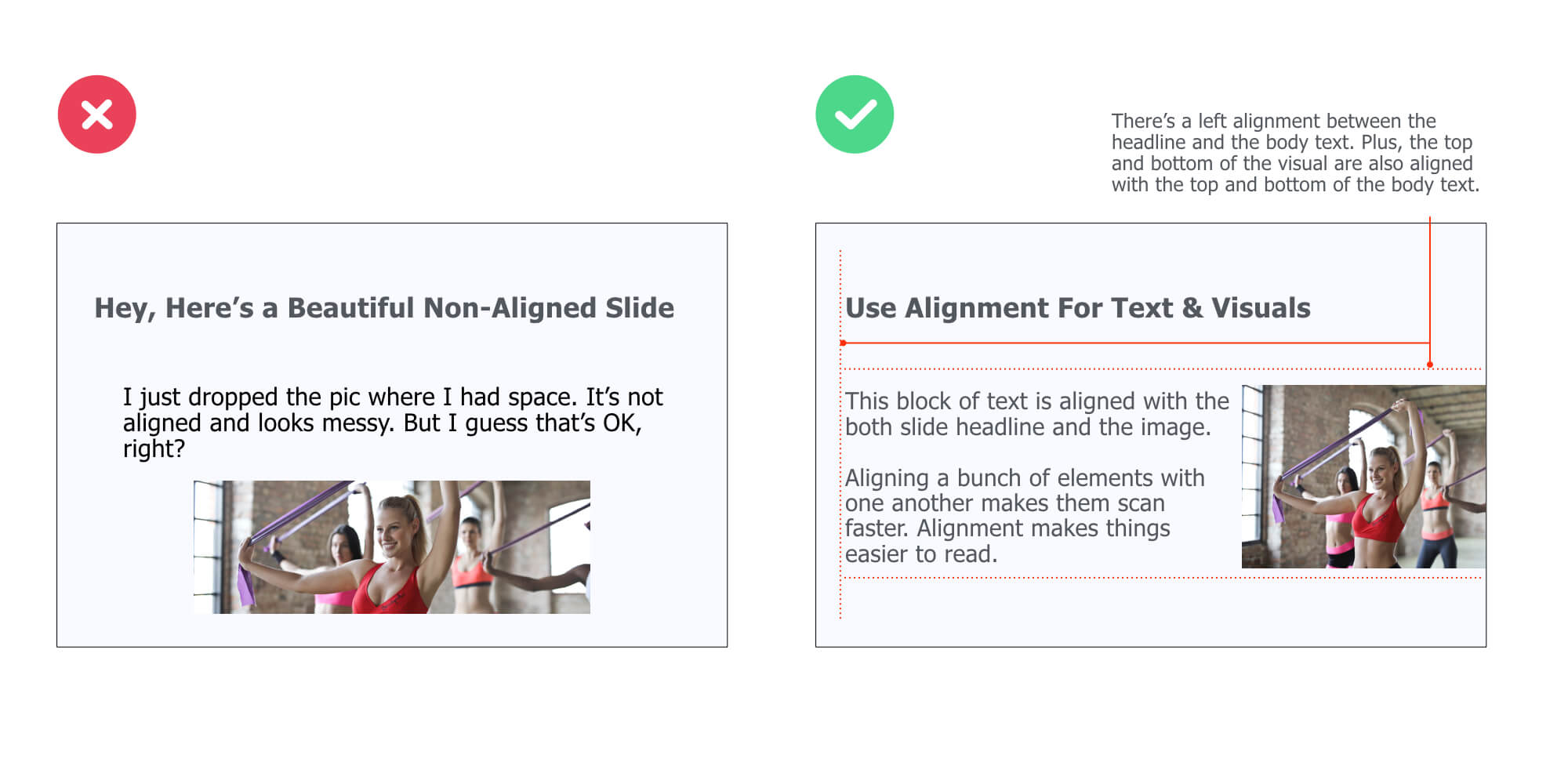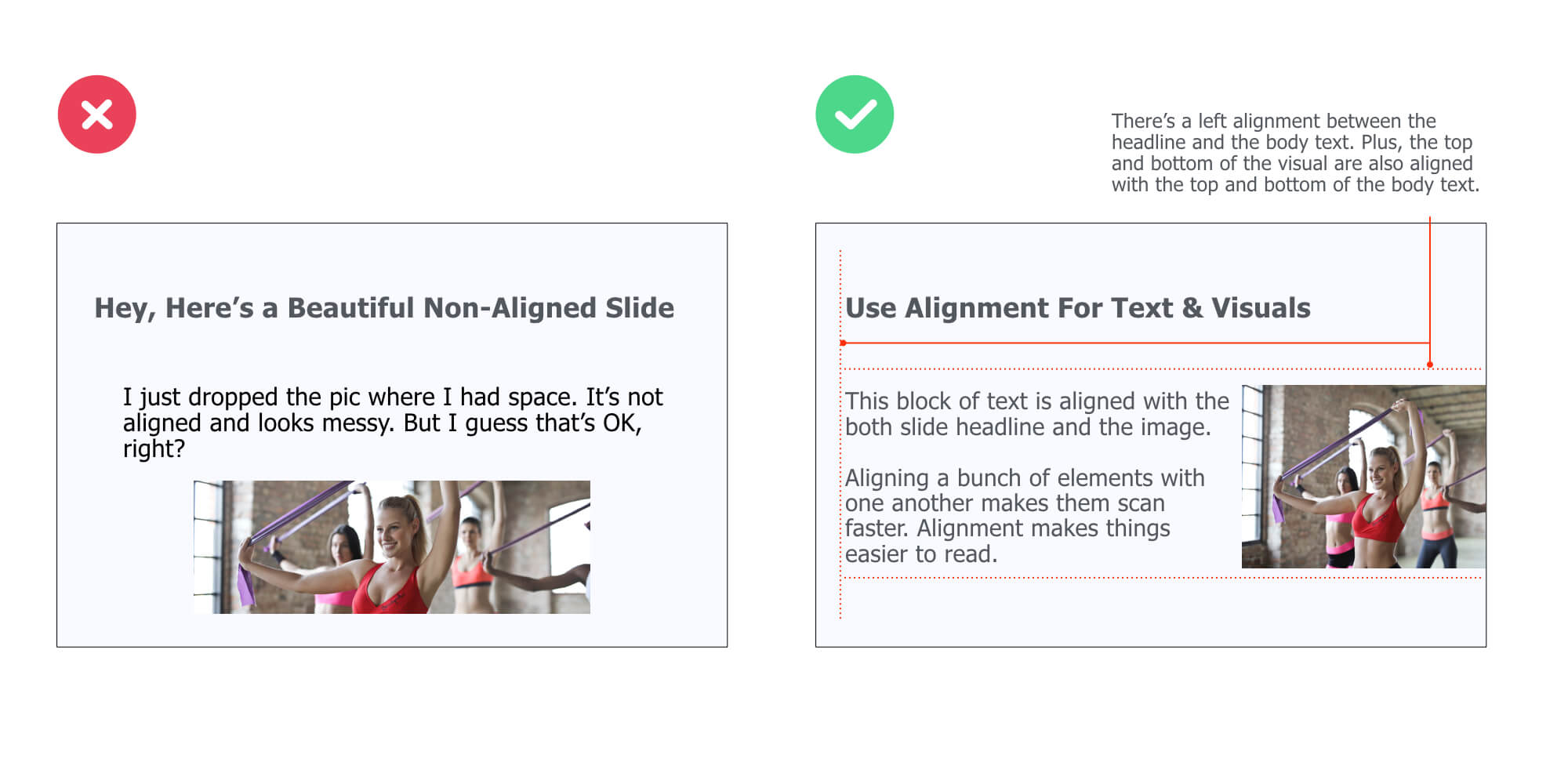 While there's no alignment on the left side slide, the right slide is clearly structured with different levels of alignment:
First, between the headline and the body text.
Then, between the top of the body text and the top of the visual, and between the bottom of the body text and the bottom of the visual.
To align elements on your slide, just select the ones you want to align, and then do this with Keynote: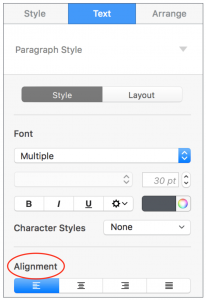 And this with PowerPoint: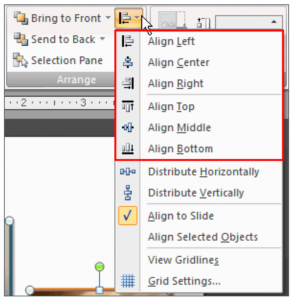 5. Use Repetition Between Text & Visuals to Create Consistency

Repetition is about using similar layouts, arrangements or colors to help create a cohesive look to your presentation. In fact, it's a simple technique you can use to better break down the content of your slides.
Below, we are using a similar lay-out on the right slide in order to create repetition (image on top, text below, twice):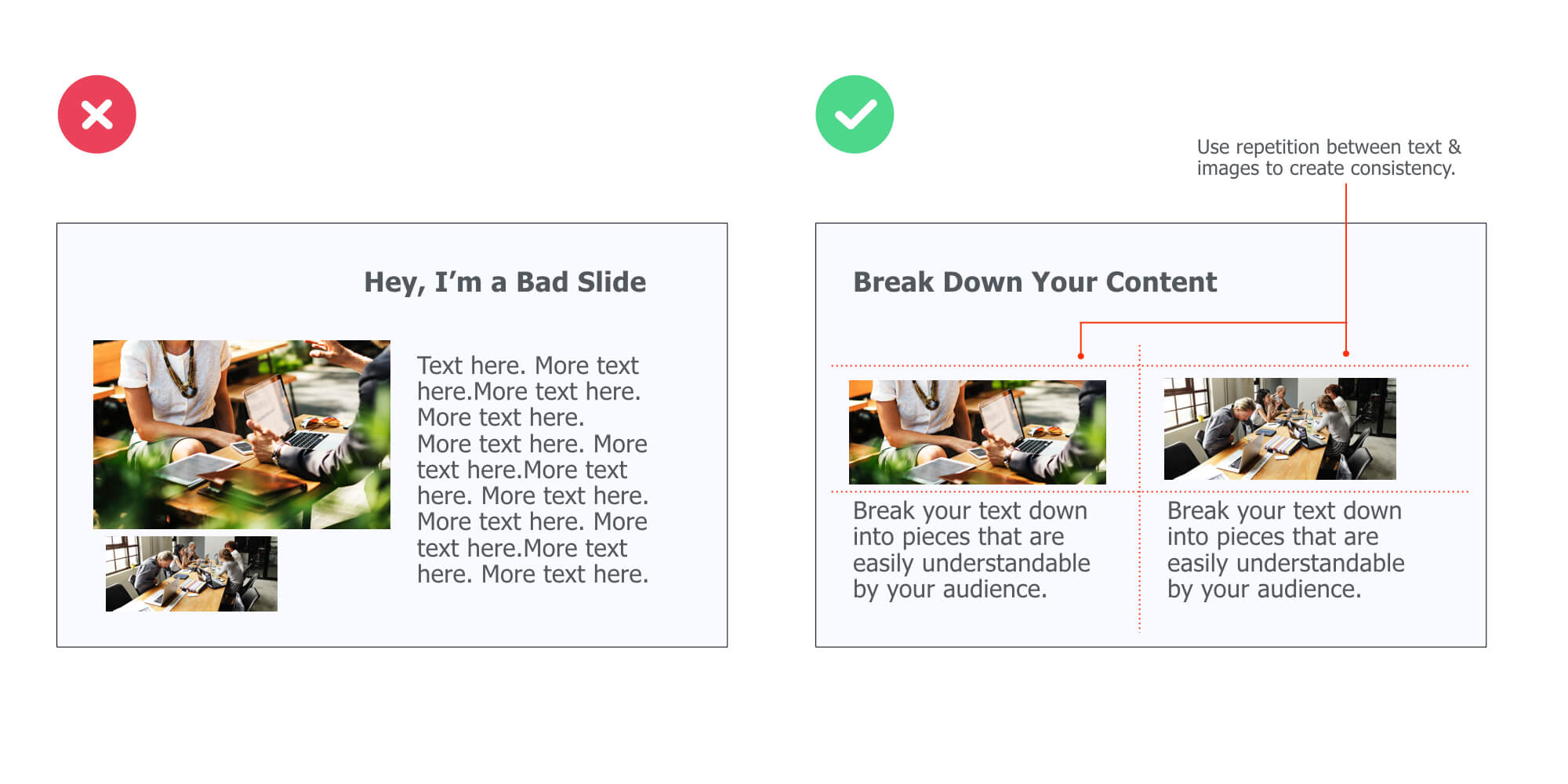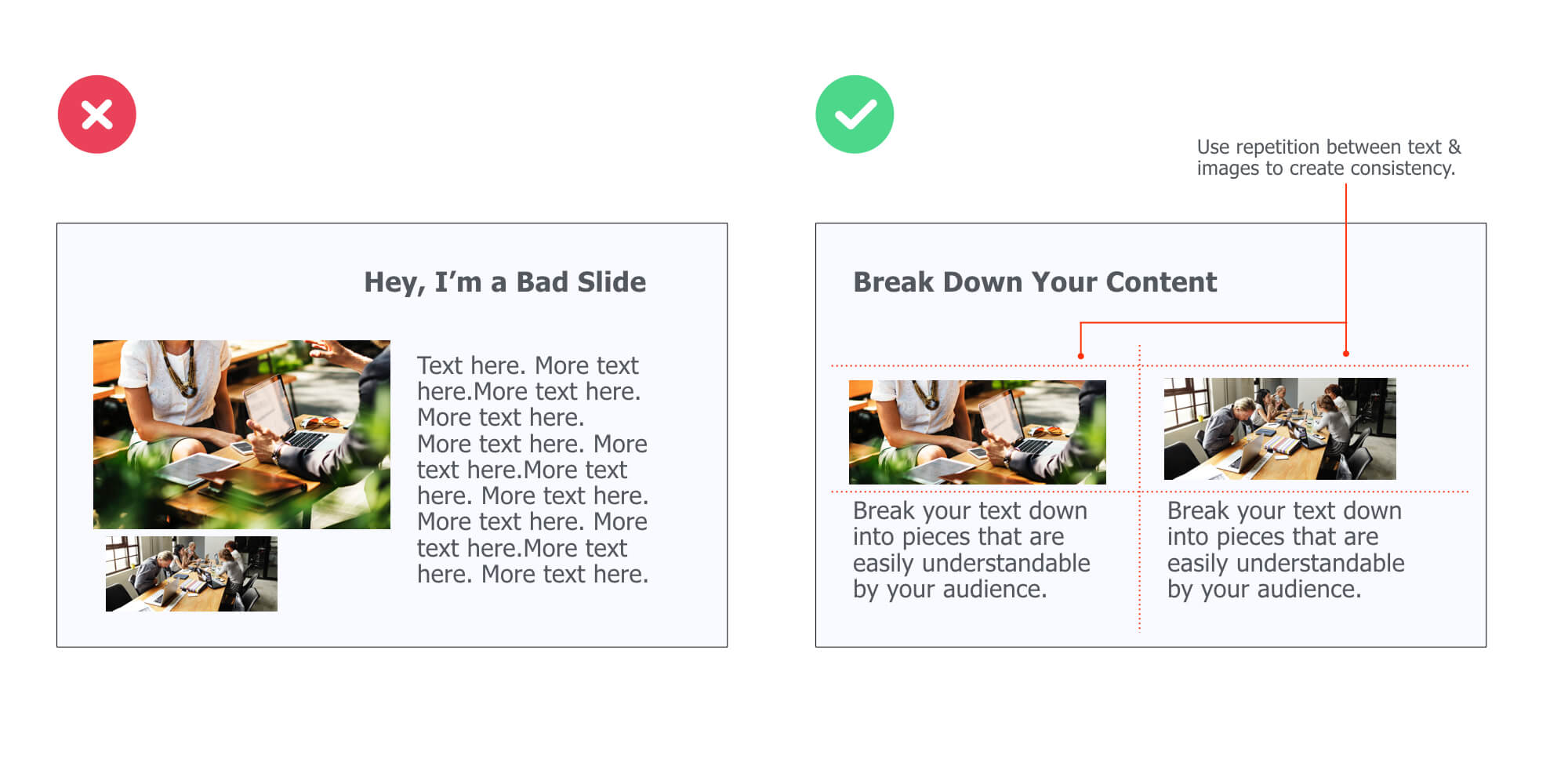 6. Use Plain Backgrounds For Content Slides

I have a very simple strategy that you can use to instantly make your content slides look professional:
Use plain backgrounds.
The result? Clean, distraction-free slides that look good.


Now, it's time for our next actionable slide design tip.

7. Pick a Simple Color Theme

Did you know that color accounts for 85% of the reason why someone decides to purchase a product?
(Yup, it's BIG)
Unless you already have an official, company-approved set of colors, create your own consistent theme and stick to it. Make sure to chose colors that are: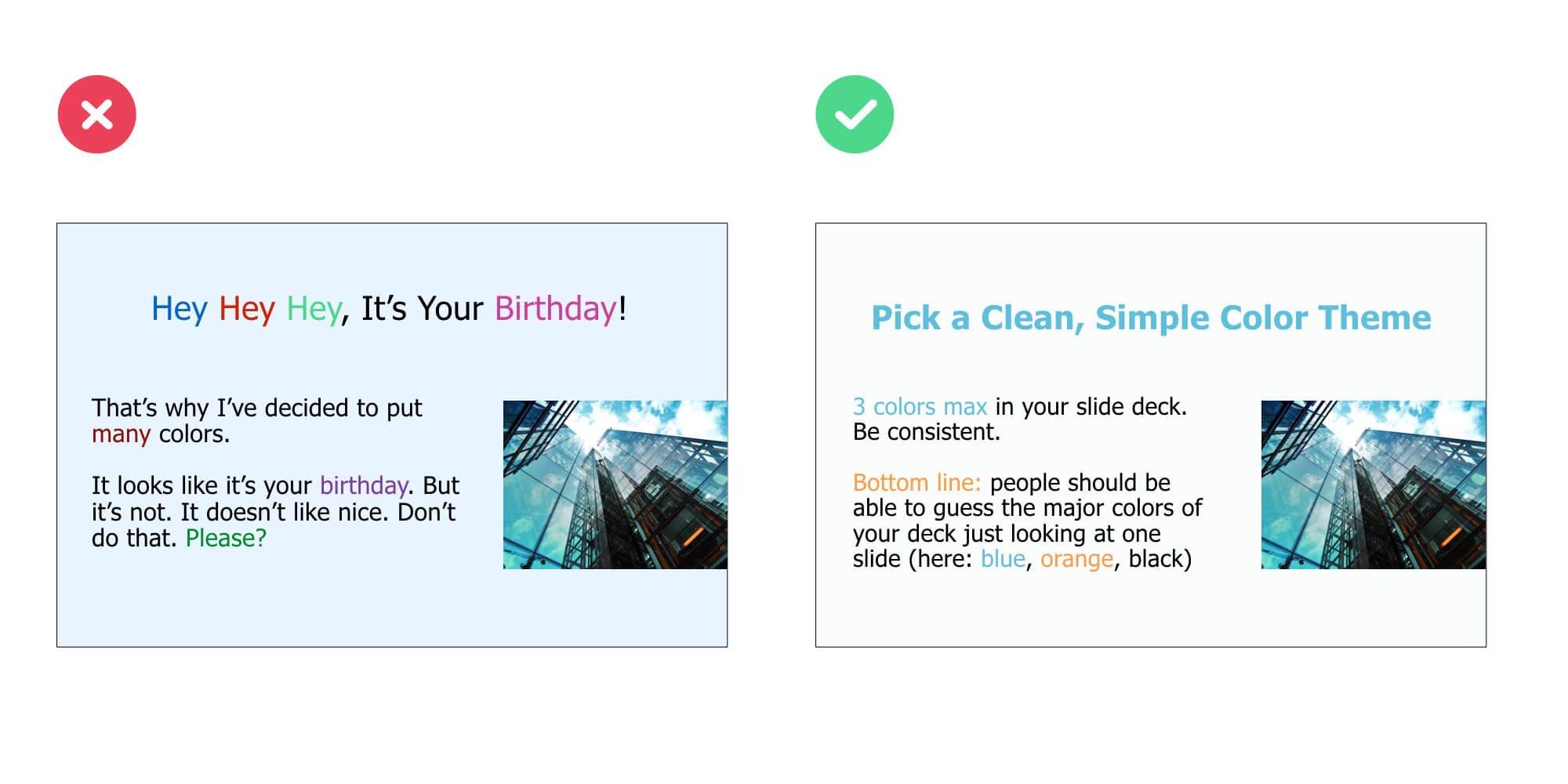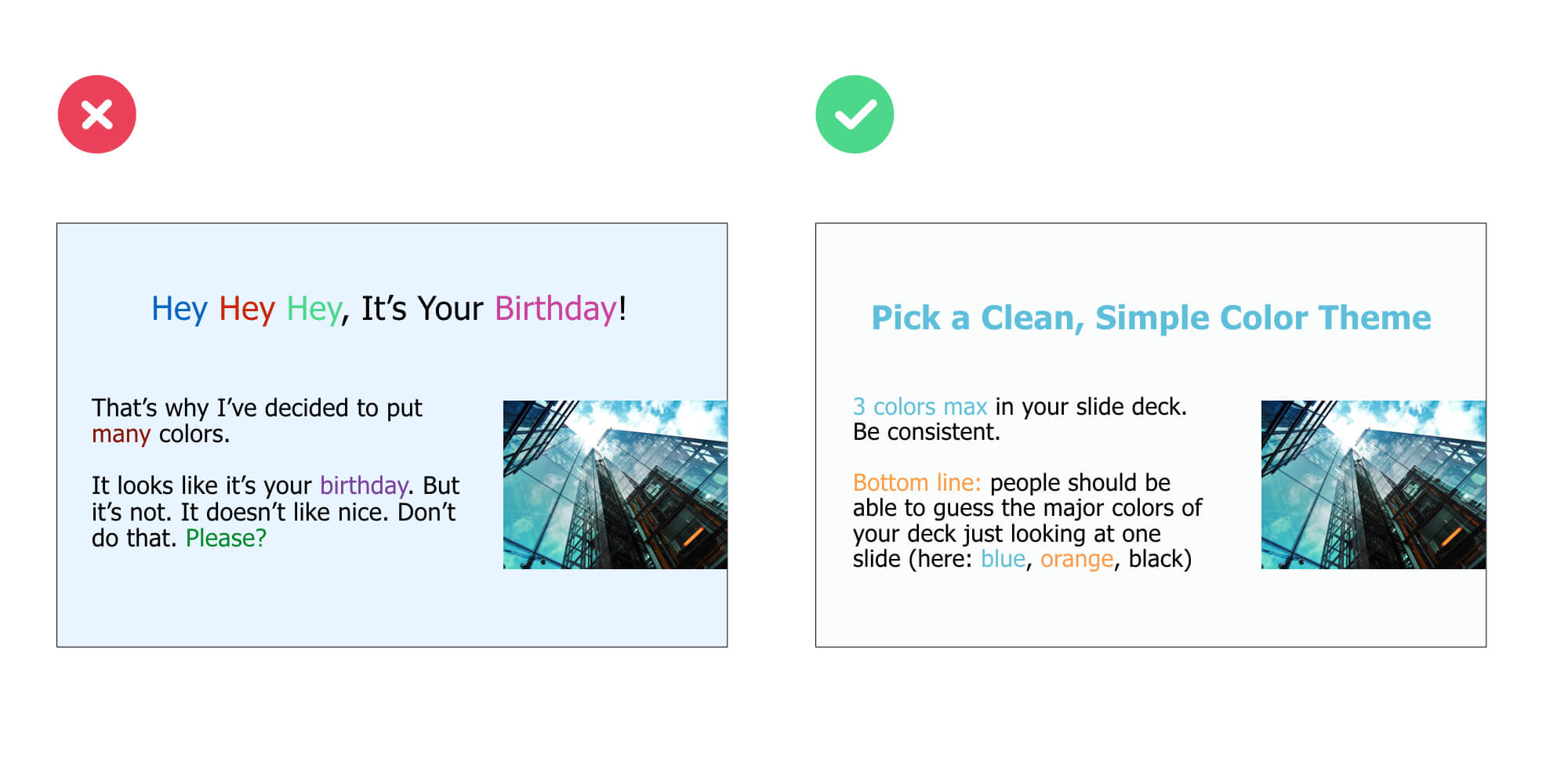 Pro Tips

StylifyMe is an awesome site website analyzer that allows you to check the style guide of any website, including colors, fonts and sizing. Great to give you a boost of inspiration for your slide themes.
Kuler. If you don't know Kuler yet, it's an awesome free color palette generator that'll help you either build your own color palettes, or chose from thousands of pre-built schemes.
If you're not sure about which colors you shall pick, I suggest that you check out Nick Kolenda's awesome color table. It presents a chart of all color meaning sand associations and will help you find the ones that fit your needs.
Plus, I have a very cool tip that you can use to improve your presentation color palette coherence later in this post (presentation design tip #17).
8. Use Simple Words Everyone Can Understand

This isn't a PPT slide design tip per se. But it's a mindset you definitely should be working with.
Unless you're making a technical presentation geared toward a technical audience, use simple words people can understand.
See, people shouldn't scratch their heads to try to figure out what you were trying to say. They shouldn't have to think about it. It should be crystal clear.
(Bottom line? Your grandma should be able to understand what it's all about)
For example, take a look at the different between a text that's hard to understand, and one that's fairly easy:


9. Display Data the Right Way

When presenting data, you need to decide first what type of relationship you want to emphasize.
For example, let's say you want to compare sales volumes in different regions. Which of type of chart do you think would better present the sales across different regions:
A bar chart or a pie chart?
Let's take a look at a concrete example: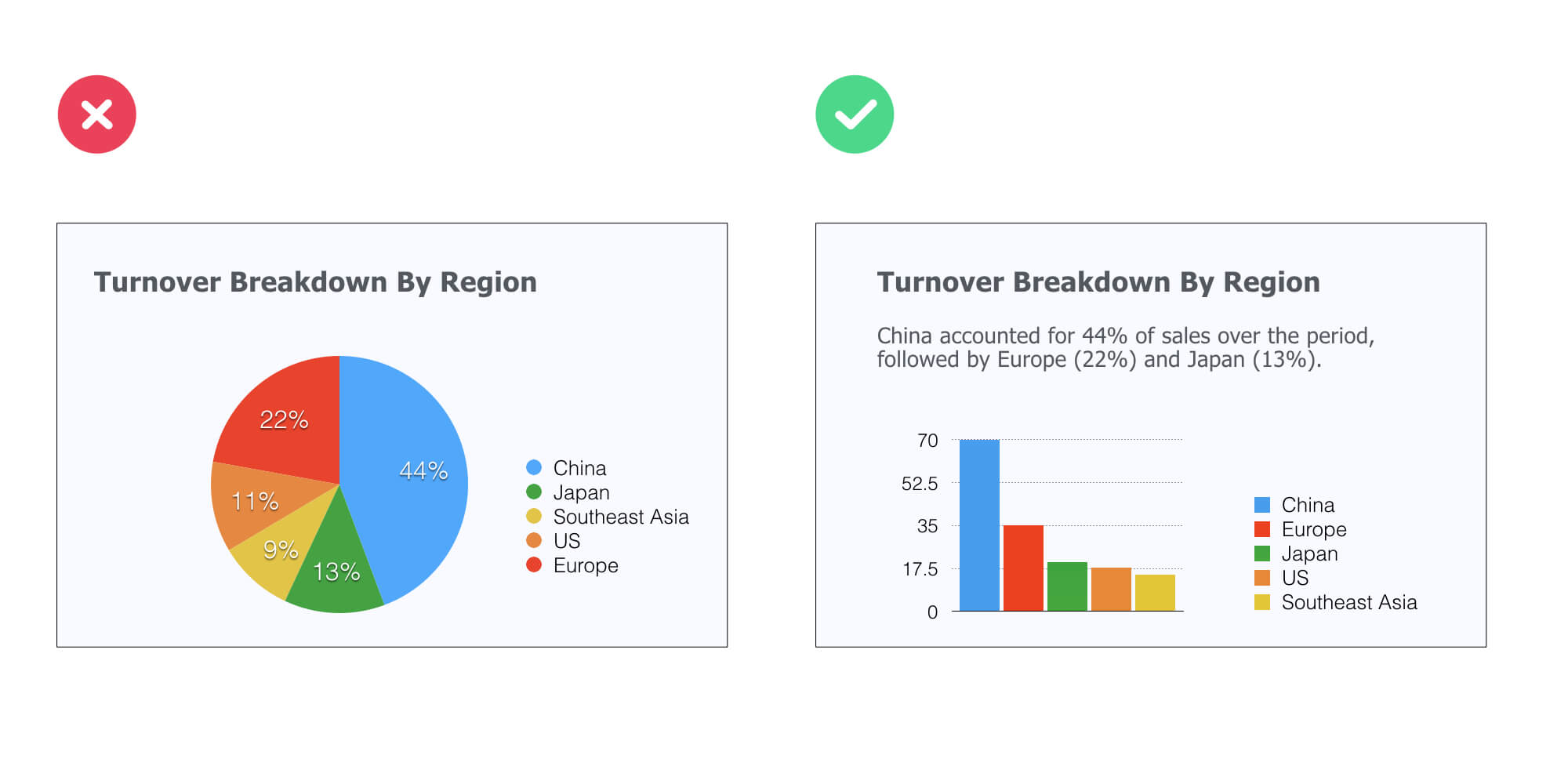 See how it works?
The bar chart instantly points out the top ranking countries, whereas it's not so obvious with the pie chart. Bottom line: make your information easy to understand and digest for your audience.
10. Increase Space Between Columns For Maximum Clarity

Existing research proves that white space (basically, the open space between elements or objects within the borders of a slide), has an effect on legibility, aesthetics, and people's emotional response.
You see, whitespace serve various essential functions, two of which are crucial for mastering slide design effectively:
Improving comprehension (because it makes scanning and reading your content easier and more predictable).
Creating visual hierarchy If you take a look at the example below, you'll see that using asymmetrical space makes the far left column area stand out against the other columns.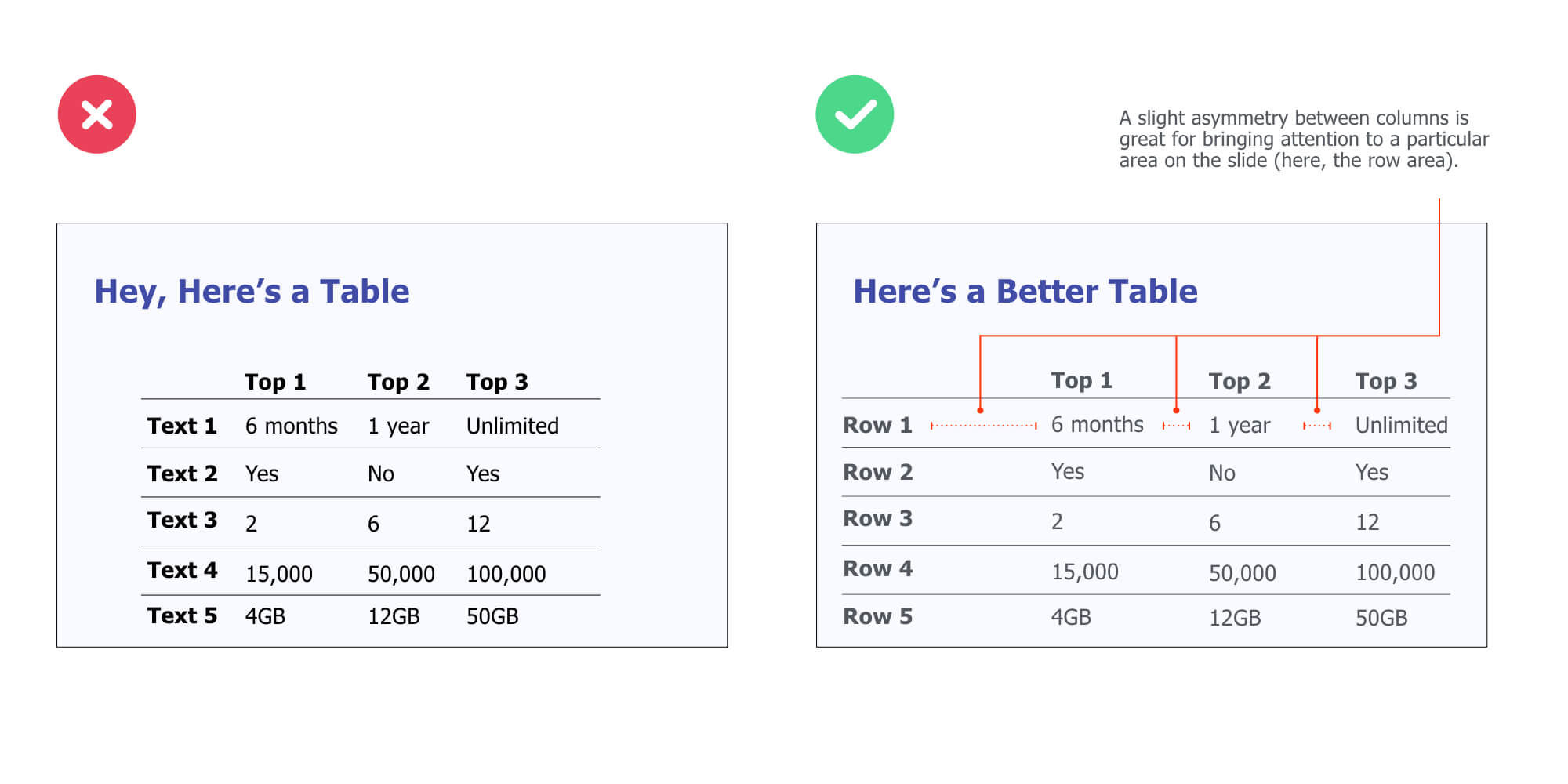 Pro Tips
Remove all visual distractions that are not adding any value to your slides (read: shiny backgrounds, shadows, and other 3d effects).
11. Use This 3-Point Rule to Design Better Tables

It's not secret that tables can be hard to read (especially when there's a lot of information). So the question is:
How can you create better tables that are easier for your audience to read?
Here's a simple, effective rule you can use:
1. Numerical data is right-aligned
2. Textual data is left-aligned
3. Headers (column names) are aligned with their data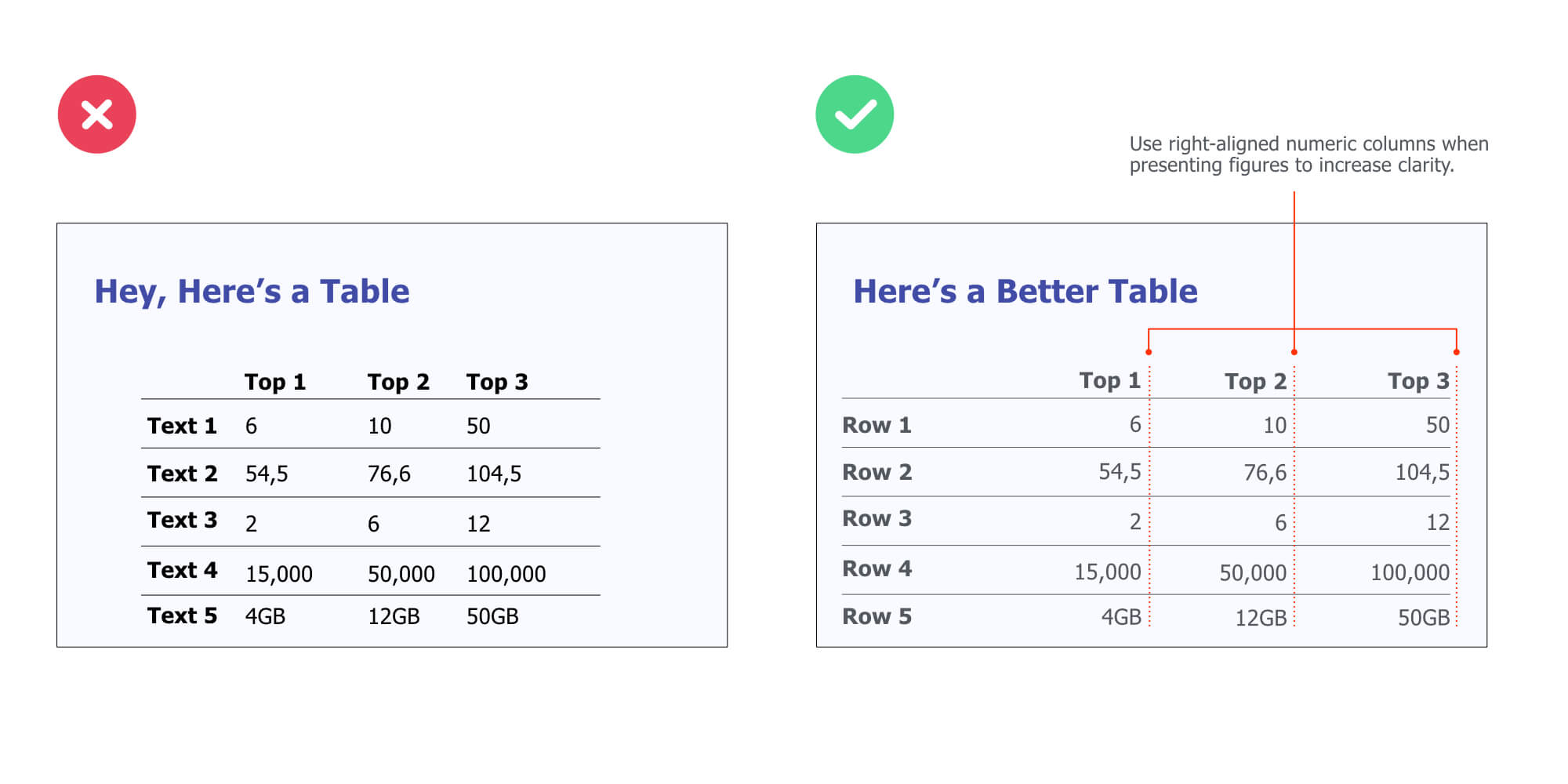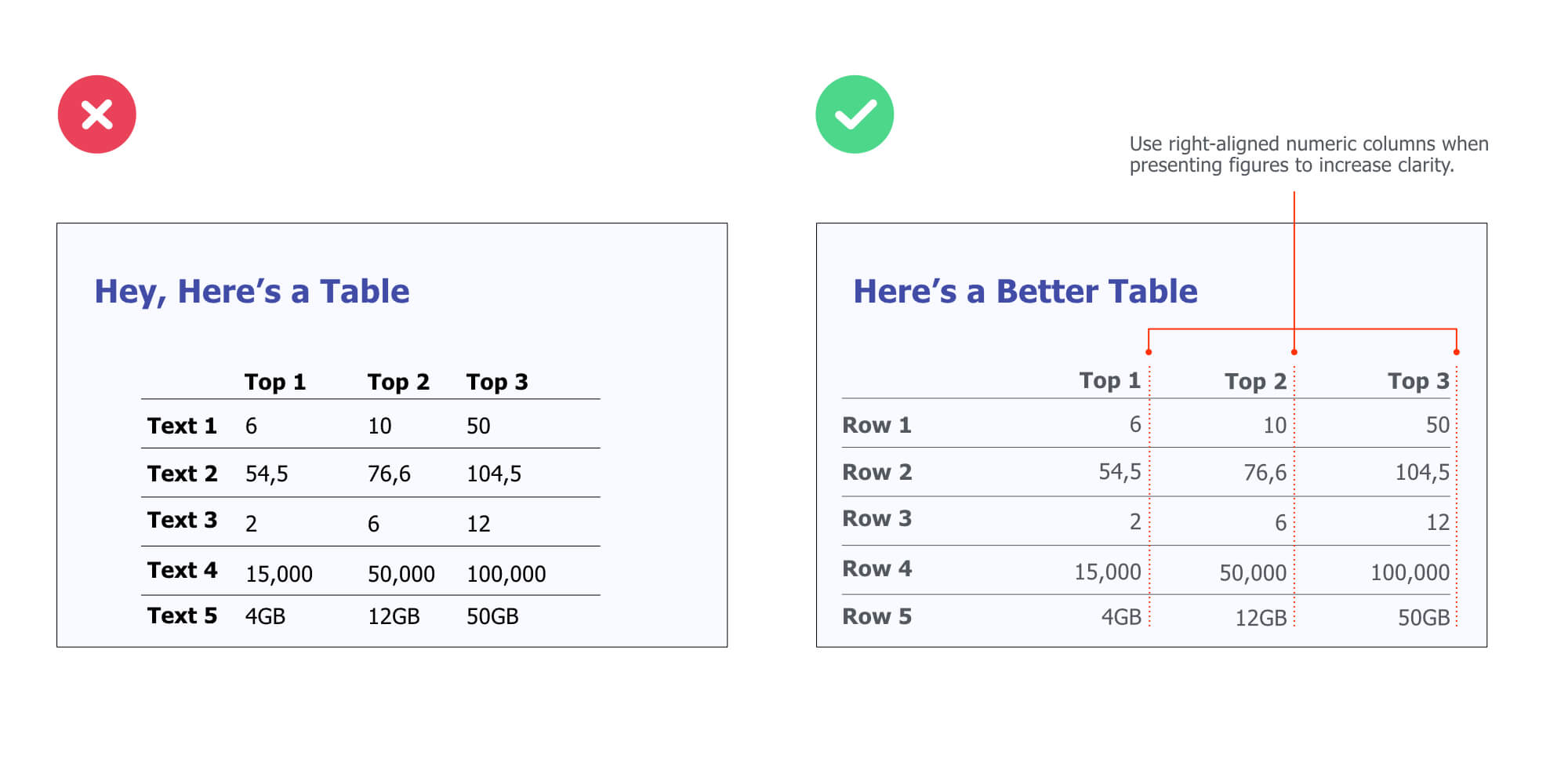 12. Embed Your Body Text in Rounded Shapes

Need to present info in an horizontal way?
Why not embedding your headers and respective contents in rounded shapes?
For instance, as in the example below, you can use colored shapes for headers and white ones for content shapes. It's a simple, effective hack to visualize information in a non-boring way:


13. Add Colored Lines to Improve Slide Designs

Here's another dead-simple tip you can use to better present information in your slides:
Add a colored line on top of your text box.
This technique both works with and without text box header (like in the example below) and will instantly make your slide look nicer:


14. Enclose Icons Inside Colored Shapes to Clearly Convey Information

Are you using icons to illustrate content, explain product features or specs?
Great. Then, I've got a useful trick for you.
While vector images won't degrade in quality if you increase their size, you sometimes have to deal with small icons. And guess what, small icons are meant to be kept small (otherwise they'll lack of detail and look pixelated).
So if small icons are all you've got, enclosing them inside colored shapes is a great way to go: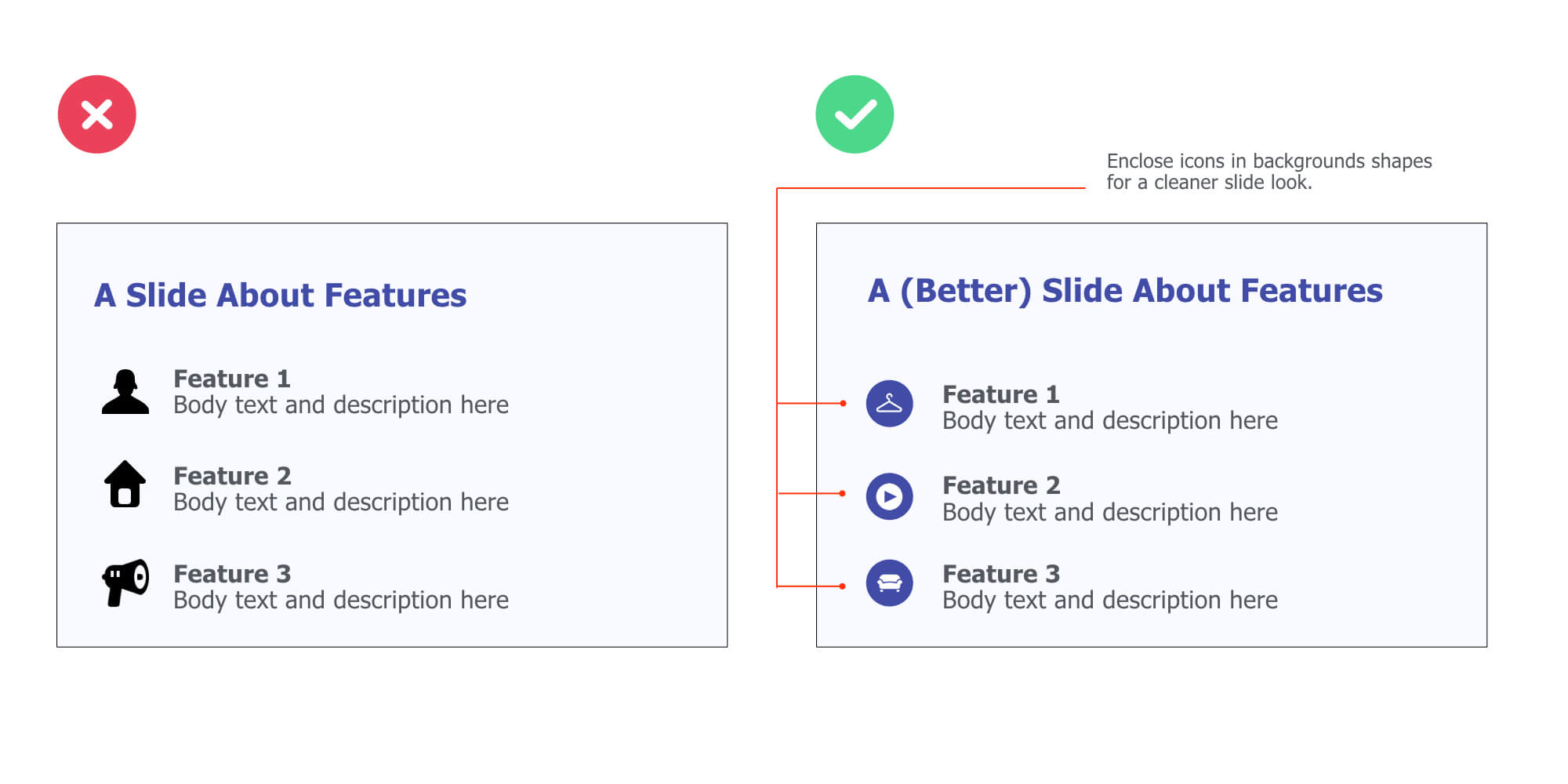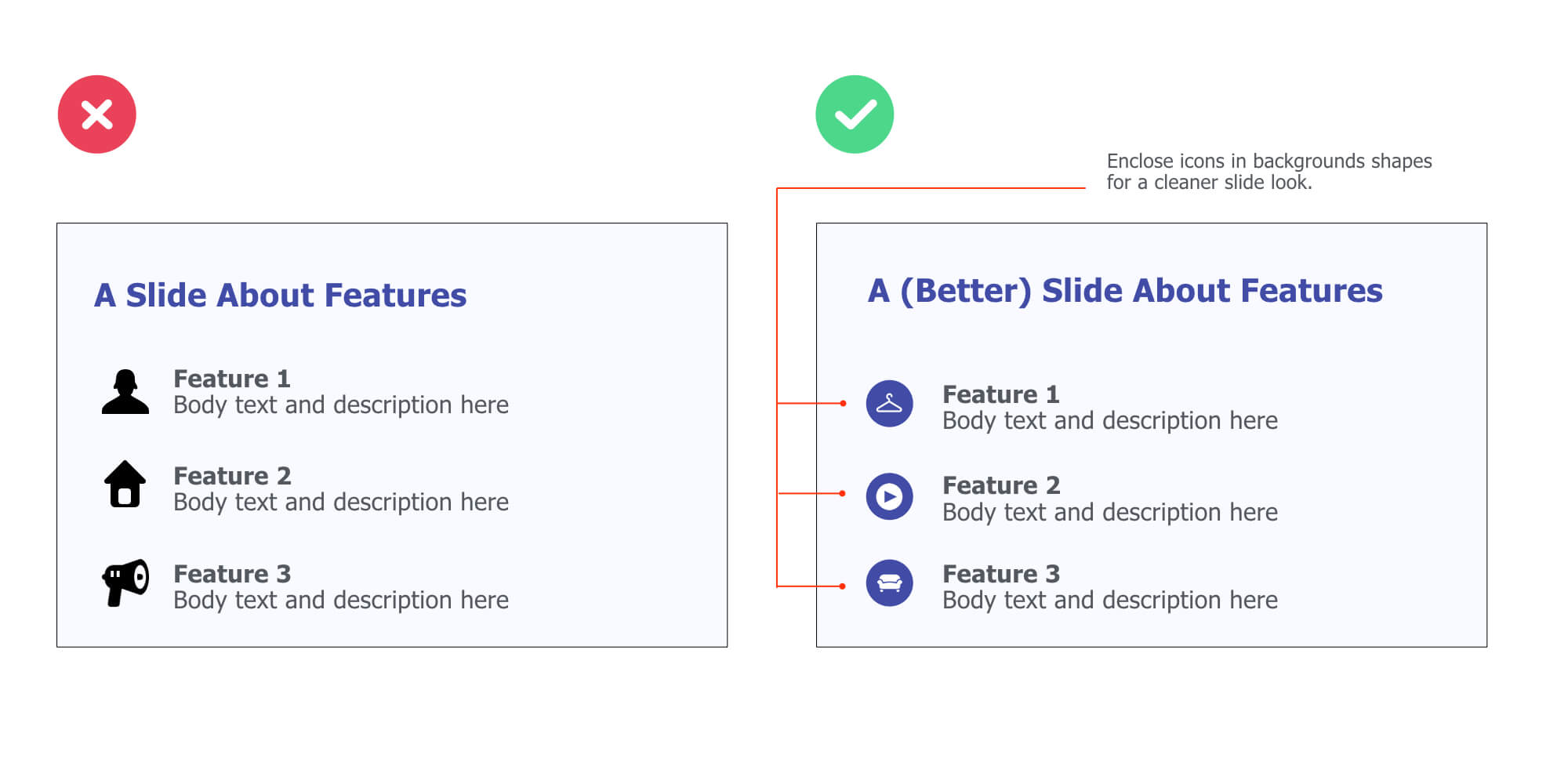 Free Icon Resources
15. Use Unique, Fully Editable Illustrations

While standard icons are a great way to present information in a concise and organized manner, they won't be your first choice if you're looking to illustrate a message in a more unique way.
So how could you do that you might ask?
Here's the answer:
Using fully editable illustrations.
Fully editable illustrations are basically visual elements made out of shapes and lines that are stuck together. They're great for presentations because you can easily recolor and resize them for a truly unique look.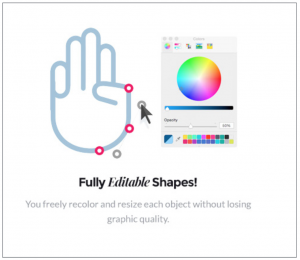 And them plug in your presentation slides to illustrate the content in a unique way: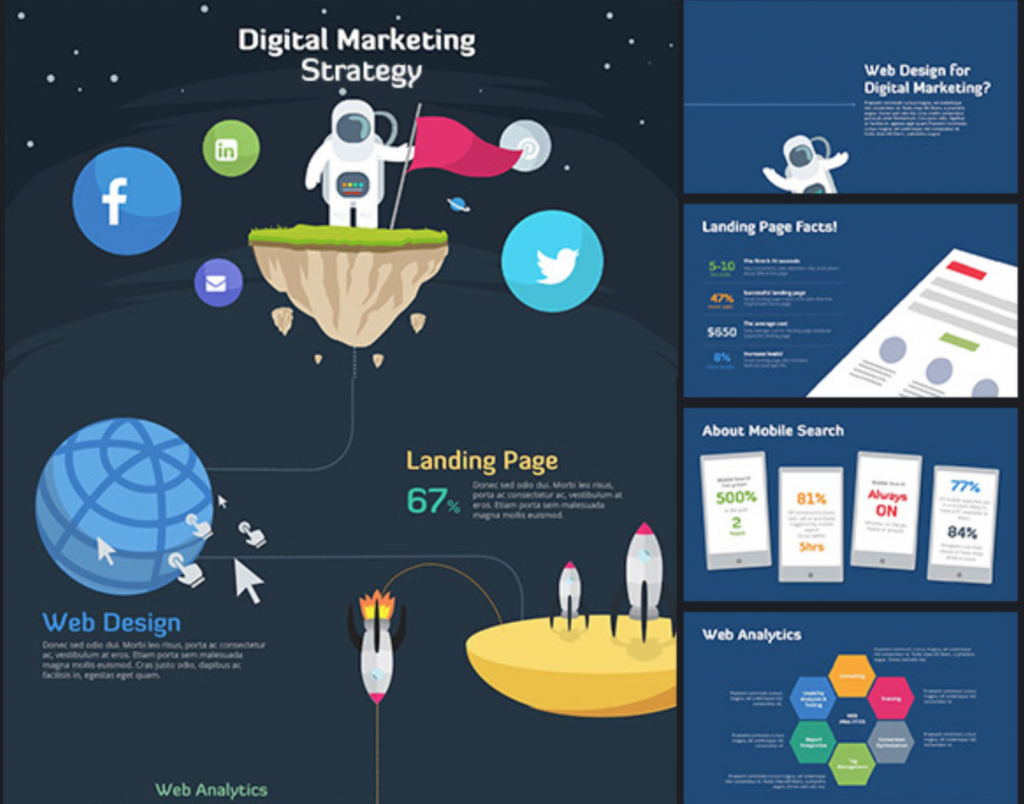 If you like these illustrations, you can check out the bundle right here.
Here's an example of a unique illustration I created for the slide below.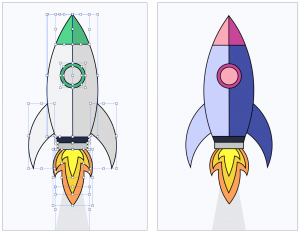 And voila: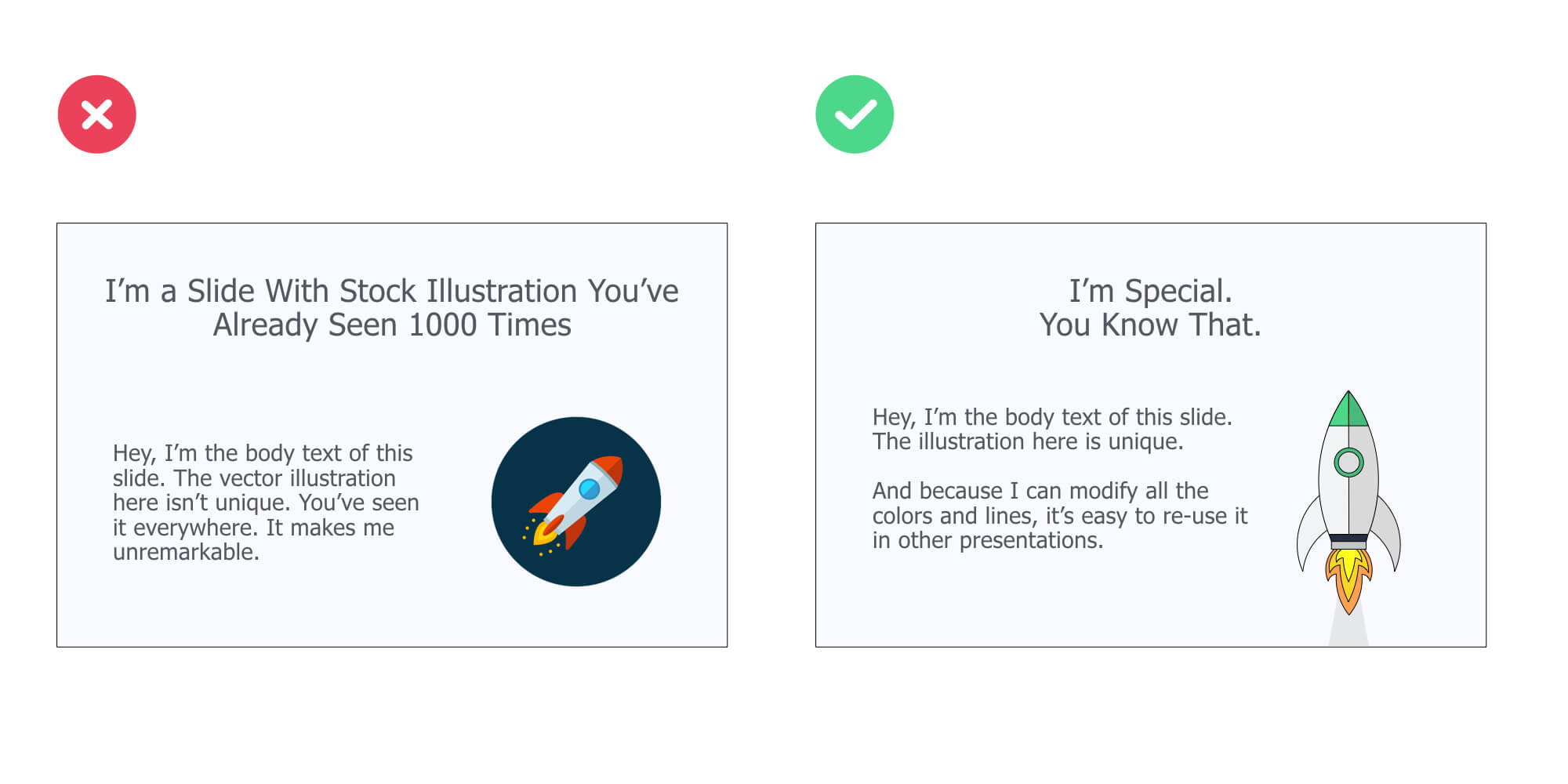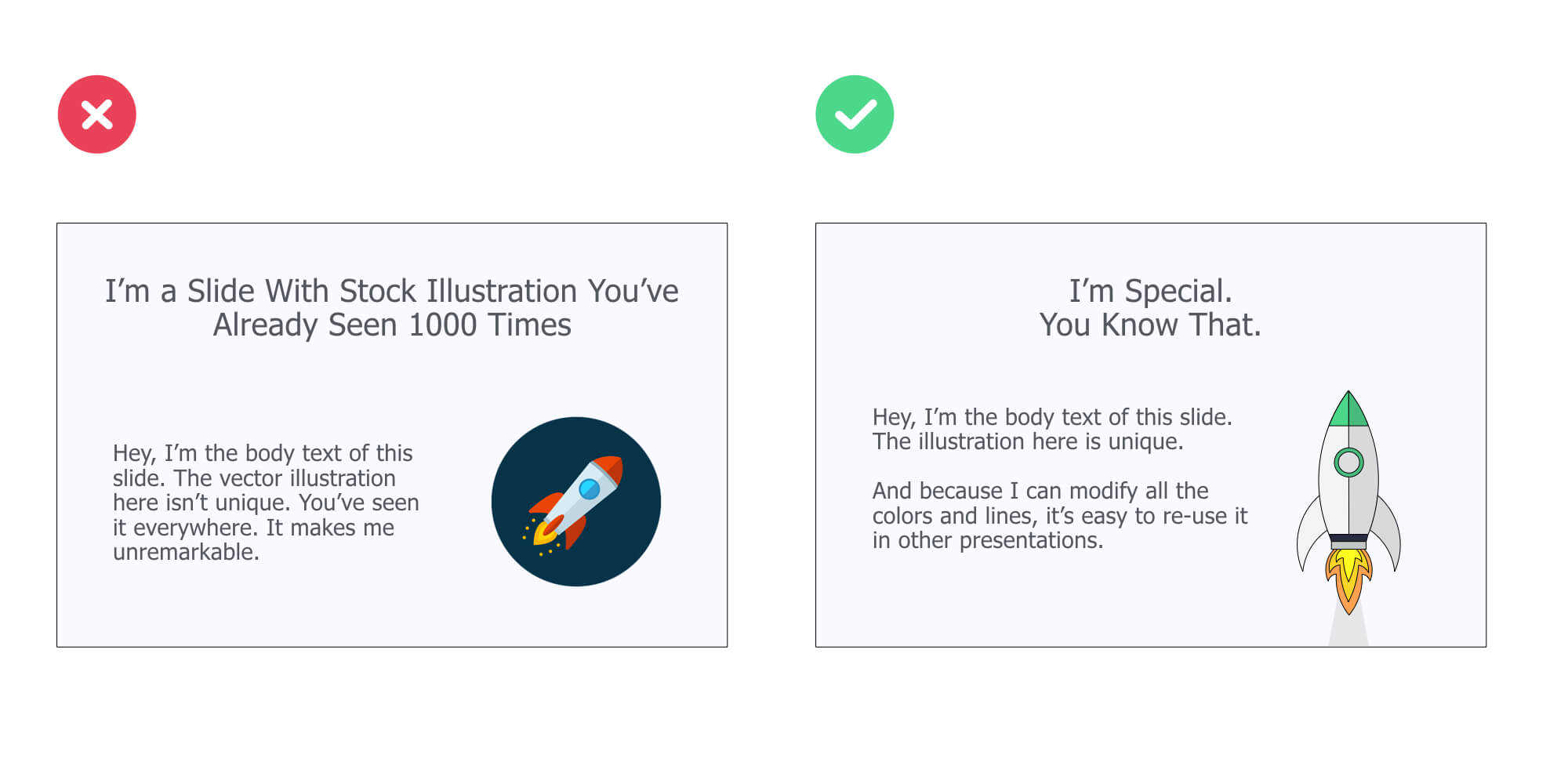 Pro Tips
16. Enclose Data Points Inside Colored Shapes

Want to highlight specific figures on your slides but you're not sure about how to do it?
It's simple:
Make the figures at least 5x bigger
Enclose them in colored shapes (grab the ones I used in the example below right here)
This technique works very well when combined with the alignment (Tip #4) and repetition (Tip #5) principles together: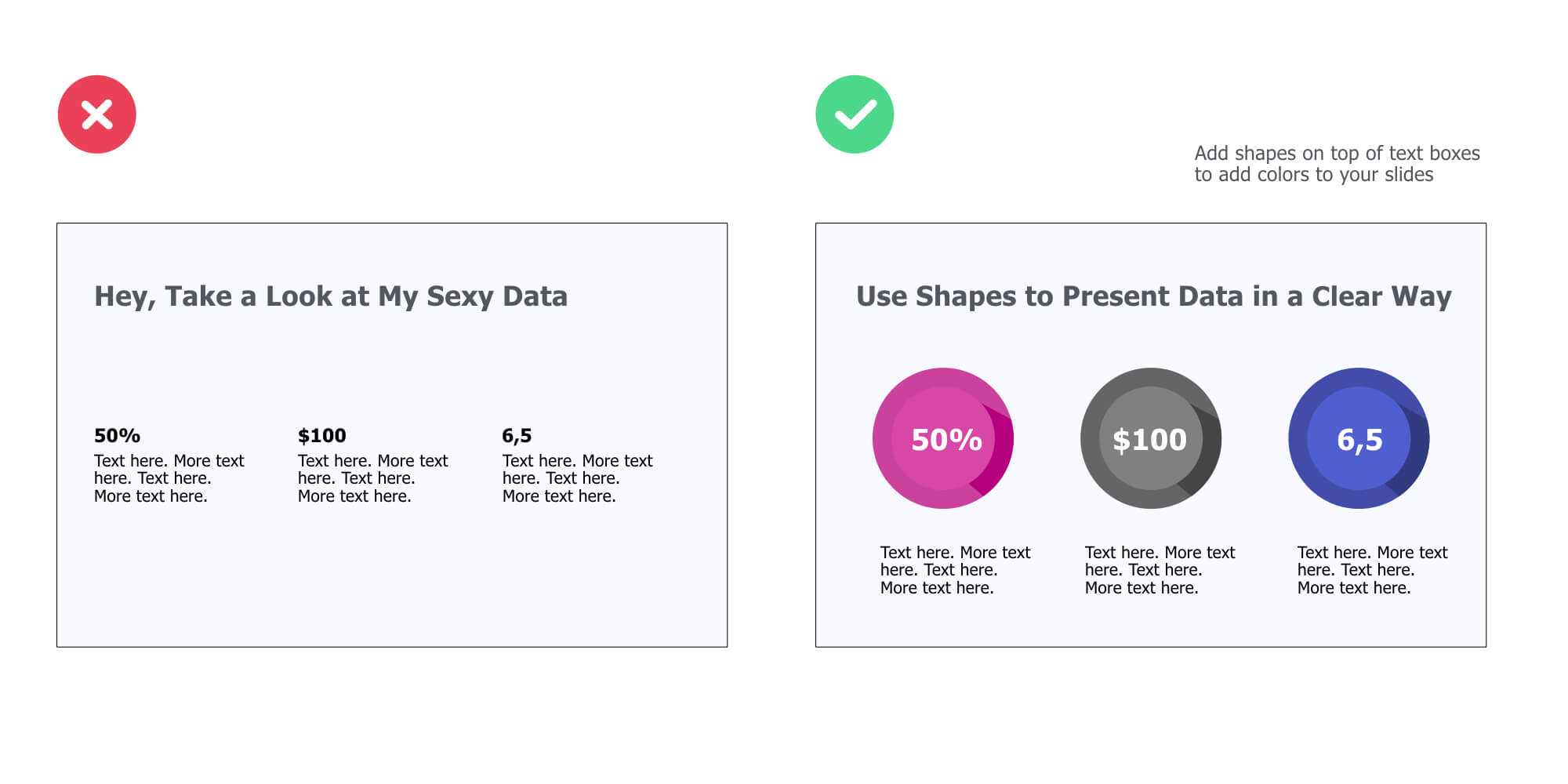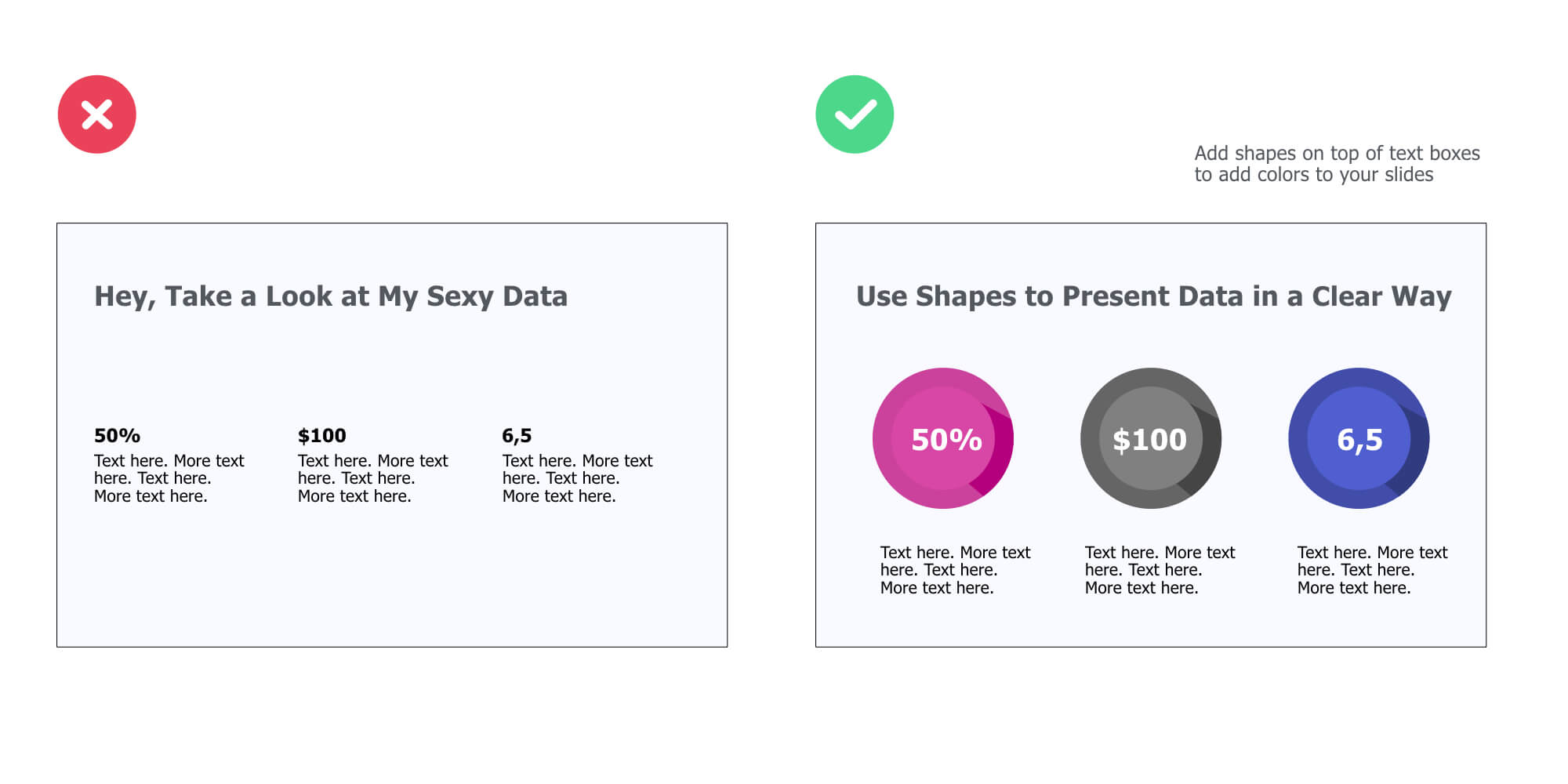 17. Use the Eyedropper Tool to Match Colors For a More Cohesive Look

The eyedropper is a powerful tool that allows you to pick up a color from anywhere on the screen.
So, how can you actually use it to improve your presentation design?
You are going to match the color of a visual on the slide to the text on that same slide (Note: it works very well for presentation cover slides).
Let's jump in:
First, make sure you have the text already put on your slide.
Then, instead of picking a color from the color palette, grab the eyedropper tool. Here's how it looks like in both PowerPoint and Keynote: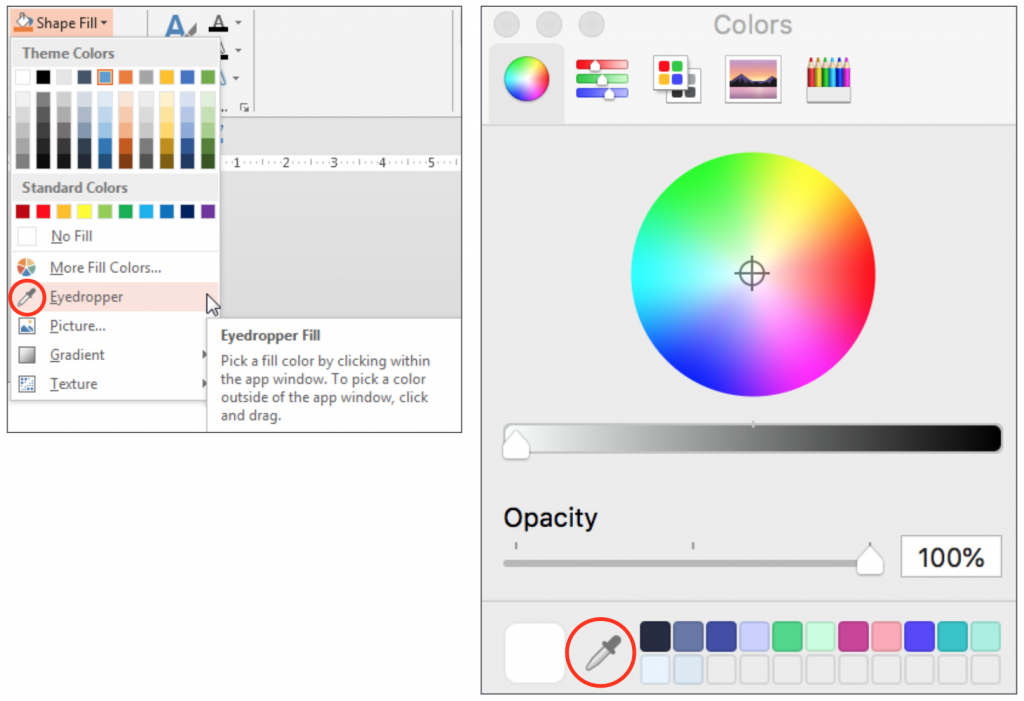 Then, identify a color (pick a bright one if the background is dark, or dark one if the background is bright) you'd like to use for your entire text (or just a part of it):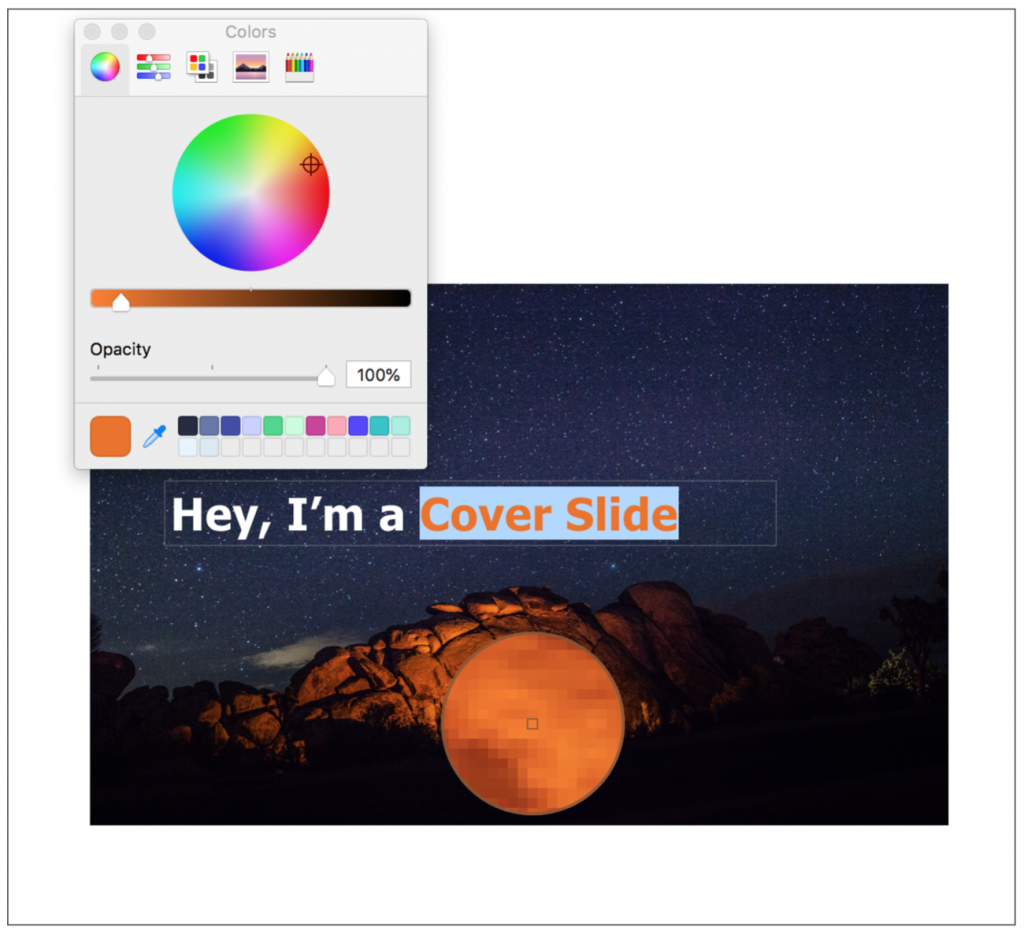 Finally, check out the result: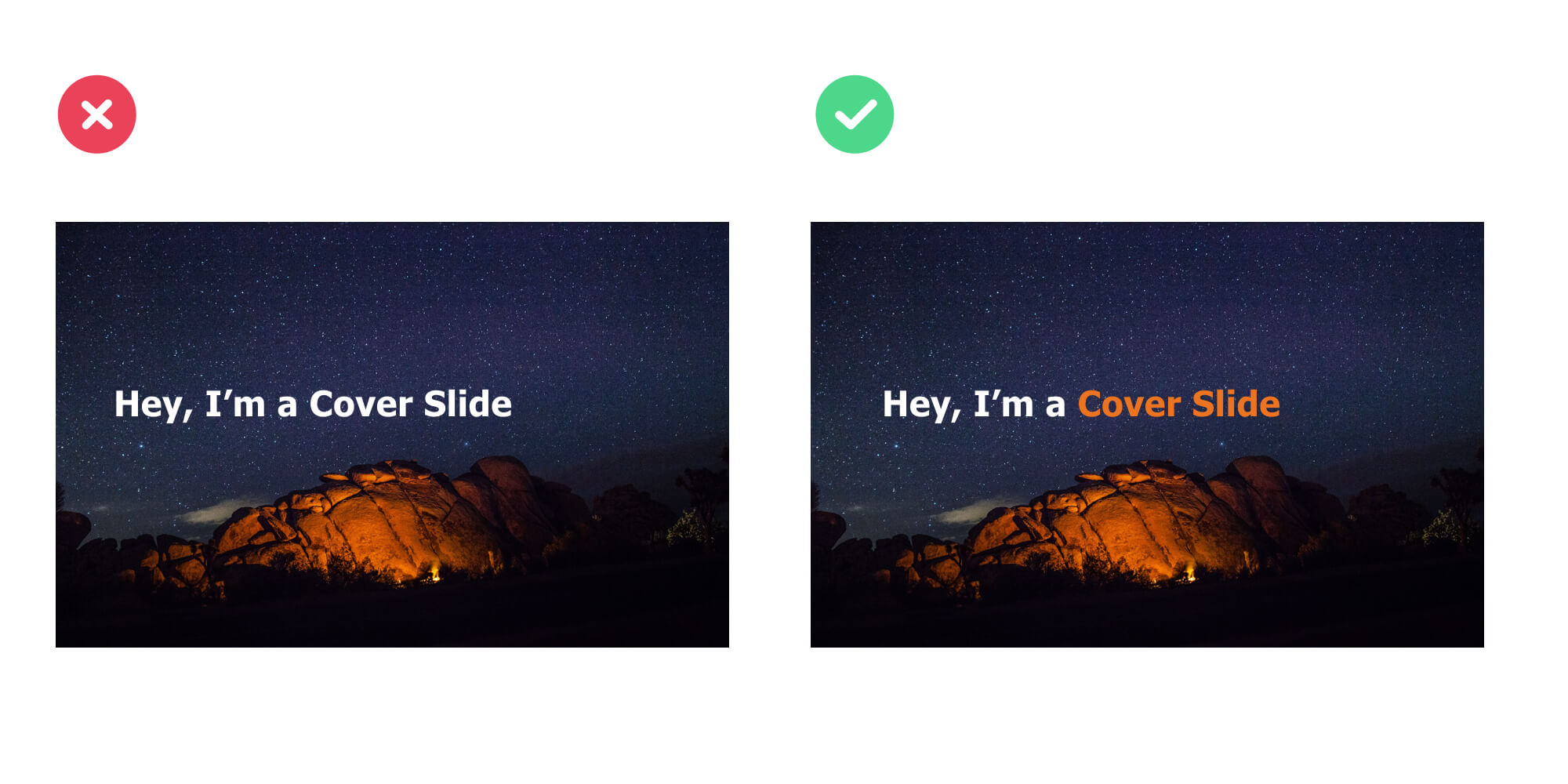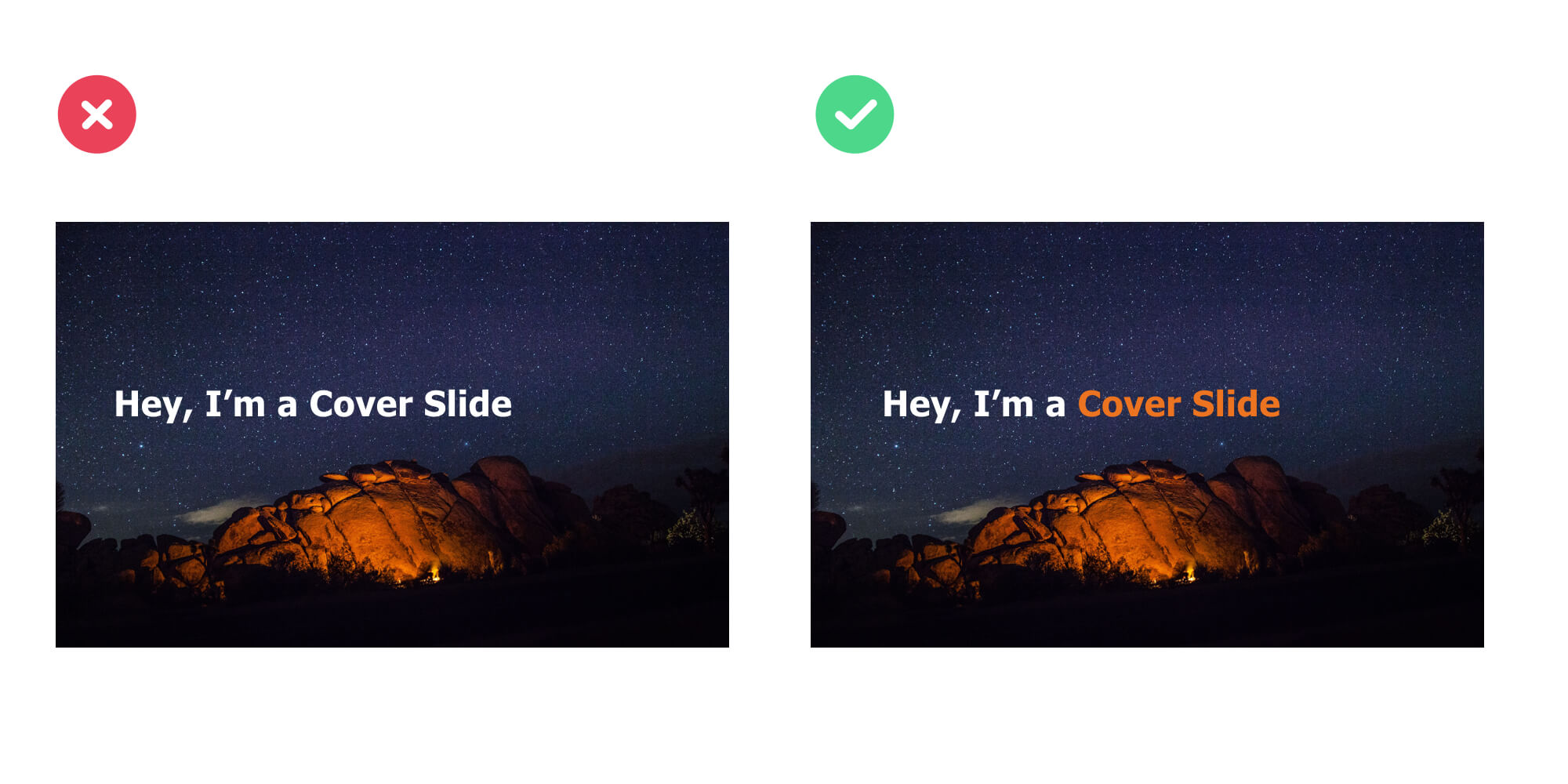 18. Use a Color That's Close to Your Background Color

It's a simple, subtile design trick that can make a difference:
Using a text color that's close to your background color. So the point here is to use a text color that's has 1) a lighter chroma and 2) a lighter value than the original background color.
Now, let me explain: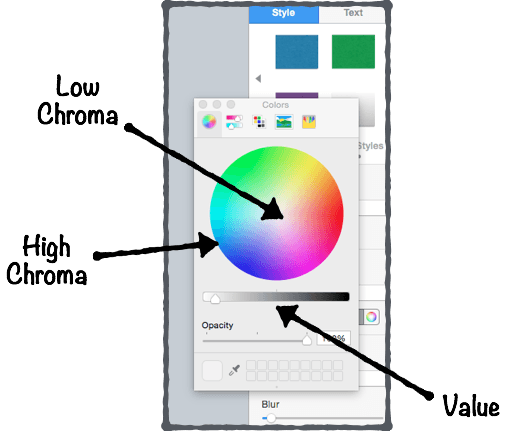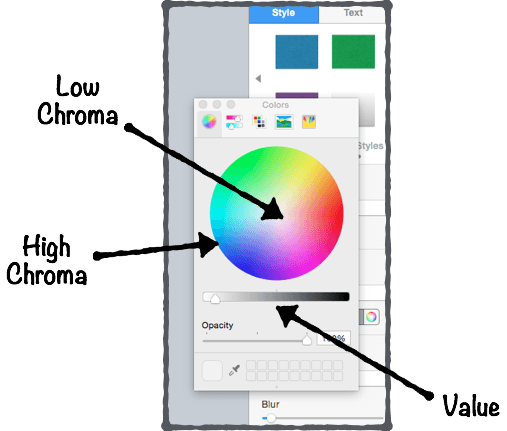 Let's take a look at a concrete example: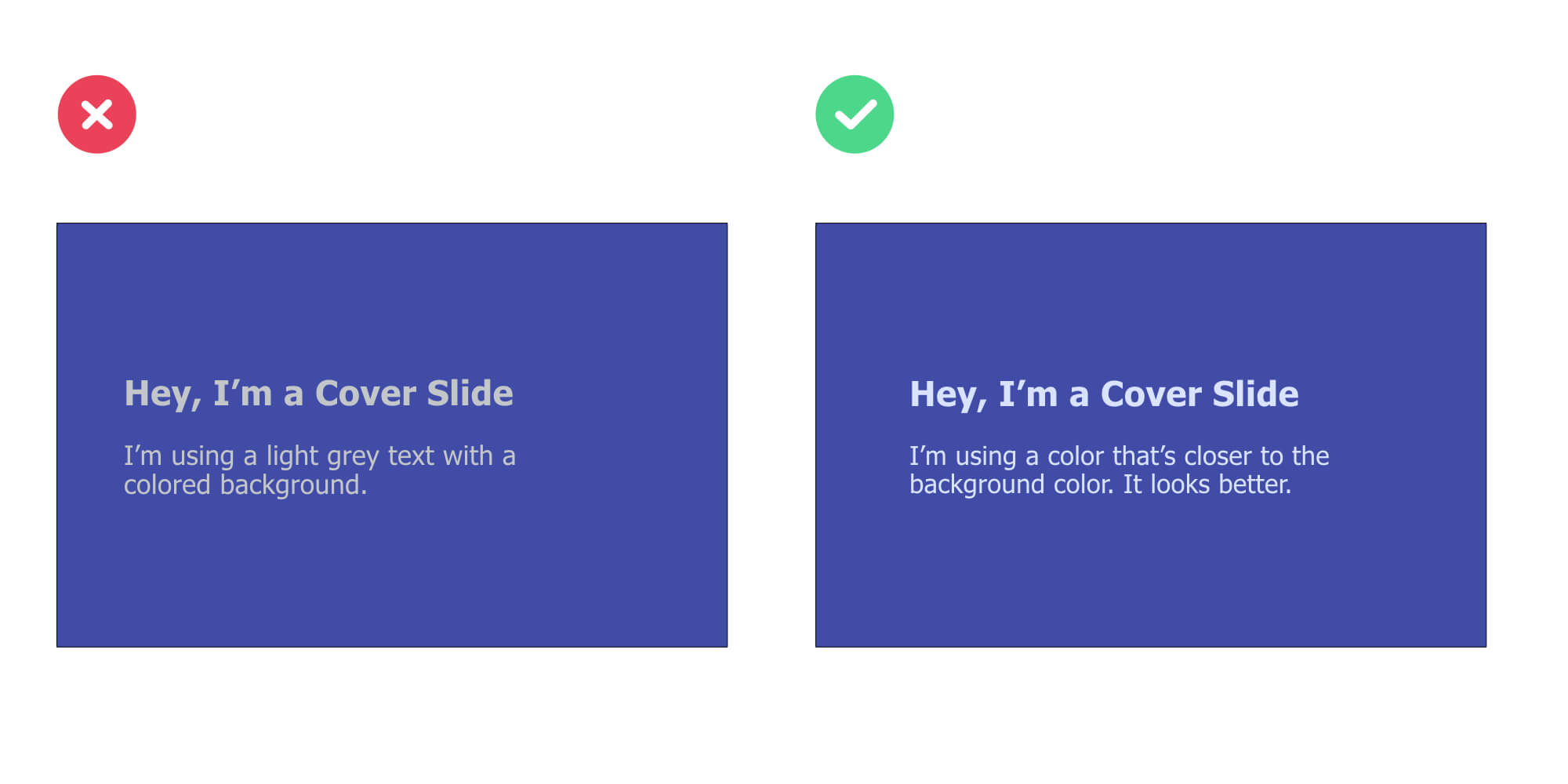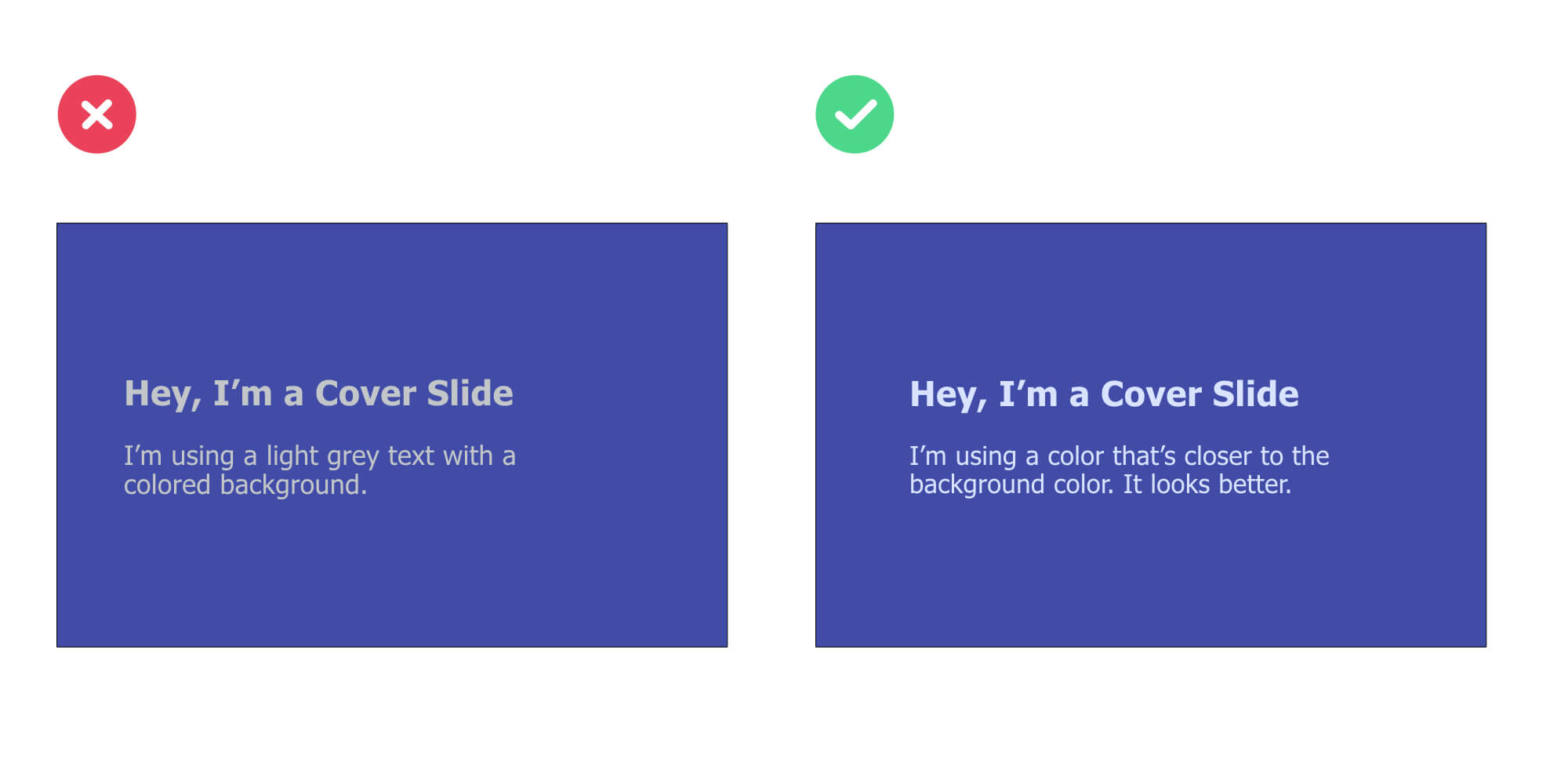 19. Add a Layer On Top of A Background Visual

The problem with putting your text directly on top of a visual?
Well, most of the time, the visuals have a lot of colors and details. It makes the text quite challenging to read. But there's simple solution to that problem:
Adding a "layer" (a rectangle shape) between the visual and your text.
First, create a rectangle shape that has the same size as your visual and put this shape on top of your visual to cover it.
Then, play with the opacity (I'm using 70% opacity on the example below).
Finally, put your text on top of it.
This simple technique works really well for cover slide designs and will help you make sure your text is easily readable on top of any background visual.
20. Use Different Font Sizes to Create Hierarchy Between Primary & Secondary Text

Remember slide design tip #1?
I mentioned you shouldn't rely only on font sizes to create hierarchy between primary and secondary text. But it doesn't mean you shouldn't use this technique at all 😀.
In some cases, like on presentation cover slides, simply tweaking the size of your fonts can make a great difference as it helps your audience to immediately identify the important content from the less important one: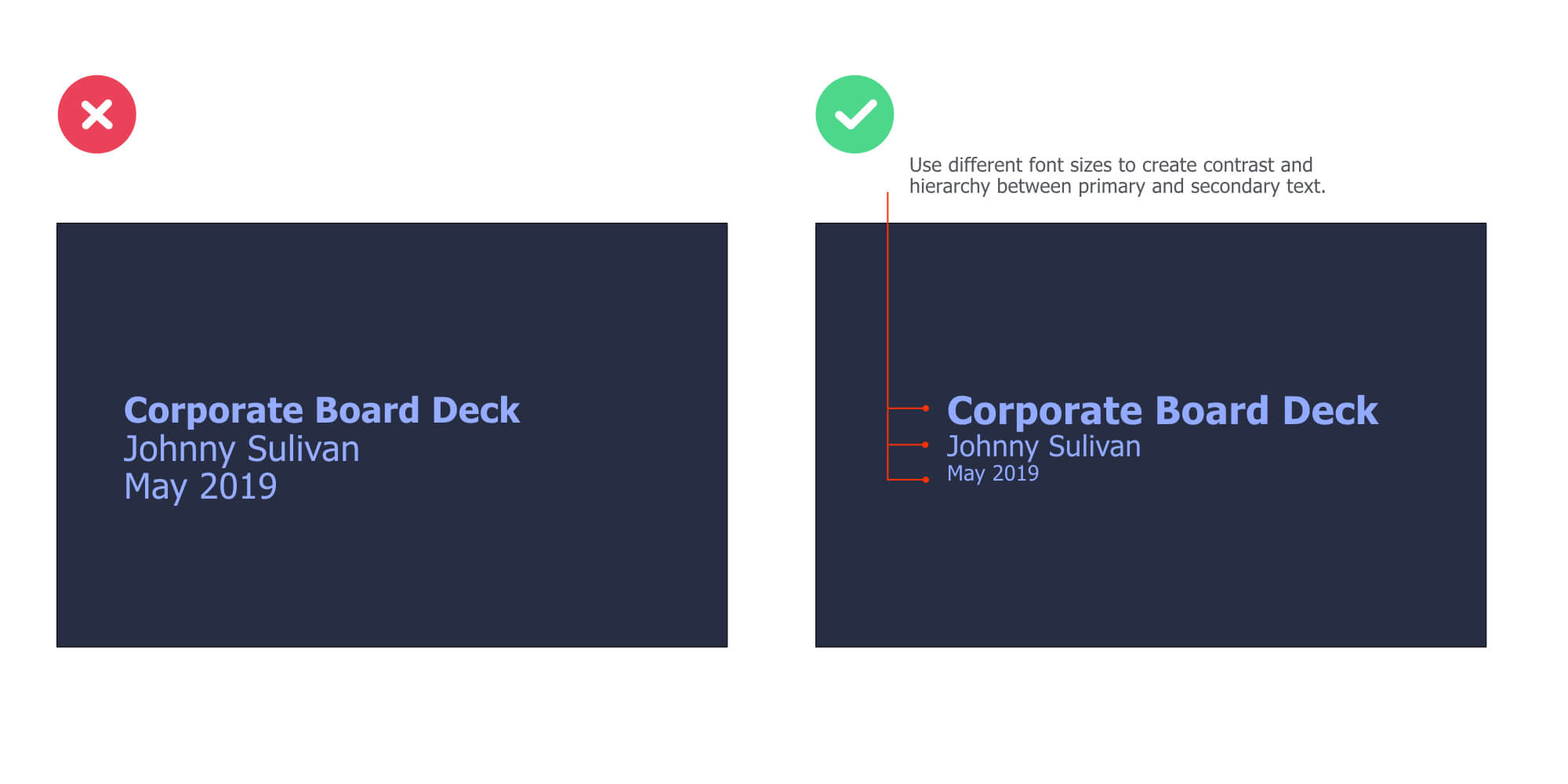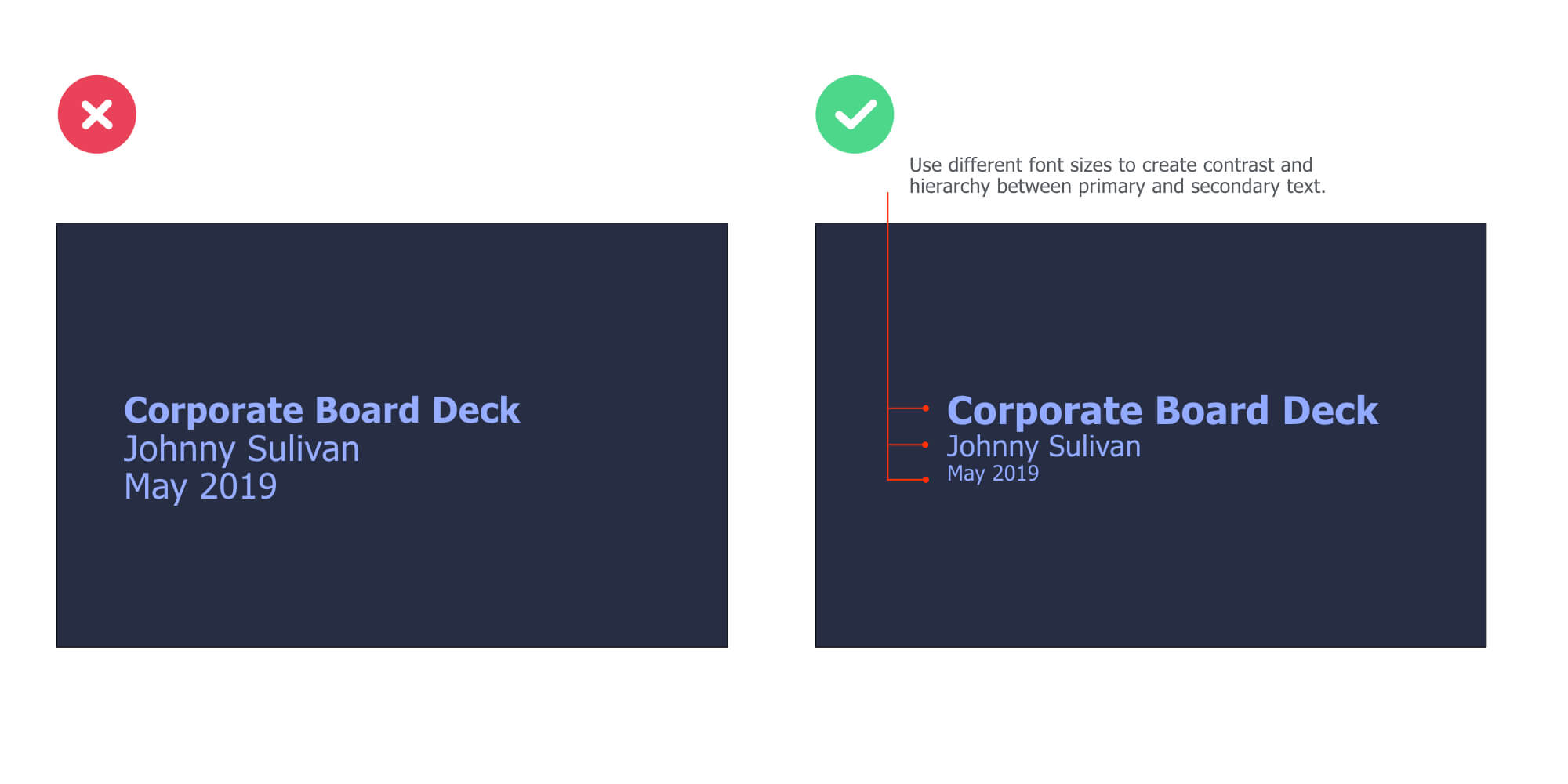 21. Pick One Visual, Not Twenty

Instead of putting various of visuals on your slides in order to illustrate a simple point, try to stick to one.
Pro Tips
Bonus

: Reverse-Engineer Beautiful Web Pages' UX

The web is loaded with modern, beautiful looking websites.
The point here is to reverse-engineer web page designs you like, identify the common patterns, and create slide designs inspired from them.
Here's how to do it:
1. Create a "Swipe file" folder on your computer desktop
2. Add screenshots of web pages you like. It can be homepages, product pages, career pages… Any design you like that could be used to create presentation slides
3. When designing your slides, pick a screenshot you like, identify the most common patterns and copy them
Let's take a look at the example below: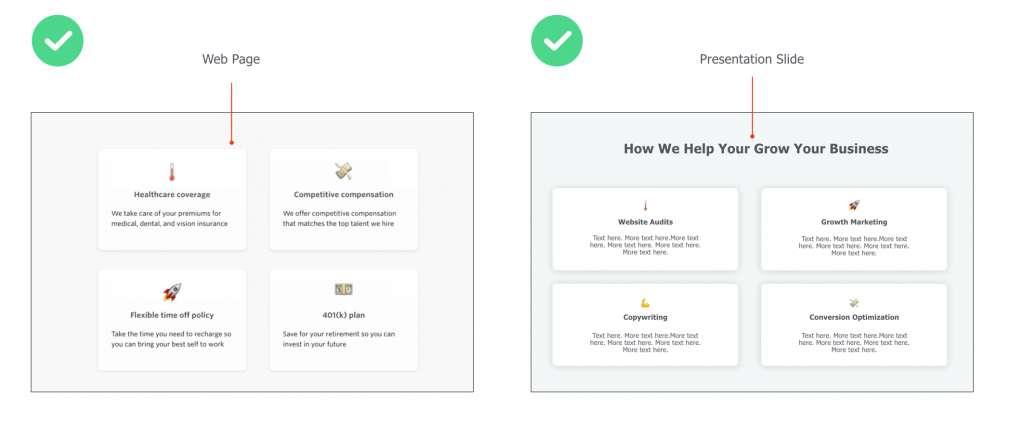 Webpage source
The left visual is a screenshot of a career page where the company basically highlights the peeks they offer.
The right visual is a slide that presents services a digital company offers to potential clients.
See, we have used…
The same lay-out (4 boxes)
Similar colors and shade effects (white, slightly blurry box borders)
The emojis to illustrate the content of the boxes