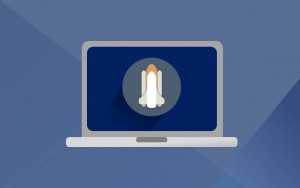 Making business presentations is not easy.
And let's be honest, hearing all these so-called presentations experts telling you to "use images", "make simple slides" or "know your material" (LOL) is not helping at all.
In today's infographic and post, you will learn 4 practical strategies you can use to make solid business presentations that get your message across and impress your audience.
Sounds good?
Here's what you'll learn:
0. The 4-step formula that works (Infographic)
1. How to reverse engineer your business presentation to become 10x more effective
2. A simple process to crafting an irresistible message for any audience
3. How to break down your message, piece by piece
4. How to design solid slides, fast
5. The best business presentations templates (PowerPoint and Keynote). These designer-made, easy-to-edit templates help you design professional looking presentations fast, and almost effortlessly.
Sounds good?
Let's get started.

Business Presentations: The 4-Step Formula That Works

Now, let's dive into the details…
1. Reverse Engineer Your Business Presentation to Become 10x More Effective
If you want to make winning business presentations, you should start with 
defining the goal you want to achieve

.
I'll explain…
If you don't know where you want to go, how the heck how your supposed to know which road to take?
The point of defining the goal of your business presentation is to help you lay down the steps that'll help you reach that goal (we'll be doing that using the 3W formula… more on this in a few seconds).
Define The Goal of Your Presentation
Why are you making this presentation?
For instance:
Get an order of $50,000 today (note: unrealistic if you've just met that customer…)
Learn about X and Y specific aspects of your prospects' business so you can craft a customized proposal that's relevant to them.
Present the Q4 sales strategy to your company's board members and get a "yes".
Bottom line:  Write down your one, single goal before doing anything else.
An effective goal is specific and measurable (use numbers and timeframes as much as possible).
Apply 3W Formula To Craft an Irresistible Message
Like I said earlier, reverse engineering your presentation goal will help you identify and break down the steps you need to take to reach these goals.
Here's how the 3W formula works:
W

ho: Your Audience

Who are you talking to?

W

hat: Your Message

What # 1 thing do you want them to remember?

W

hy: Your Goals

Why do you want to tell them what you wanna tell them? Why would they care?
For each W , write down what comes to your mind.
Here's an example:
Who

: NYC-based insurance brokers


What

: My company can help them get more leads with social media marketing


Why

: Because they're looking for more customers
Bottom line: You core message must be articulated around a) helping you reach your goal and b) giving your audience what they want.
Now, we're gonna put it all together…
---
2. Wrap Up Your Message Into a Solid Elevator Pitch (Even Your 6 Years-old Nephew Would Understand…)
 We're going to
squeeze your presentation purpose into one sentence

and call this sentence your elevator speech.
Why?
I can't tell you how many times I've met people that couldn't explain me clearly what their business deck was about.
Darn… how are you supposed to build, design and deliver well something you can't even explain?
Making an elevator speech is a great way to feel confident about your presentation and help your audience understand what it's all about, quickly. To do that, make sure your elevator speech answers this question:
Why should I listen to you?
You can use this formula to craft your elevator pitch:
Today, I am going to teach you about [ result ] Today, you will get / discover  / learn / access [ outcome ] If you agree to meet with us, you will [ result ]
For instance:
Today, you will discover how ABC marketing can help you increase your leads acquisition.
Today, I am going to teach you the 3-step process I used to double my organic traffic in 2 months.
Today, you will learn the 5-part strategy we're looking to implement to increase sales by 30% next quarter.
Effective elevator speeches include:
Specific benefits for your audience
The word
YOU


Show them you'll be solving their problems
Shortly said, a good pitch is angled toward helping your audience do do/get/discover something that benefits to them.
3. How to Break Down Your Message… And Get The Most Out Of It
Now you have to break down this message into smaller chunks to make it easy for people to get it.
Breakdown Your Message
Just think of the digestion process:
When you chew your food thoroughly, you begin to mechanically break it down into smaller and smaller particles. It's the same for your message: the better it's broken down into small particles, the easier it will be for your audience to digest it.
To do that, take your core message and ask yourself this question:
What are the top 3-5 big reasons that will motivate my audience members to do what I want? Basically, what do I need to tell them to help me reach my goal?
Do this exercise:
If my audience could remember ONLY three things about my presentation,what would it be?
(1) __________
(2) __________
(3) __________
| | |
| --- | --- |
| Core message | Sub-messages |
| What is this presentation about? | What things do I need to show my audience to make it easy for them to trust me? |

 "In God we trust, all others must bring data."
If you want…
To get to the point (and avoid all the unnecessary fluff)
To look credible in front of your audience
People to trust what you're telling them
Then there's no shortcut:
You have to provide tangible information that supports what you're saying.
Here are various ways to do it:
Incorporate Research-Backed Data (aka facts, not opinions) 
Expert quotes: what your industry key influencers have to say about <your industry>, <trends>, <products>, <you>.
Research data: check out .edu sites and research journals that provide case studies, data and insights related to the specific topic you'll be covering Use the following search strings on Google:
site: .edu + <keyword>
intitle: <name of research journal>+ <keyword>
intitle: <name of management firm>+ <keyword>
intitle: <name of management firm> + report + <keyword>
For instance:
site:.edu + "consumer behavior"
inurl: mckinsey.com + report + "jewelery industry"
Address Your Audience's Objections
See, there's likely going to be people in that room who don't agree a 100% to what you're saying. Part of making a winning business pitch consists in
anticipating the objections of your audience

.
Luckily for you, objections often fall in these 5 major categories below:
Need (we don't need that)
Price (it's too expensive)
Product (it's low-end, bad, uneffective, worst than…)
Resource (we don't have the headcount)
Time (we don't have time)
Your job is to address the typical fears and concerns driving these objections.
Incorporate Customer Testimonials (The Right Way)
Testimonials & word of mouth are the driving force behind 20 to 50% of all purchasing decisions.
Customer testimonials are especially useful in sales presentations. Here's a solid set of questions you should ask every client (Thanks Marian):
What hesitations did you have about working with our company?
What changes have you noticed since working with us?
How have you benefited from hiring our company?
Case Studies (Before & After)
Case studies are a great way to educate your audience about a specific topic, situation, product, or service. You're basically taking them from what it's like before using your product/service/solution/strategy…. and what it's like when using it.
Case studies are everywhere, and they are a powerful tool to sell the transformation: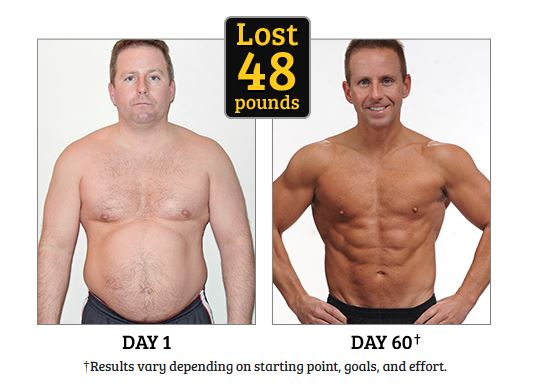 ---
4. How To Design Solid Business Presentation Slides, Fast
If you want to design effective business presentations, you don't need a hundred of things.
You just need to get to the point, and cut the fluff.
See, each core slide of your business presentation should roughly have 5 elements.
Here is my favorite business presentation lay out: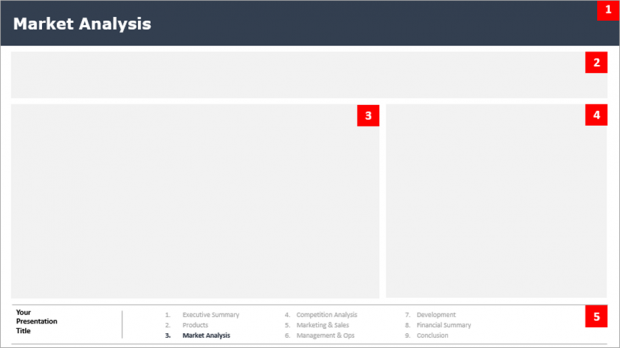 1) The Title 
Talking about "Sales & Marketing" component of your business plan? Good. Say it. The point of integrating this info at the top-left corner of your slide is to guide your audience, and let them know what the slide is going to cover
2) A Headline
Look, the point of your headline is to grab the attention of your audience, and motivate them to keep reading.
Now, headlines should also help your audience to understand what the slide is going to be about. So your job should also be to wrap up the content and squeeze the key takeaway of your slide in your headline.
E.g. for "Sales & Marketing": We've applied these two strategies to grow our user base by 50% in 10 days.
3) Body Copy
The things you need to say that are tied to your headline.
Info, insights, pieces of data and evidence that are supporting the purpose of your slide.
4) Visuals Illustrating Your Point
Visuals can be graphics, tables, charts, or breath-taking pictures.
Their target is to emphasize on your slide's message, and help you audience connect the dots. Talking about specific market trends related to your business? Illustrate those trends with a chart.
5) A Bottom Bar
Yes, business plan presentation tend to be quite "meaty".
The purpose of integrating a small section at the bottom of every single slide is to help your audience know where they're at in your presentation.
 
Just use a different color to highlight the section you'll be covering in each specific slide.
5. Gorgeous, Editable Business Presentations Templates
Designing professional looking business presentations can be hard…
The thing is, we've all been through one of these situations….
"I don't have the time to spend dozen of hours designing, editing and modifying my presentations".
"I can't afford hiring a top-notch designer".
"I'm not really gifted at design. I don't know how to craft beautiful-looking slides…"
Easy-to-edit, designer-made templates allow non-designers to create slick, professional-looking business presentations.
Presentations can have a huge impact on your business

. Because the truth is, when you start deliver top-tier business materials, you're able to:
Design clean slides that grab – and keep – people's attention. And you're able to design those slides fast.

Confidently expressing ideas and messages with visual elements (graphics, charts, icons, and so on…). Because, yes, you know that those who use visual aids are 43% more persuasive than those who don't.

Get the people in your audience to walk away knowing you're the pro.
With pre-built templates, you get your hands on a massive stash of editable resources – slides, vector icons, graphics, timelines, maps and so on – to finally build those result-getting presentations.
And the good news is, these templates cost as little as the price of a movie ticket.
So if you've looking to build winning presentations but have no time, no special design talent, and no big budget, then check out the two top-rated template bundles I've hand picked for your below.
Invest a few dollars. Save dozen of hours. Look amazing !
---
Marketofy Ultimate Template
If you're busy with business meetings all the time, Marketofy will help you quickly design quality presentations. Use these templates for sales meetings, business plans, strategies, executive meetings, and so much more.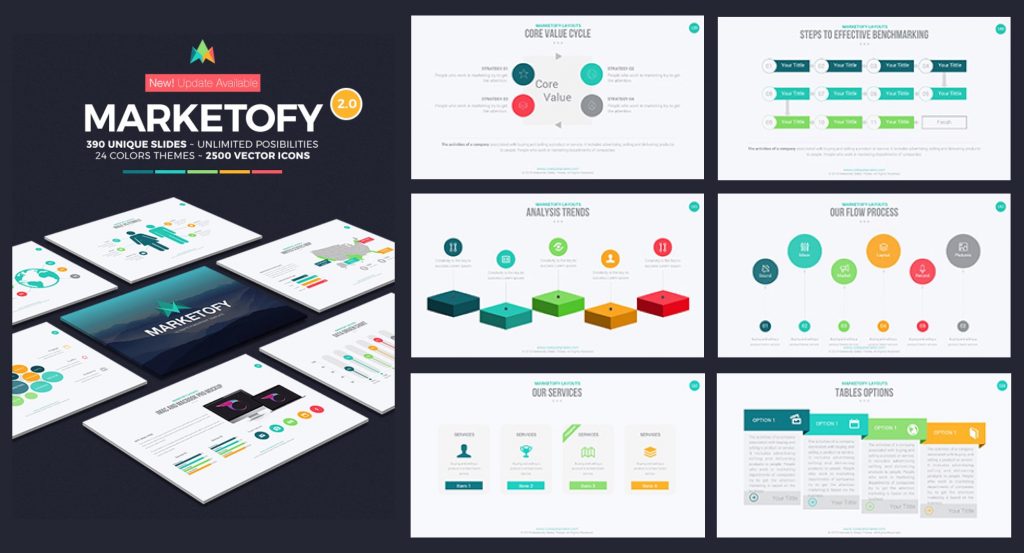 With pre-built presentation templates, here's what you usually get:
Hundreds of unique, ready-to-be-edited slides that work in the real world
Pre-made color themes you can chose from
Fully-editable vector icons, charts, graphs and so on (yes, you can change colors and sizes without losing quality)
24/7 free customer service
And so much more
---
Investor Pro Pitch Deck Template
A solid template for business plans and investor pitches.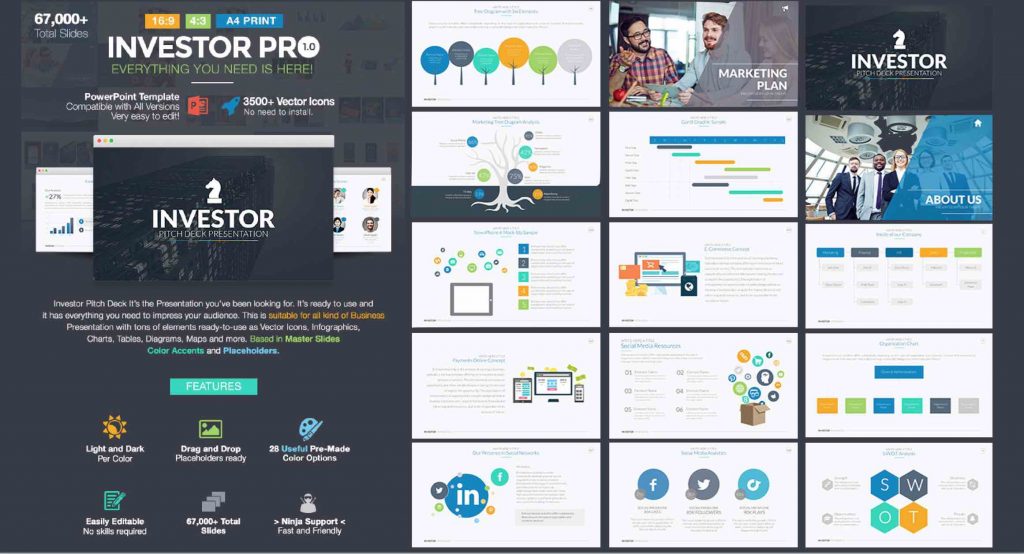 Ready-to-use vector icons, infographics, charts and so much more
Fully-editable elements
What do you will get in this package?
67,000 fully-editable slides (all sizes combined)

Ready-to-use vector icons, infographics, charts, and so on

Slide mock ups (With easy drag & drop)

PPTX / PPT file for Microsoft Office Powerpoint 2007/2010/2013/ Office Mac 2016

A bunch of categories (about us, business model, marketing, competitor analysis, financial projections….)